This is a more sophisticated version of the childhood favorite.
Tuna Casserole with Fresh Mushroom Soup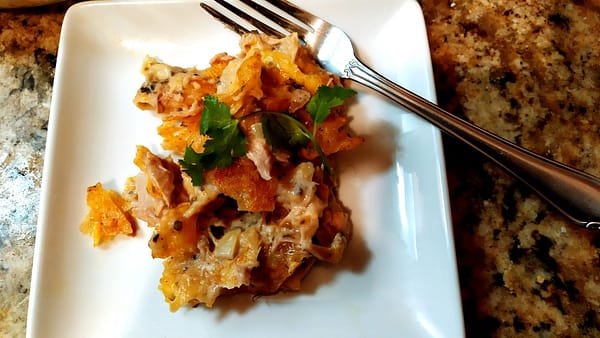 Tuna Casserole with Fresh Mushroom Soup has the comfort you remember as a child, but the mushroom soup is made with mushrooms sauteed with shallots and sherry, brings it forward for your adult tastebuds.

If you are reading this a few years from now, know that in 2020 we had the Covid-19 pandemic.  People were scared and panicked.  They hoarded toilet paper and bought everything in sight. I wasn't expecting this. When I walked into my local supermarket I was blown away to see the empty shelves, and the meat department was virtually empty save for packages of pig ears (photos at the end of this post). Even though I knew it was a temporary thing, it was very stressful. I needed something comforting, something my mother used to make, only better.
My mother made tuna casserole with regular potato chips and canned cream of mushroom soup. As a child, I loved it.  As I got older it seemed to need something.  When I had my own place with roommates who were, like me, always broke and hungry, I would mix boxed macaroni and cheese, tuna and mushroom soup together.  Everyone loved it. Then when I had my own son, I kicked it up a notch and made Barbecued Potato Chip Tuna Casserole, but still used canned mushroom soup.
Use Fresh Mushroom Soup Instead
Fresh mushroom soup is so superior to canned. It's also dead simple to make. Chop the mushrooms in a food processor and saute them with Shallots in Oil and throw some sherry in at the last minute, then add those wonderful mushrooms to vegetable stock and thicken it with roux and milk. You can find the recipe for Cream of Mushroom Soup with Sherry and freeze any leftovers or make this casserole.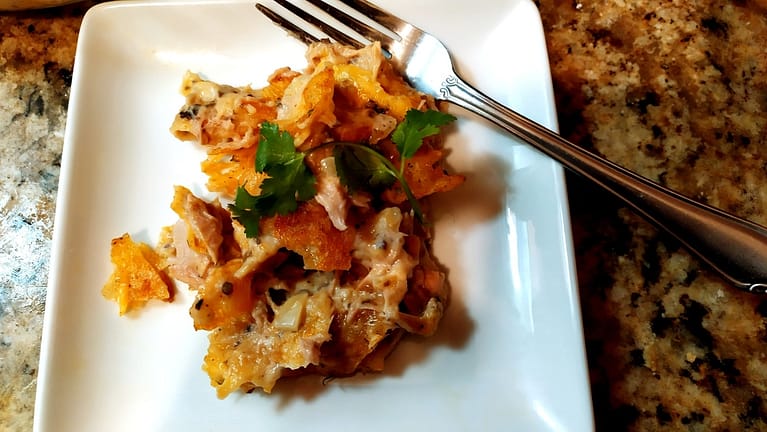 Servings (slide to adjust):
Calories per serving:
431
kcal
If you purchase any of the products through these affiliate links, I get a few pennies that help keep The Good Plate open. I use these products myself and want you to be able to easily find them.
Ingredients
~~ -- White Sauce -- ~~
½

Onion

,

chopped

2

tablespoon

butter

2

tablespoon

flour

1

cup

milk

¼

teaspoon

nutmeg
~~ -- Mushroom Soup -- ~~
~~ -- Casserole -- ~~
1

can

Tuna in oil

,

drained

1

cup

Cheddar

,

shredded

1

cup

Bbq potato chips

,

crushed

½

cup

Bbq potato chips

,

for garnish

½

teaspoon

Sunny Paris
Ingredients necessary for the recipe step are in italic.
Instructions
Follow the directions for Cream of Mushroom Soup with Sherry. You will only need 1 cup of the mushroom soup, so either have the rest with your casserole, or freeze it for later.

1/2 Onion,

2 tablespoon butter,

2 tablespoon flour,

1 cup milk,

1/4 teaspoon nutmeg,

2 tablespoon Shallots in Oil,

2 tablespoon sherry,

1 tablespoon vegetable base

Saute the onion in the butter until it is translucent. Add the flour and mix it in thoroughly. Saute until it turns white then add the milk and nutmeg. Stir constantly until it has thickened. Add the cup of mushroom soup and mix it in.

1 cup Cheddar,

1 cup Bbq potato chips

Put the tuna into a large bowl and break it up. Add half of the cheddar, the crushed chips and soup mixture you just made. Mix it together.

1/2 cup Bbq potato chips,

1/2 teaspoon Sunny Paris,

1 cup Cheddar

Put the mixture in a casserole dish and top it with the remaining cheese, whole chips and sprinkle Sunny Paris overall.

Cover the casserole and bake at 350 for 30 minutes or until the cheese is melted and bubbling. Let it cool for 10 minutes before serving.

Enjoy this with a glass of white wine and soup or salad.
Nutrition
Calories:
431
kcal
Carbohydrates:
27
g
Protein:
21
g
Fat:
28
g
Saturated Fat:
14
g
Polyunsaturated Fat:
5
g
Monounsaturated Fat:
8
g
Cholesterol:
63
mg
Sodium:
569
mg
Potassium:
742
mg
Fiber:
2
g
Sugar:
8
g