Il Buon Piatto – An Italian Inspired Menu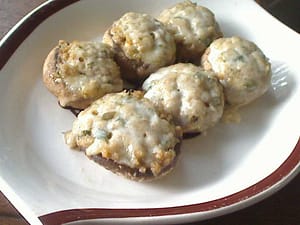 We love Italian food. Italian food uses fresh ingredients. It is simple to make, yet has complex flavors.
There are a variety of wines you can serve with this dinner.  You might want to start with red wine before dinner, and a white with the actual dinner itself.
Serve the dessert with some fresh fruit and coffee in demi-tasse cups.  Enjoy!
Starter
You can't get much simpler than stuffed mushrooms.  Try to get the big ones when you go to the market.
Next, comes a nice soup.  You can omit the sausage if you are going to serve this as a soup course and not the main course. This is really a must-have for your Italian inspired menu.
Main Course
Do you like Italian sausage on your pizza?  This pork dish will remind you of that sausage. Have it with risotto and salad. It goes well with a dry white wine.
Dessert Course
For dessert, you can't get much better than this Lemon Jello cake.  It's light and easy after a full meal.
Time to Say Good-Bye
Please make sure there is a designated driver, an Uber or Lyft, or have your guests stay the night.