This is a great dry rub for turkey, plus the injection will make a turkey to remember.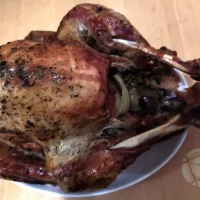 Last Updated on January 19, 2022
How to Roast a Perfect Turkey in a Nesco Electric Roaster Oven
In this article, you can find out how to roast a perfect turkey in a Nesco or other electric roaster oven.  You can get tips about how and why to brine the turkey.  Use the handy chart showing how long to cook a turkey in a roaster oven depending on size and stuffing.
Get the ebook, Talking Turkey, an essential guide to Thanksgiving Turkey.
There is a lot more information in the book, all about options for defrosting, defrosting methods, cooking methods, and timetables to help you in your planning.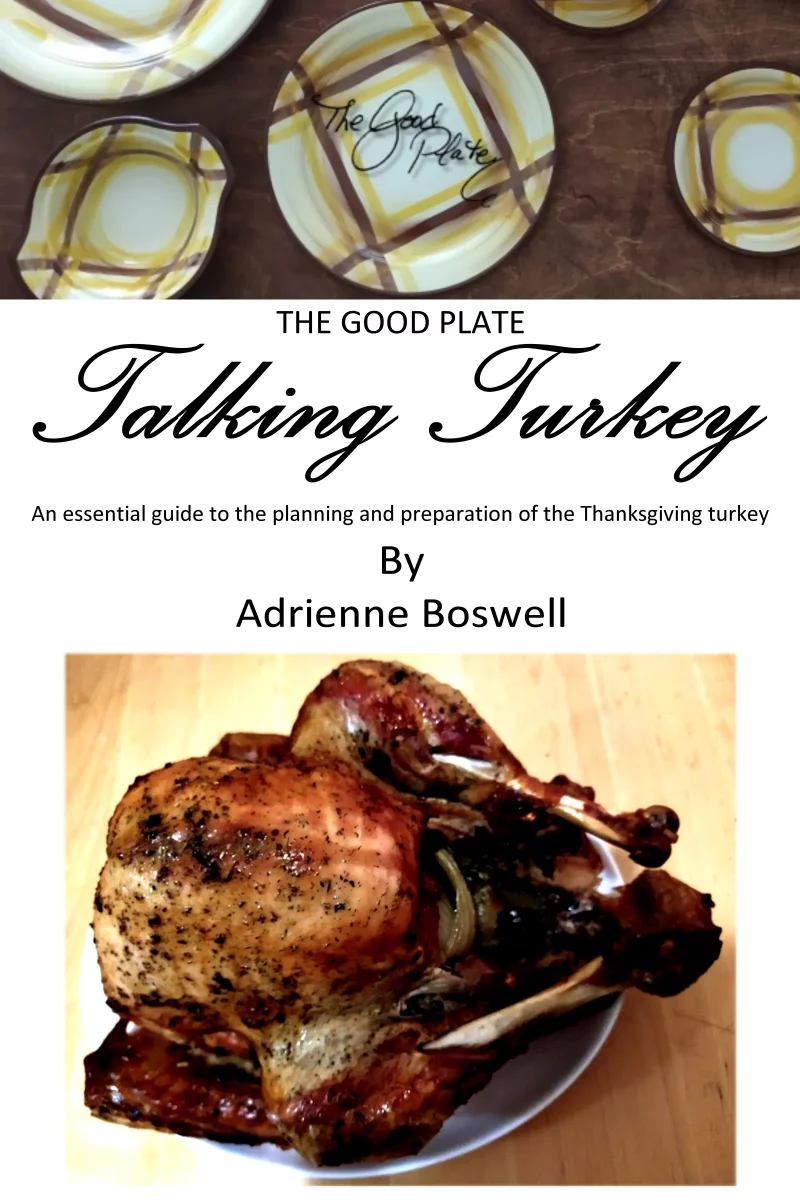 How to Get Moist Turkey
The bain of turkey cooks everywhere is how to keep the breast from drying out and not have undercooked thighs and legs.  Some people cut the bird up, cook the pieces separately then put them back together at serving time. Other people put a foil hat on the breast hoping to shield it, it doesn't work that well. Spatchcocking is a good idea because it makes the parts all about the same height. If I didn't have a Nesco, that's the road I would take.
Why Roast Turkey in a Nesco?
The reason the Nesco makes such a delectable bird is because of the patented circle of heat.  That circle of heat means that the parts of the turkey that take the longest to cook, the thighs are right by that circle of heat.  They cook as quickly as the breast that doesn't have a chance to dry out.
It's also great because it frees your oven up for casseroles and desserts. It also doesn't heat your kitchen as much as a conventional oven. One caveat, don't try to put a 30-pound turkey in an 18-quart Nesco. The largest would probably be 18 pounds – mine is usually 12-13 pounds. There should be ample flow of air around the bird, and it should not be touching the sides of the oven.
The Process with a Nesco
Dry brine the bird the day before. I used sea salt and Herbs de Provence. Cover both the outside and inside of the bird, as well as under the breast. Dry brining helps crisp up the skin, and keep the meat moist.
Preheat the Nesco to 325.
Inject the bird with an injection. I used turkey stock and white wine. Inject all over, especially the breast.
I never stuff my turkey with anything other than the vegetable ends.  I use onion and celery.
Roast your bird according to the following timetable.
As soon as the bird has reached 160 F/ 71.1 C on an instant-read thermometer, turn the heat off on the Nesco. Remove the bird from the roaster oven and let it rest for about 20 minutes.  If you need to keep it warm before carving, keep it in the roaster at 200.
Let the bird rest for at least 30 minutes before carving. Have a great meal!
How Long Do I Roast Turkey?
Remember, the Nesco takes about 30% off the cooking time of conventional ovens, so your bird will be cooked sooner than normal.  You can use this chart to estimate cooking times.
| | | | | |
| --- | --- | --- | --- | --- |
| Weight | Not Stuffed | Nesco Unstuffed | Stuffed | Nesco Stuffed |
| 4½-7 lbs. | 2 to 2½ hrs. | 1 ½ to 1 ¾ hrs | 2¼ to 2¾ hrs. | 1 ½ to 2 hrs |
| 7-9 lbs. | 2½ to 3 hrs. | 1 ¾ to 2 hrs | 2¾ to 4½ hrs. | 2 to 3 ¼ hrs |
| 9-18 lbs. | 3 to 3 ½ hrs. | 2 ¼ to 2 ¾ hrs | 3 ¼ to 4 ½ hrs. | 2 ¼ to 3 ¼ hrs |
Turkey Roasting Times  at 325 F / 162 C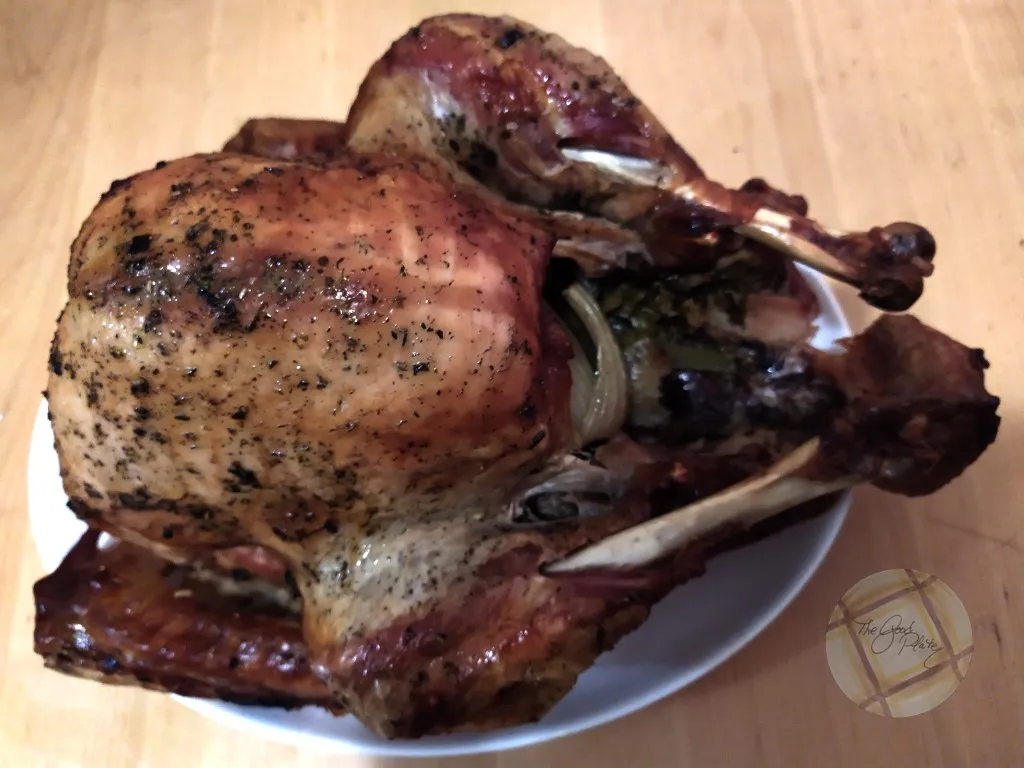 Servings (slide to adjust):
Ingredients
Injection Liquid
2

cups

hot water

1

turkey neck

2

tsp

turkey or chicken base

,

or

2

cups

turkey broth

2

tbsp

white wine
Turkey
1

turkey

,

12-19 pounds, cleaned

1

onion

,

skin, top and roots

1

bunch

celery

,

leaves and root only

1

tsp

salt

1

tsp

pepper

1

tbsp

butter

1

tbsp

Herbs de Provence
Ingredients necessary for the recipe step are in italic.
Instructions
For the Dry Rub
1/2 cup sea salt,

1 tbsp Herbs de Provence

Mix the salt and herbs together then thoroughly rub the turkey, including the inside and under the breast skin if possible. You may need more or less salt depending on the size of your bird.
For the Injection Liquid
2 cups hot water,

1 turkey neck,

2 tsp turkey or chicken base,

2 cups turkey broth,

2 tbsp white wine

Mix the injection ingredients together and simmer for 30 minutes. Remove the neck and discard it. You can refrigerate the broth until you need it. You can also use homemade turkey broth instead of base and water.
Notes
If you don't want to use butter for the injection or rub, feel free you use olive oil.
Nutrition
Nutrition Facts
How to Roast a Perfect Turkey in a Nesco Roaster Oven
Amount Per Serving (124 g)
Calories 70
Calories from Fat 27
% Daily Value*
Fat 3g5%
Cholesterol 33mg11%
Sodium 739mg32%
Potassium 110mg3%
Carbohydrates 1g0%
Protein 9g18%
* Percent Daily Values are based on a 2000 calorie diet.
Every Thanksgiving, The Good Plate goes crazy with people wanting to know how to roast a perfect turkey in a Nesco oven. Since I wrote the first article in 2009, I have made some significant changes to the preparation of the bird, mostly to cut down on time, but also to increase the flavor and crispness of the skin. This year, in 2015, my bird was truly perfect, and everyone exclaimed about how much they don't like breast meat because it's too dry but loved mine because it was nice and moist. If you want the older recipe with the liquid brine, please visit How to Make a Perfect Turkey in a Nesco Roaster Oven.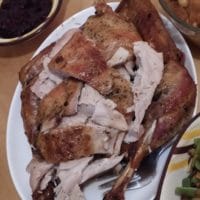 How to Make a Perfect Turkey in a Nesco Roaster Oven
How to brine a turkey with liquid brine and keep it moist in the Nesco Roaster oven.
Roll It Up!
In 2017, a friend called me and said that a friend gave her a 25-pound turkey, but she had a 40 pound and wanted to know if I wanted to 25-pound turkey.  I was surprised, I didn't even know the turkeys got that big.  I told her I would be happy to have her extra turkey.  But, then when I brought it into the kitchen, I realized it would not fit in my Nesco Roaster, so I had to do some creative thinking.  I had recently watched Chef John of Food Wishes debone stuff and roll up a whole turkey.  If I deboned this turkey, it would fit nicely into the Nesco.  I deboned it, then I put a dry brine, rolled it up, injected it, and roasted it.  You know what?  It was great! Maybe the best part was I was able to make the most flavorful stock out of that carcass, froze it, and use it to make risotto.  If you want to see how to debone a turkey, watch Chef John's method.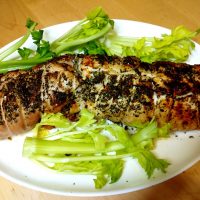 How to Debone a Turkey – Moist and Easy to Carve
Learn how to debone a turkey. This method leaves you with a moist and delicious bird that will not dry out and is a breeze to carve and a delight to eat.
Rolling is Great!
I decided that I'm going to roll up the turkey from now on.  If you do it right, you get a roll that is even, so no having to worry about breast getting done before the legs are.  Of course, with a Nesco, that's not a problem because of the unique circle of heat.  Carving a rolled-up turkey is child's play – just put the roll on a cutting board, get a sharp carving knife, and cut slices, I cut mine about a half-inch thick.  If you have any leftovers, the next day, when it's cold, it's even easier to slice thinly for sandwiches.