This is a great dry rub for turkey, plus the injection will make a turkey to remember.
How to Roast a Perfect Turkey in a Nesco Roaster Oven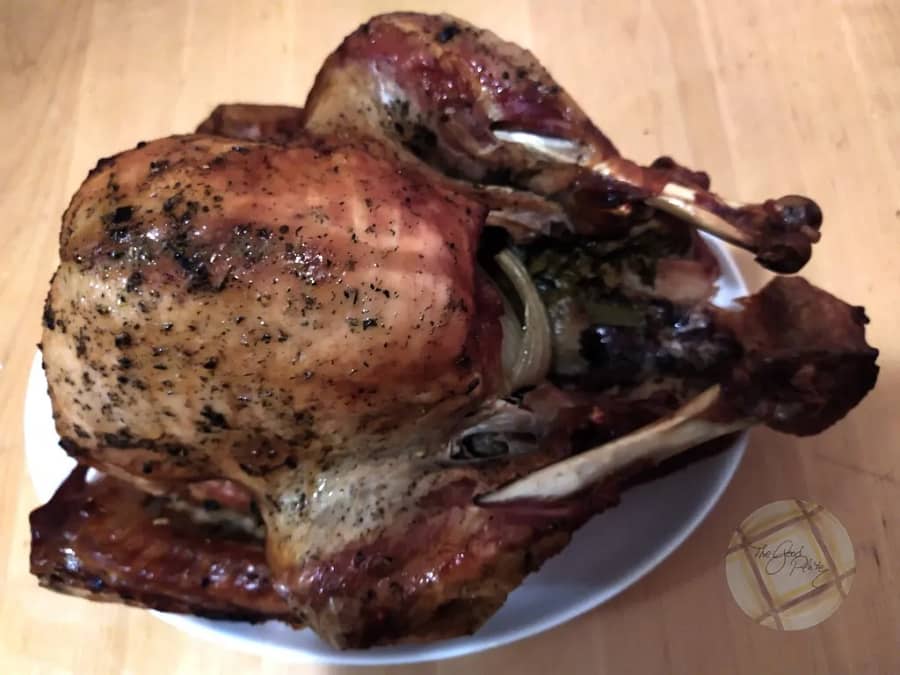 How to Roast a Perfect Turkey in a Nesco Electric Roaster Oven
In this article, you can learn how to roast a perfect turkey in a Nesco or other electric roaster oven. In addition, you can get tips about how and why to brine the turkey. Finally, use the handy chart showing how long to cook a turkey in a roaster oven, depending on size and stuffing.
Get the Book
Get the ebook Talking Turkey, an essential guide to Thanksgiving Turkey.
There is a lot more information in the book, all about options for defrosting, cooking methods, and timetables to help you in your planning.
How to Get Moist Turkey
The bain of turkey cooks everywhere is how to keep the breast from drying out and not have undercooked thighs and legs. Some people cut the bird up, cook the pieces separately then put them back together at serving time. Other people put a foil hat on the breast, hoping to shield it, but it doesn't work that well. Spatchcocking is a good idea because it makes the parts about the same height. If I didn't have a Nesco, that's the road I would take.
Turkey Nesco FAQ
How big of a turkey can I put in a Nesco?
The largest would probably be 18 pounds – mine is usually 12-13 pounds. There should be ample airflow around the bird, and it should not be touching the sides of the oven.
How Long Do I Roast a Turkey in a Nesco?
Remember, the Nesco takes about 30% off the cooking time of conventional ovens, so the Nesco Roaster will cook your bird sooner than expected. You can use this chart to estimate cooking times.
| | | | | |
| --- | --- | --- | --- | --- |
| Weight | Not Stuffed | Nesco Unstuffed | Stuffed | Nesco Stuffed |
| 4½-7 lbs. | 2 to 2½ hrs. | 1 ½ to 1 ¾ hrs | 2¼ to 2¾ hrs. | 1 ½ to 2 hrs |
| 7-9 lbs. | 2½ to 3 hrs. | 1 ¾ to 2 hrs | 2¾ to 4½ hrs. | 2 to 3 ¼ hrs |
| 9-18 lbs. | 3 to 3 ½ hrs. | 2 ¼ to 2 ¾ hrs | 3 ¼ to 4 ½ hrs. | 2 ¼ to 3 ¼ hrs |
Turkey Roasting Times at 325 F / 162 C
Why Roast Turkey in a Nesco?
The Nesco makes such a delectable bird because of the patented circle of heat. That circle of heat means that the parts of the turkey that take the longest to cook, the thighs are right by that circle of heat. So they cook as quickly as the breast that doesn't have a chance to dry out.
It's also great because it frees your oven for casseroles and desserts. It also doesn't heat your kitchen as much as a conventional oven. One caveat, don't try to put a 30-pound turkey in an 18-quart Nesco.
The Process with a Nesco
Dry brine the bird the day before. I used sea salt and Herbs de Provence. Cover the outside and inside of the bird, as well as under the breast. Dry brining helps crisp up the skin and keep the meat moist.
Preheat the Nesco to 325.
Inject the bird with an injection. I used turkey stock and white wine. Inject all over, especially the breast.
I never stuff my turkey with anything other than the vegetable ends. I use onion and celery.
Roast your bird according to the following timetable.
When the bird reaches 160 F/ 71.1 C on an instant-read thermometer, turn the heat off on the Nesco. Remove the bird from the roaster oven and let it rest for about 20 minutes. If you need to keep it warm before carving, keep it in the roaster at 200.
Let the bird rest for at least 30 minutes before carving. Have a great meal!
Recipe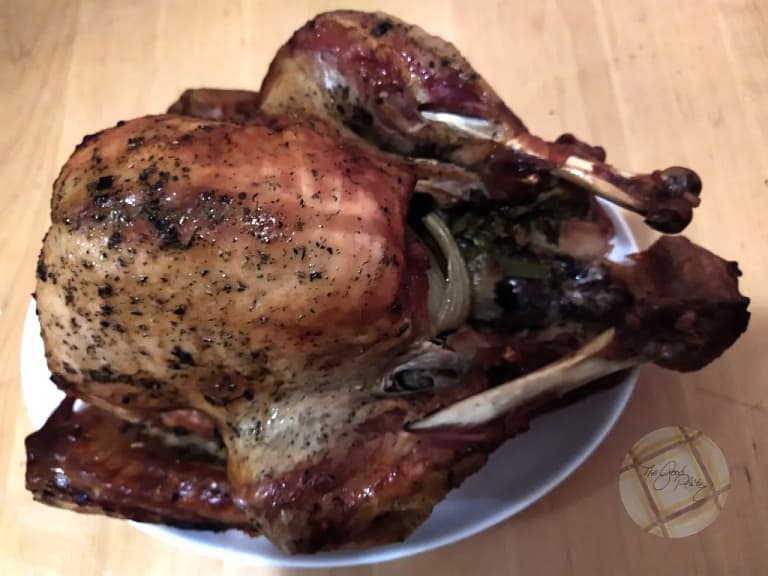 Servings (slide to adjust):
Calories per serving:
70
kcal
Ingredients
Turkey
1

turkey

,

12-19 pounds, cleaned

1

onion

,

skin, top and roots

1

bunch

celery

,

leaves and root only

1

tsp

salt

1

tsp

pepper

1

tbsp

butter

1

tbsp

Herbs de Provence
Ingredients necessary for the recipe step are in italic.
Instructions
Notes
If you don't want to use butter for the injection or rub, feel free you use olive oil.
Nutrition
Serving:
124
g
Calories:
70
kcal
Carbohydrates:
1
g
Protein:
9
g
Fat:
3
g
Saturated Fat:
1
g
Polyunsaturated Fat:
1
g
Monounsaturated Fat:
1
g
Cholesterol:
33
mg
Sodium:
739
mg
Potassium:
110
mg
Fiber:
0
g
Sugar:
0
g
Leftover Turkey Ideas
There are many dishes you can make from leftover turkey, and we're going to list some of them here. However, if you get tired of eating turkey, don't throw it away. Instead, make packets of servings of turkey and freeze them. Cut the turkey into bite-size pieces, and remove the bones, gristle, or other nasty parts. Put them in vacuum-sealed bags, and write on the weight of the package and whether it's dark or light meat. You will then have access to easy meals later in the year.
You could make Turkey Taquitos, Turkey Tetrazzini, Turkey Stroganoff, or a variety of other dishes you might put the leftover chicken in, turkey salad, etc.

Air Fryer Turkey Taquitos
Air fryer turkey taquitos are much healthier than those fried in oil. Leftover turkey can be spiced exactly how you like it.
Alternative Methods
The Moist Brine Method
Every Thanksgiving, The Good Plate gets very busy with people wanting to know how to roast a perfect turkey in a Nesco oven. Since I wrote the first article in 2009, I have made some significant changes to the preparation of the bird. Primarily to cut down on time, but also to increase the flavor and crispness of the skin. In 2015, my bird was genuinely perfect, and everyone exclaimed about how much they don't like breast meat. After all, it's too dry, but I loved mine because it was nice and moist. If you want the older recipe with the liquid brine, please visit How to Make a Perfect Turkey in a Nesco Roaster Oven.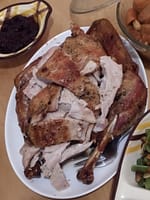 How to Make a Perfect Turkey in a Nesco Roaster Oven
How to brine a turkey with liquid brine and keep it moist in the Nesco Roaster oven.
Debone and Roll It Up!
In 2017, a friend called me and said that a friend gave her a 25-pound turkey, but she had a 40-pound and wanted to know if I wanted to 25-pound turkey. I was surprised; I didn't even know the turkeys got that big. Smiling, I told her I would be happy to have her extra turkey.
But then, when I brought it into the kitchen, I realized it would not fit in my Nesco Roaster, so I had to do some creative thinking. I had recently watched Chef John of Food Wishes debone stuff and roll up a whole turkey. If I deboned this turkey, it would fit nicely into the Nesco. I deboned it, then put a dry brine, rolled it up, injected it, and roasted it. You know what? It was great! Maybe the best part was I could make the most flavorful stock out of that carcass, freeze it, and use it to make risotto. Watch my method if you want to see how to debone a turkey.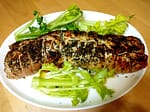 How to Debone a Turkey – Moist and Easy to Carve
Learn how to debone a turkey. This method leaves you with a moist and delicious bird that will not dry out and is a breeze to carve and a delight to eat.
I decided that I was going to roll up the turkey from now on. If you do it right, you get an even roll, so no having to worry about the breast getting done before the legs are. Of course, with a Nesco, that's not a problem because of the unique circle of heat. Carving a rolled-up turkey is child's play – just put the roll on a cutting board, get a sharp carving knife, and cut slices; I cut mine about a half-inch thick. Then, if you have any leftovers, the next day, when it's cold, it's even easier to slice thinly for sandwiches.
Video Transcript – Turkey in a Nesco Electric Roaster
Good afternoon and
Welcome to Thanksgiving and we're going to be making a turkey in a Nesco oven. Okay, we have a turkey that we brined last night in the refrigerator, so it's
been in the brine for twenty-four hours. so it's all ready to go. And we're going to be injecting the bird with some wine and some broth that we made last night.
And here's a bowl. We're going to take some of this broth. put it into the bowl. Don't need that much. Put the wine in there. Yes, you can have a little for yourself if you want some wine it is that kind of you definitely want wine. We're going to put a little bit of olive oil, not too much. Okay,
okay. The first thing we're going to do, we're going to take our bird and we're going to wipe off any of the extra dry brine. Most of it has already been absorbed so we're just
gonna wipe off the excess. Okay, cause we don't want it to be a salt lick.
Then we're going to take these vegetable ends and we are going to stuff the inside. This will give it more flavor and does not going to add any extra cooking time and is easily taken apart. All right. We have our trusty butcher's twine. That's enough. And now we have our trusty injection needle. Now our girl can into our trusty Nesco oven. Stick her right here. There we go.
There she is. Get rid of this. Wash your hands. Start injecting. Take this, this. Started injecting at the breast. If you notice some coming out that's okay. Inject into the leg. Inject into
the wing. Squirt! Into the thigh a little bit. Poultry seasoning, and we're going to take
some herbs de Provence ♫ Snapped together and some more olive oil. If you don't like getting your hands dirty you can always use gloves. Okay, put that all over the bird the wings, especially that breast. And now, our Girl is ready to go and start getting cooked!
And we'll see you later and see how she was. Okay, thanks. And here she is out of the oven and ready to carve. Now you see our holiday table just waiting for guests. And here's the star of our show, the turkey that has been carved. It's moist and delicious. Next, Twice Baked Potato Casserole from my adopted mother number one. Then we have Sweet Potato with caramel and pineapple and cashews from adopted mother two. Finally, we have Oyster Cornbread dressing, the recipe from my grandmother. And then, there's the green bean and toasted garlic almond – that's my recipe! Okay? And finally, we have a spicy cranberry sauce. No canned sauce at my table! Okay!
Thank you for watching! Okay, see you next time. Ingredients.
cooking times and directions are on the website. Links for the side dishes are below Happy holidays to all.