This is my take on the famous Stuffed Celery at the venerated Musso and Frank in Hollywood, California, over 100 years old.
Blue Cheese Stuffed Celery
Blue Cheese Stuffed Celery
A few years ago, Saveur magazine featured a recipe for Blue Cheese Stuffed Celery from one of my favorite restaurants, Musso and Frank, in Hollywood, California. Musso and Frank originally opened in 1919 and has been in the same place on Hollywood Boulevard ever since.  It has been a popular hang out for the entertainment industry since it opened.  The history of the restaurant is fascinating.  My mother would take me there for my birthday, and I loved it.
A Venerable Vegetable
You know, poor celery.  We buy it once a year to put in stuffing, or we put it in soup stock.  If we're lucky, we have it with Buffalo Wings.  When I was little, my mother used to let me have a few pieces with peanut butter that she wasn't using for the stuffing.
In the Victorian era, celery was all the rage.  It was fussy to grow and difficult to get, so of course, Victorians made it a must-have vegetable.  There were even lovely celery vases to showcase your beautiful, crunchy celery.  The Titanic served celery to the first-class passengers along with roast squab, cress, and pâté de foie gras. Eventually, celery was grown in Michigan and it became an easy vegetable to get.  Celery started being served in long flat dishes instead of the vases, and it appeared on vegetable trays everywhere. Poor celery.
I don't know, but I think maybe celery is having a come back. I hope so.  I really love the crunchy, little hearts, and when I'm preparing it, I always reserve that for myself. I know that it will be gracing my holiday dinners this year, and not just as another vegetable on the veggie tray, or just making a muted appearance in the stuffing.  No, I will display my celery prominently, maybe I'll even buy that Victorian celery vase from eBay!
Making Blue Cheese Stuffed Celery
I actually have two versions of the venerable appetizer, one with olives, and one without. If you want to be nice to your guests, make sure to peel the celery first.  There's nothing like getting celery strands stuck between your teeth and trying to unobtrusively remove them.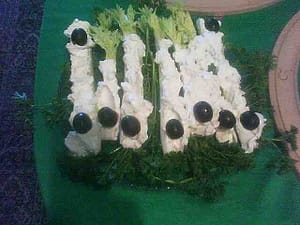 This is the celery with the olives and parsley I served for my son's birthday party. It is very similar to the dish at Musso and Frank.
If you are just having cocktails, this is great with some spiced nuts.  It also makes an easy lunch or after-school snack. It's nutritious and delicious. You could also use this to represent a bitter herb for Holy Thursday.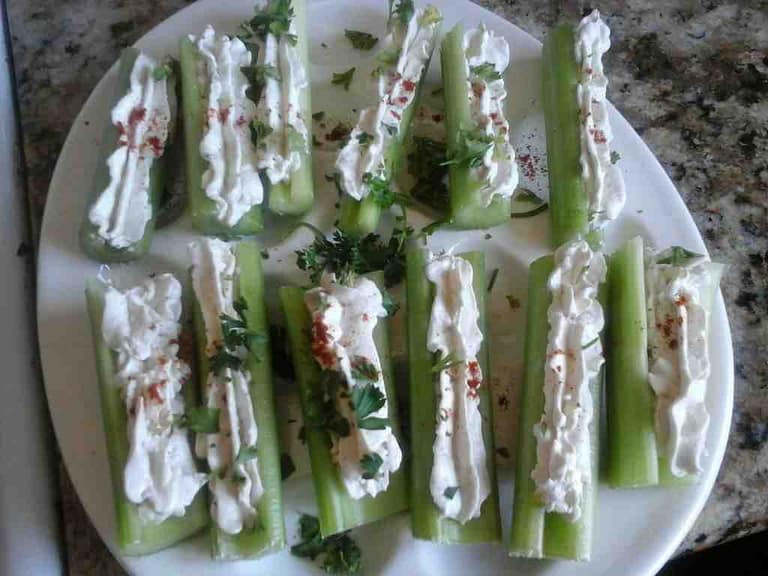 Servings (slide to adjust):
servings
Calories per serving:
114
kcal
If you purchase any of the products through these affiliate links, I get a few pennies that help keep The Good Plate open. I use these products myself and want you to be able to easily find them.
Ingredients
¾

cup

blue cheese,

Roquefort or Gorgonzola

8

oz

cream cheese

,

1 package at room temperature

¼

cup

sour cream

½

teaspoon

Worcestershire sauce

⅛

teaspoon

Tabasco sauce

2

drops

Angostura bitters

12

Celery stalks

,

peeled

paprika

,

or cayenne for garnish
Ingredients necessary for the recipe step are in italic.
Instructions
3/4 cup blue cheese,

8 oz cream cheese,

1/4 cup sour cream,

1/2 teaspoon Worcestershire sauce,

1/8 teaspoon Tabasco sauce,

2 drops Angostura bitters

Mix the cream cheese, blue cheese, sour cream, Worcestershire, Tabasco, and bitters together. The best way to do this is in a food processor. If you want to pipe the mixture into the celery, it's a good idea to let it sit in the fridge to firm up for about 10 minutes, depending on how warm your kitchen is. If not, then set aside and proceed to the next step.

Take a sharp knife and peel the strings off of the celery. If you want to be fancy, you can keep the leaves on. If you are going to be cutting the stalks in half, then cut the leaves off.

If you want to pipe the stuffing, put the stuffing mixture into a piping bag with your chosen tip. Pipe the mixture on the celery. If you are not using a piping bag, just nicely put the mixture on the celery. Lay the celery on a nice platter. If you wish, you can use parsley and/or lettuce as a base garnish for the plate. Put a half olive on the stuffing, either at the top, or bottom, or even both. Dust lightly with paprika or cayenne depending on your taste.
Nutrition
Calories:
114
kcal
Carbohydrates:
1
g
Protein:
4
g
Fat:
10
g
Saturated Fat:
6
g
Polyunsaturated Fat:
0
g
Monounsaturated Fat:
3
g
Cholesterol:
28
mg
Sodium:
279
mg
Potassium:
81
mg
Fiber:
1
g