This is an easy to make casserole that's great for company.
Chicken Cordon Bleu Casserole
Last Updated on February 3, 2023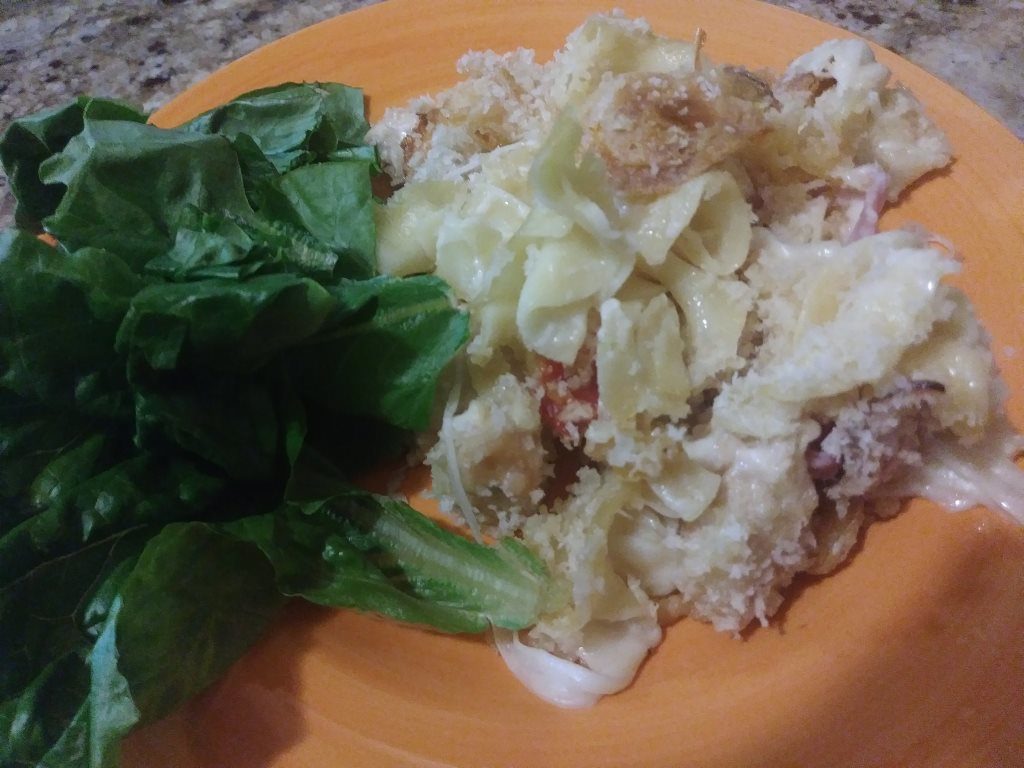 Chicken Cordon Bleu Casserole
I love Chicken Cordon Bleu, but the problem with it is if you are not very careful, the cheese comes out while it is cooking and you wind up with a dried up piece of chicken with a remnant of cheese and some ham.  If you're lucky, they included sauce.
This casserole is so simple, and all the good things about the dish stay right where you want them, inside! Every bite has a little ham and a little cheese.
There is a little bit of backstory with this recipe, but, what recipes do I give without a backstory? When I was making this month's menu, I wanted chicken and I wanted something that we would have leftovers.  I made a note to make some kind of chicken casserole. Then, I was in one of my Facebook groups, and someone mentioned Anthony Bourdain's book, Appetites.  My friend, Chef John Farion CWC, introduced me to his show Anthony Bourdain: No Reservations.  John really loved Bourdain, and they kind of reminded me of each other. John passed the day after Thanksgiving, 2017.  Bourdain passed in June of 2018.  I'm sure they are together in the big kitchen in the sky.
When John and I were roommates many moons ago at the Villa Carlotta in Hollywood, California, there was a lovely French café called La Poubelle, and the owner, Jacqueline, made the best chicken crepes I have ever had.  Jacqueline was good friends with my neighbor, Wally Coover, and we often had crepes at her restaurant.   Jacqueline and John did not get along at all.   Her daughter, Francois, has now taken over the restaurant, and the crepes are no longer on the menu.  When I was thinking about John, and living at the Villa, I thought of those crepes and how delicious they were.  I thought I could incorporate some of those memories into my casserole.

Don't Be Afraid of Mornay
White sauce or béchamel is a foundation sauce.  If you can make a béchamel, you can make a lot of other sauces.  You start with a roux. This is so easy, it's child's play.    Two parts fat to one part starch, usually flour.  Melt the fat, then add the flour, and cook it over low heat until the mixture starts turning white.  Be careful, it can go quickly from white to brown.  Sometimes, you want the flour to turn brown, depending on what sauce you are making.  Just know, the darker the flour, the less thickening properties it has.  Once the flour has turned white, add one cup of liquid.  You can add other ingredients at this point, a shaving or two of nutmeg, salt, and pepper, a bay leaf, etc. To make Mornay, add grated swiss cheese. So, what other sauces could you make with this basic method? You could make gravy for your Thanksgiving feast, or you could make the sauce for macaroni and cheese, etc. It's just a 2:1:1 ratio: for one cup of sauce, 2 tablespoons butter, one tablespoon flour, one cup milk or other liquid.
Let's Make Chicken Cordon Bleu Casserole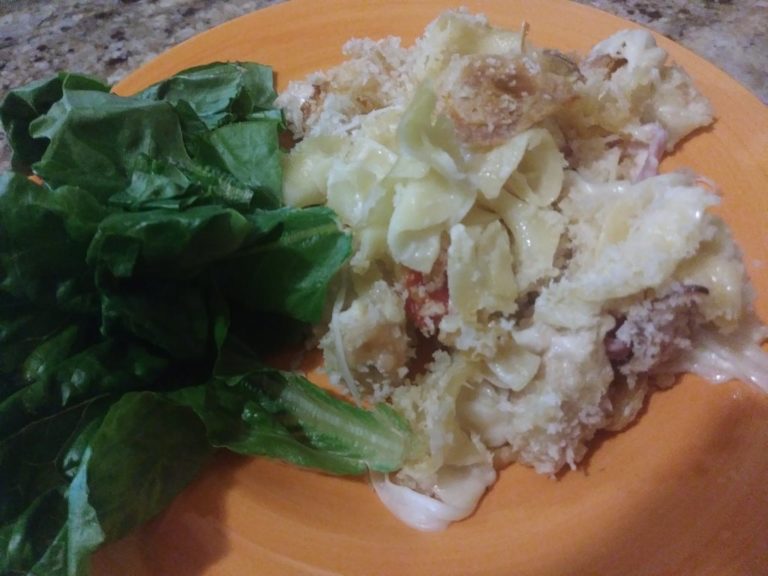 Servings (slide to adjust):
servings
Ingredients
For the Chicken
1

pound

boneless

,

skinless chicken, cut into 1 inch pieces

4

cloves

garlic

½

cup

bell pepper

,

sliced

1

teaspoon

butter

1

teaspoon

Sunny Paris *
For the Mornay
2

tablespoons

butter

1

tablespoon

flour

1

scant cup milk **

½

teaspoon

chicken base ***

splash sherry

splash cream

1

bay leaf

¼

teaspoon

freshly grated nutmeg

½

cup

shredded swiss cheese
For the Topping
½

cup

panko breacrumbs

¼

cup

Parmesan cheese

,

grated

¼

cup

canned fried onions

2

teaspoons

butter

,

cut up
For the Casserole
6

oz

1/2 bag egg noodles, cooked and drained

1

teaspoon

butter

4

slices

Black Forest ham

,

torn into bite-size pieces

1

cup

mushrooms

,

sliced

8

slices

swiss cheese

prepared chicken

prepared Mornay sauce

prepared topping
Ingredients necessary for the recipe step are in italic.
Instructions
For the Chicken
Put butter in a hot skillet and after it has melted, add the garlic and saute. Don't let it brown. When it is translucent, add the chicken, Sunny Paris seasoning, and the bell peppers. Saute, turning often, until the chicken is completely cooked and starting to brown. about 15 minutes.

Set aside.
For the Mornay
In a saucepan, melt the butter. Add the flour and cook until the flour starts to turn white. Add the remaining ingredients, on low, and stirring frequently, cook until the mixture has thickened. Remove the bay leaf, and add the cheese, stirring until all the cheese has melted. Set aside.
For the Topping
Preheat the oven to 350. Have ready a 9x13 long casserole dish.

Put everything but the butter in a bowl and gently toss together. Set aside.
For the Casserole
Notes
* Sunny Paris is a combination of shallots, chives, green peppercorn, dill weed, basil, tarragon, chervil, and bay leaf.
** Scant means not quite enough. Pour a splash of sherry, and a splash of cream into a measuring cup. Pour enough milk into the measuring cup to come up to 1 complete cup.
*** Chicken base you could substitute 1/2 bullion cube
Nutrition
Serving:
253
g
Calories:
443
kcal
Carbohydrates:
25
g
Protein:
38
g
Fat:
21
g
Saturated Fat:
12
g
Polyunsaturated Fat:
1
g
Monounsaturated Fat:
6
g
Cholesterol:
118
mg
Sodium:
840
mg
Potassium:
546
mg
Fiber:
1
g
Sugar:
5
g