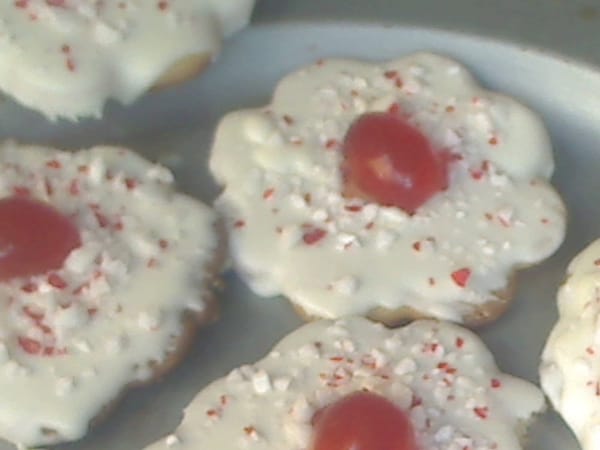 Christmas gifts from the kitchen are a great idea because your friends and family know that you took the time to make them.  It wasn't about shopping at a store for something already made that a lot of other people have.  No one is going to have these gifts except those who receive them.
For ribbons, I recommend going to a cooking supply store like Sur La Table.  That's where I go to get cooking type ribbons.
Christmas Gifts from the Kitchen
I really like giving Christmas and other holiday gifts from my kitchen to my friends, neighbors, and Spane's school. So, this year I decided that I was going to give out some of the fudge and cookies that the kids made at the Kid's Christmas Party on Saturday.
Life has been hectic since then, and Spane really wanted to help me to decorate the Roll-Out Cookies. Today was also the last day of school before the winter break, a perfect opportunity to give his teacher and the front office some nice treats.
Plating Fudge
We got up very early this morning and started our project. The first thing I did was cut up the fudge in nice pieces. I put a little cappuccino and a little Peppermint on each plate, then wrapped each plate in some nice Christmas tissue paper that I tied with a red ribbon that said: "Kiss the Cook".
Of course, I saved one of the plates of fudge for our house. As I write this, most of it is gone. Oh, well, I can make more.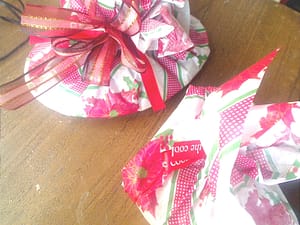 Decorating Cookies
Then it was time to decorate the cookies. I separated the cookies into groups. There were nine flower looking cookies, and a dozen Christmas trees, but various other assorted cookies. The Christmas trees I knew had to have green icing, and I thought the flowers should be white.
I have found the best icing for cookies is Pillsbury Creamy Supreme Vanilla frosting in the can. I put some of it into a microwave-safe bowl and heated it in the microwave for about 10 seconds, or until it was runny. You have to be very careful not to let the frosting burn because it will get so hot it will melt the plastic container it comes it!
Then I took a tiny bit of green Wilton food coloring gel and mixed it in thoroughly.
The cookies were on cooling racks over baking sheets. This helps keep the area clean because the icing can drip. This also keeps whatever you might want to sprinkle on the sheet, and not on your work surface.
Painting Christmas Trees
To paint the Christmas trees, I simply used my small silicon pastry brush and painted the green icing on. After I put the cookie back on the rack, it was Spane's turn to decorate the cookies with multicolored jimmies and multicolored candy-covered sunflower seeds. I used a bit of rock candy as the tree topper.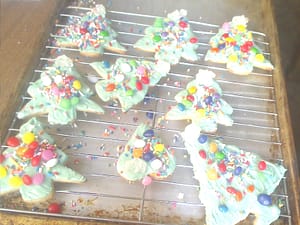 After the icing had dried a bit, I put the cookies on the same serving dish that still miraculously had three of the White Chocolate Cherry Almond Cookies I had made on Saturday.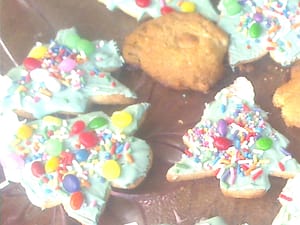 Then it was time to do the flower cookies. For those, I poured the white icing directly on them and then sprinkled chopped peppermint on them. Then I put a glacé cherry in the middle.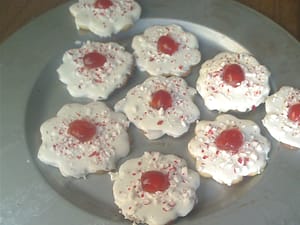 Spane wanted to take the cookies to school with him for the classroom party, but I said, no, all the other cookies I have decorated have been given away, but not these. I promised him we would make more cookies for Valentine's day.
It gives you a warm feeling in your heart when you give someone a cookie, and they bite into it. Then the corners of their mouth start to come up, and there is a big, giant smile on their face. I'm not talking about kids, I'm talking about adults, but kids do that, too. To see that smile on someone's face after eating something I made just makes my day.