Yes, you can make this potato salad in the Instant Pot!
Potato Salad in the Instant Pot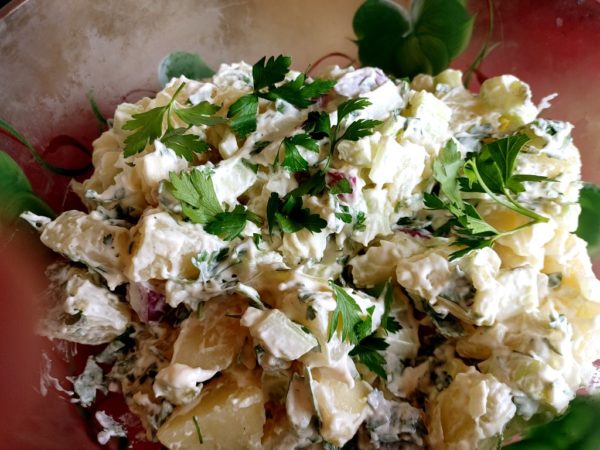 This is my potato salad, the one that I make that everyone who has it loves it. It's simple, and you can make it in the Instant Pot.

I will easily confess that I am picky about potato salad.  I don't like it sweet – that is with a sweet dressing or sweet pickle relish. No eggs in it either because I don't like the texture of egg whites. Freshly cooked potatoes are best – the salad at the deli always seems to have an off texture to it. Truth be told, if I go to a picnic or a party where potato salad is being served, I very rarely put it on my plate because I am picky and I don't want to insult the host or hostess. That being said, I really love, love, love potato salad as long as it's made correctly — the way I make it.
Did you see the title of this recipe?  It's making potato salad in an Instant Pot.  You heard me right, make it in the Instant Pot. The potatoes turn out perfectly cooked every time and since they are mostly steamed, they don't get waterlogged.
The best potatoes to use are white rose potatoes, but if you can't get them, use russets or Yukon golds. I like to peel the potatoes and cut them first, then cook them. They also cook more evenly in the Instant Pot if they are already cut.
Mustard for Potato Salad
I use a good, spicy Dijon mustard.  My favorite is from Philippe the Original in Downtown Los Angeles.  It's been around for over 100 years, and yes, it is the home of the original French Dip sandwich. It's worth it to come to Los Angeles, have an original dipped sandwich, and get a jar of their signature mustard at the counter on the way out, or you can order it online and have it shipped to your door.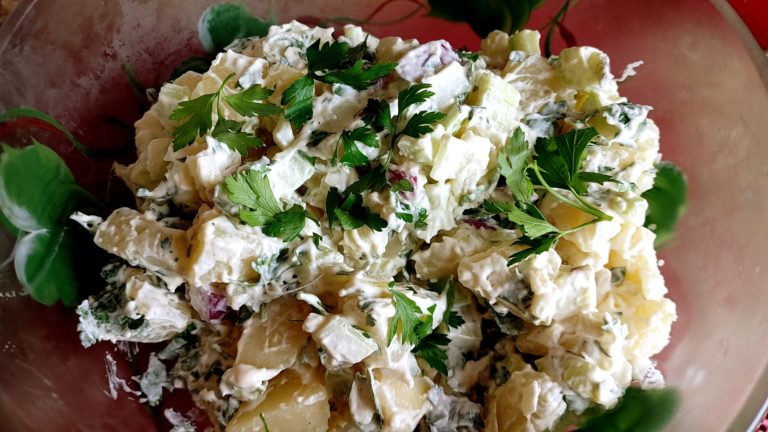 Servings (slide to adjust):
Calories per serving:
240
kcal
Ingredients
2

pounds

potatoes

,

White Rose preferred

4

pickles

,

Kosher Dill preferred

1

large Onion

,

Red preferred

1

bunch Celery

,

sliced

¼

cup

Italian parsley

,

chopped
~~ -- For the Dressing -- ~~
1

cup

Mayonaise

1

teaspoon

dijon mustard

,

Philippe the Original preferred

¼

teaspoon

White pepper

½

teaspoon

Justice

1

tablespoon

pickle juice
Ingredients necessary for the recipe step are in italic.
Instructions
Peel the potatoes and cut them into 1/2 inch cubes. Put them in the Instant Pot with 1 cup of water and set them for 4 minutes. Use the Instant Release method. Remove them from the pot and drain them set aside.

Use a knife to remove the strings from the celery. Then slice the celery into 1/8 inch slices. Set aside.

Chop the onion and set that aside.

Chop the Italian parsley as well and keep a few sprigs out for decoration. Set aside.
*** Make the Dressing ***
Combine the mayonnaise with the mustard, white pepper, and justice. Whisk together and taste for seasoning. Add the pickle juice a little at a time until the dressing is a tiny bit thinner, but not so thin that you can pour it.

When the dressing is made, put the potatoes and vegetables in a large bowl and pour the dressing overall. Use a large spoon to mix it all together. Put it in the refrigerator to cool.
Notes
If you don't like red onions, you can use white onions. Red onions are nice because they have a mild flavor and offer a pop of color. If you cannot find Italian or flat-leaf parsley, you can use curly parsley instead.
Nutrition
Calories:
240
kcal
Carbohydrates:
35
g
Protein:
4
g
Fat:
10
g
Saturated Fat:
1
g
Polyunsaturated Fat:
5
g
Monounsaturated Fat:
3
g
Cholesterol:
8
mg
Sodium:
472
mg
Potassium:
734
mg
Fiber:
4
g
Sugar:
4
g