A new holiday tradition.
Apple Upside-Down Cake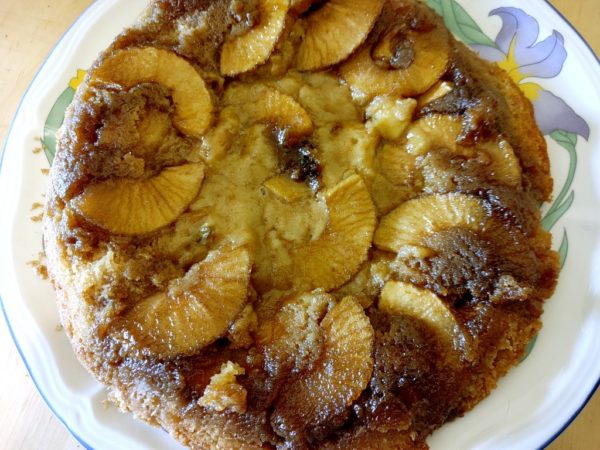 You probably have everything you need to make this Apple Upside-Down cake already in your pantry. This rich cake is a great choice for the holidays. Make it your new tradition.

When I made this cake, I had leftover crumbs from the Blueberry Muffins I had made.  I also had some apples that were crying to be used. I used the batter from the Raw Apple Cake to make this.
It's three layers, one for the upside-down with apples, one for the cake batter with apples, and one for the crumb. You can use whatever apples you happen to have around.  I did not use baking apples, just apples for eating.
When I made this, I made it in a pie pan. You could make it even prettier by using a quiche or tart pan.  A spring-form pan will not work because the upside-down melted butter and brown sugar will leak. This is also an excellent candidate for a Bundt pan.
Use whatever apples you happen to have on hand.  The apples I had were not baking apples, and they did just fine. Feel free to make the crumb topping as you like it. You can also add a little bourbon to the cake batter for an adult cake.  Enjoy!
For the crumb, you don't have to make blueberry muffins – you can make the crumb that you like and add whatever you want to make it your own.
This cake has a lot of cinnamon and it deserves to have good cinnamon.  The regular cinnamon you use for cinnamon toast just won't do. I recommend Penzey's Vietnamese cinnamon because it's the best – and this cake deserves the best.
The Empress of Apple Upside-Down Cake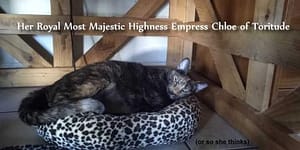 Just after serving a slice of this for myself and my son, I covered the plate. We went to have our treat and watch whatever we were binge-watching.  Suddenly, I heard the sound of glass breaking. Our cat, the Empress of all the Tortitudes, her most royal, high, and respected, Chloe, came running out of the kitchen like the devil was after her.  She really likes apples. She managed to turn the plate over on its side in an attempt to get the cover off the cake.  It tumbled to the floor, exploded, and smashed to smithereens. All the ceramic shattered into tiny pieces that embedded themselves in the remains of the cake.  Chloe was not hurt but she did manage to get a piece of apple that she took to her bed and happily ate.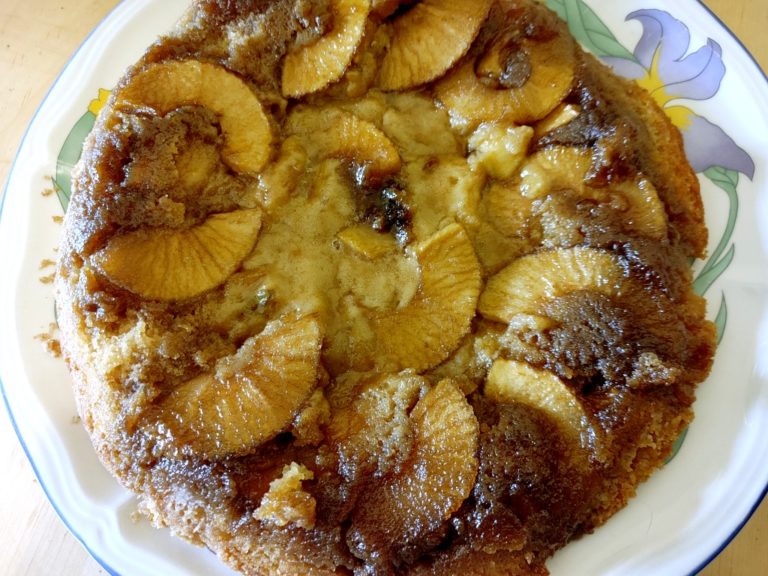 Servings (slide to adjust):
Calories per serving:
345
kcal
Ingredients
~~ -- The Upside-Down -- ~~
½

cup

butter

,

unsalted 1 stick

1

cup

brown sugar

1

apple

,

cored, peeled, and sliced
~~ -- The Batter -- ~~
2

Apple

,

peeled and sliced

1

Egg

1

teaspoon

Baking soda

1

cup

Flour

¼

cup

Oil

1

teaspoon

Cinnamon

¾

cup

Sugar

¼

teaspoon

salt
~~ -- The Crumb -- ~~
¼

cup

butter

,

cold

½

cup

Flour

2

tablespoon

Brown sugar

½

teaspoon

Cinnamon,

Vietnamese preferred
Ingredients necessary for the recipe step are in italic.
Instructions
Notes
You could also do this with a Bundt pan. You would do it in exactly the same order.
This would be excellent with a small scoop of vanilla ice cream when served.
Nutrition
Calories:
345
kcal
Carbohydrates:
49
g
Protein:
2
g
Fat:
16
g
Saturated Fat:
8
g
Polyunsaturated Fat:
3
g
Monounsaturated Fat:
4
g
Cholesterol:
31
mg
Sodium:
169
mg
Potassium:
133
mg
Fiber:
1
g
Sugar:
36
g