Artichoke, Avocado, and Shaved Parmesan Composed Salad
Artichoke, Avocado and Shaved Parmesan Composed Salad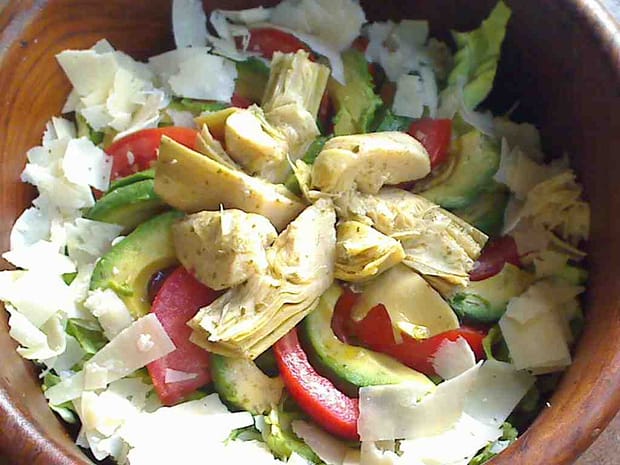 Artichoke, Avocado and Shaved Parmesan Composed Salad
A very long time ago, a friend took me to a wonderful restaurant where Santa Monica Blvd meets Beverly Blvd. in West Hollywood, California. The restaurant was called Figaro, and my friend said I should order his favorite salad. I don't remember what it was called, but I have always remembered how good it was.
Years later, when this same friend came back into my life, I told him I had a surprise and presented this salad. He was so happy he almost wept, saying he never thought he would have that salad at Figaro's again – as the restaurant had closed quite some time before.
This salad is wonderful even for people who don't like avocado.  My family and friends request it again and again. Try to get good parmesan when you make this.
Make sure the avocado is ripe, but not so ripe that it's going to have brown spots. You can use those for guacamole. To cut the avocado, cut it in half, then separate the two halves.  Take a spoon and move it between the skin and flesh, but don't take it out.  Then use a knife and make slices.  You can then remove the slices safely.
The Dressing
The dressing is important when making this salad. Girards' Champagne dressing is perfect for this, but you could use a mild Italian or even a mild vinaigrette that will go with this artichoke, avocado, and parmesan salad.  I would not recommend Ranch, Blue, Thousand Island or any of the Russian dressing families. You want to stay away from cream-based dressings.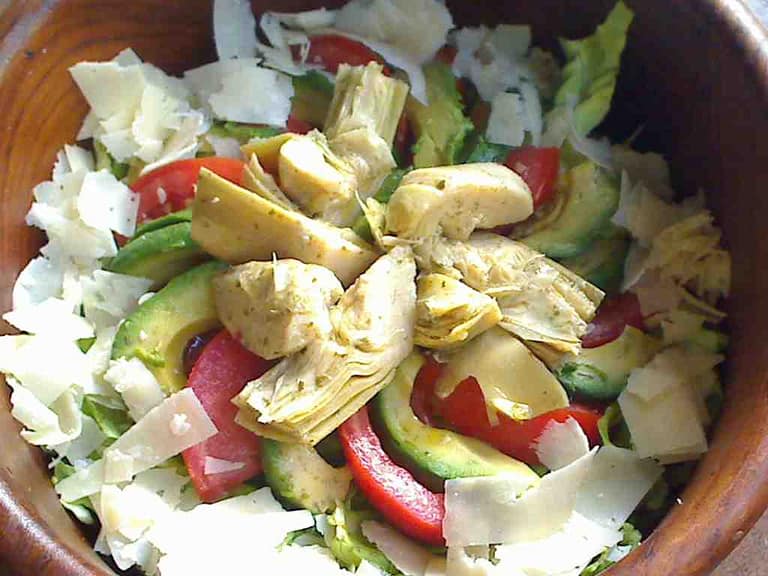 Servings (slide to adjust):
servings
Calories per serving:
159
kcal
Ingredients
½

head of

lettuce

,

Boston or Romain

1

jar

marinated artichokes

1

avocado

,

sliced in wedges

1

tomato

,

cut in wedges

3

green onions

,

Greens of only, chopped

½

cup

shaved

,

not grated, Parmesan

¼

cup

GIRARD'S Champagne Dressing
Ingredients necessary for the recipe step are in italic.
Instructions
In a large salad bowl, put the torn lettuce.

Top that with the chopped spring onions.

Arrange the tomato slices in a pinwheel over the onions.

Arrange the avocado slices between each slice of tomato.

Arrange the marinated artichokes on top of the tomato/avocado pinwheel. Try to make it look like a flower.

Arrange the cheese over the lettuce around the perimeter of salad.

Present the salad, and smile at the compliments.

Toss with the dressing and serve.
Notes
Quick notes
Don't try to make this salad ahead of time. The avocado will turn brown and the lettuce will wilt. It has to be done at the very last minute.
Variations
You can use either Boston or Romain lettuce for this salad.
Nutrition
Calories:
159
kcal
Carbohydrates:
11
g
Protein:
9
g
Fat:
10
g
Saturated Fat:
4
g
Polyunsaturated Fat:
1
g
Monounsaturated Fat:
4
g
Cholesterol:
13
mg
Sodium:
463
mg
Potassium:
476
mg
Fiber:
4
g
Sugar:
3
g