This non-alcoholic dessert is in honor of National Tequila Day, July 24th, and national Margarita day, February 22nd.
Lemon Margarita Bavarian Creams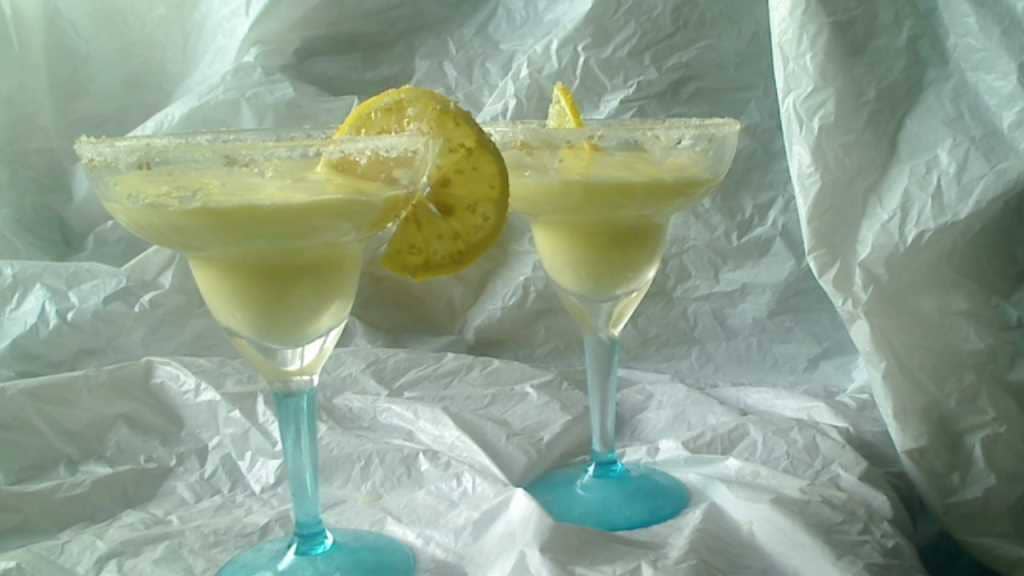 These alcohol-free Lemon Margarita Bavarian Creams are festive and easy to make. You can have them as a dessert for your Mexican-themed dinner. Enjoy!

Did you know that July 24th is National Tequila Day? I've been looking at pictures of Margarita all day long. I've also been bemoaning the fact that I can't find Agave wine anymore. Agave wine is made from the agave plant, from which tequila is also made. Since the wine is fermented, it does not have the same kick as tequila, which is distilled. But, it does have virtually the same taste but doesn't make you feel like you're plastered after only one drink.
Bavarian cream is a classic French dessert, similar to pastry cream, but is thickened with gelatin instead of flour. Usually, it is served in a mold and decorated with Crème Chantilly. So, there you have the inspiration for my Lemon Margarita Bavarian Creams.
Spane has been asking me to make lemon Jello for the past few days, and I also had a half a tub of Cool Whip in the freezer. Usually, I don't buy Cool Whip, but I do use it for Ambrosia because my friend's mother, Jean, told me that's how she makes hers, and she makes the best Ambrosia I've ever had.
Why Cool Whip works: the Cool Whip works because it's frozen. When whipping it into the hot Jello, it starts to cool it off, and is cooling it before it breaks down too much. It's important that the Cool Whip still be frozen, don't let it sit out.
The glasses are rimmed with a mixture of sugar and edible gold glitter. The gold glitter is to bring to mind Gold Tequila.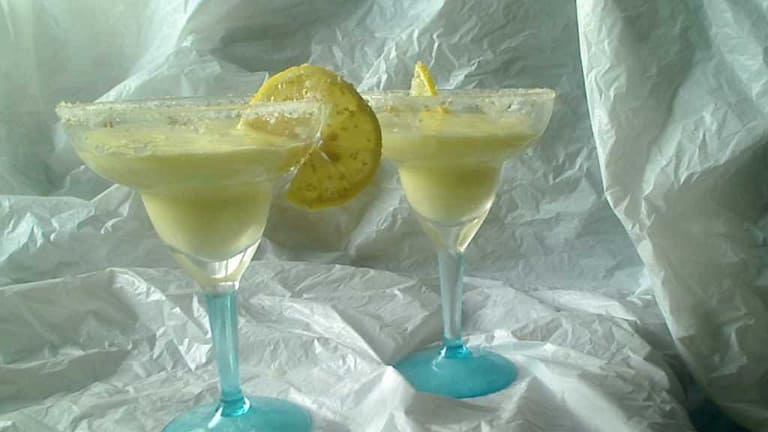 Servings (slide to adjust):
servings
Calories per serving:
91
kcal
If you purchase any of the products through these affiliate links, I get a few pennies that help keep The Good Plate open. I use these products myself and want you to be able to easily find them.
Ingredients
1

small box

lemon Jello

1

cup

boiling water

½

small tub

Cool Whip

,

2 cups

1

packet

True Lime

½

teaspoon

brandy flavoring

ice

Sugar

Lemon slices

Edible gold glitter
Ingredients necessary for the recipe step are in italic.
Instructions
Put the boiling water into a medium size heat-resistant bowl. Put the Jello into the water, and stir to dissolve it completely.

Put the mixture into a stand mixer. Place a bowl of ice under the mixing bowl and use the whisk attachment on low to stir the Jello and get it colder.

Put some of 2 tablespoons of Cool Whip into the Jello, and stir it in completely on low.

Keep stirring the mixture on the ice until it starts to set.

Add the True Lime and brandy flavoring.

Keep stirring until the mixture is beginning to get thick.

Add the remaining Cool Whip and whip on medium speed until all the Cool Whip is mixed into the dessert and no white spots appear.

Have two margarita glasses ready. Put some sugar on a plate or saucer. Mix some of the gold glitter into the sugar.

Wet the rims of the glasses, and dip the edges in the sugar mixture. Set aside.

Slice a lemon slice for each glass, and dip the lemon slice on both sides in the sugar mixture as well.

Put a lemon slice on the side of each glass.

Put in the refrigerator and let chill until completely set about 30 minutes.
Notes
Quick notes
You can use a large box of Jello and double all the other ingredients. The cooling time will be longer as well.
Variations
You could use real whipped cream, but you would have to fold it in after the Jello had almost set.
Nutrition
Serving:
150
g
Calories:
91
kcal
Carbohydrates:
15
g
Protein:
1
g
Fat:
3
g
Saturated Fat:
2
g
Polyunsaturated Fat:
0
g
Monounsaturated Fat:
1
g
Trans Fat:
0
g
Cholesterol:
11
mg
Sodium:
50
mg
Potassium:
47
mg
Fiber:
0
g
Sugar:
11
g