This is my take on my grandmother's Lemon Jello Cake
Glazed Lemon Jello Cake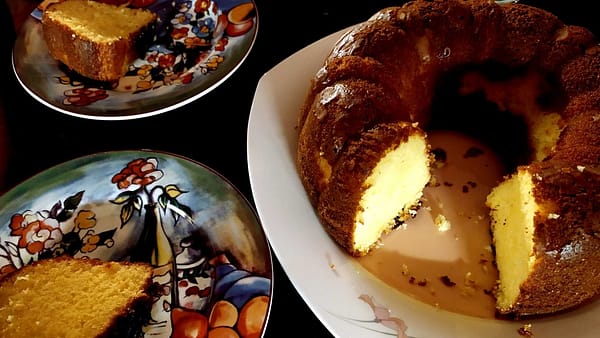 I grew up with and loved my grandmother's famous Glazed Lemon Jello cake. The Jello in the cake makes it moist and it stays that way. This cake won't dry up if you leave it on your plate for a moment or two.
I remember my grandmother making this cake for us when I was a teenager.  We weren't allowed in the kitchen to see what she did.  We just knew there was Jello in it and it tasted good. She didn't share the recipe and even googling for it, I was never able to find her exact recipe.
Then, one day I was talking to my cousin who lives in South Carolina.  She told me she had asked our Nana for the recipe, and Nana wrote it down for her.  A miracle of miracles.  We went to South Carolina to visit my cousin, talk about family history, and bake this wonderful cake.
Cursive Writing
My cousin had the recipe that our Nana had written down for her. I am very glad that I took cursive writing when I was in school.  The trend of not teaching cursive writing is a curse on our society.  How are we supposed to be able to read these things we find in the future? What if you have no Internet and you only have a note posted in cursive writing?  This is my grandmother's beautiful handwritten recipe.  My grandmother passed in 1972. The paper is protected in plastic.  Below is a picture of my Nana with her handwritten recipe.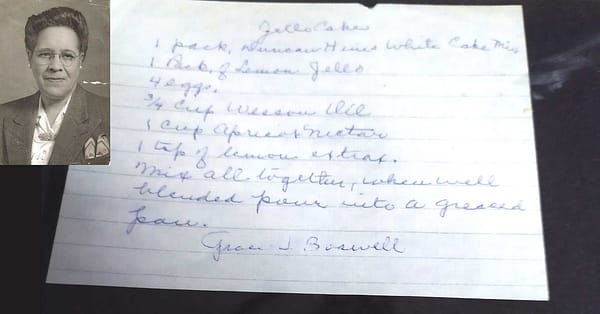 Why My Recipe Differs
I prefer to not use a boxed cake mix.  That's where the recipe here differs from my Nana's.  Some things my family made require strict brand ingredients, but a cake does not. We're going for the things that are probably in your pantry and not a bunch of chemicals.
Let's Make Nana's Glazed Lemon Cake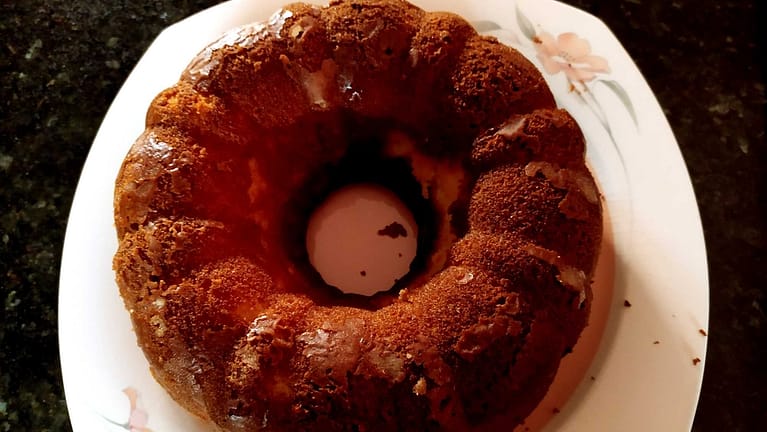 Servings (slide to adjust):
Calories per serving:
420
kcal
Ingredients
Cake
2 ⅓

cups

all-purpose flour

1

tablespoon

baking powder

¾

teaspoon

salt

1 ½

cups

white sugar

1

box lemon jello

4

eggs

¾

cup

vegetable oil

1

cup

apricot nectar

1

teaspoon

lemon extract

1

tablespoon

lemon juice

1

teaspoon

lemon zest
Glaze
⅓

cup

sugar

⅓

cup

lemon juice

1 ½

tablespoons

vodka
Ingredients necessary for the recipe step are in italic.
Instructions
Prepare a Bundt pan with Baker's Joy.

1/3 cup sugar,

1 1/2 tablespoons vodka,

1/3 cup lemon juice

Mix the ingredients for the glaze and set them aside.

Preheat the oven to 350.

2 1/3 cups all-purpose flour,

1 tablespoon baking powder,

3/4 teaspoon salt,

1 1/2 cups white sugar,

1 box lemon jello,

4 eggs,

3/4 cup vegetable oil,

1 cup apricot nectar,

1 teaspoon lemon extract,

1 tablespoon lemon juice,

1 teaspoon lemon zest

Put all the ingredients in a large bowl or stand mixer.

Mix the ingredients very well, being sure to scrape at the sides and bottom of the bowl

Pour the mixture into the prepared pan and bake for 30 minutes or until a toothpick comes out clean. Let it rest in the pan for about 10 minutes.

While the cake is still warm, remove it from the pan and put it on a cake rack under a sheet pan. Using a pastry brush, paint the cake with the glaze until all the glaze is used up.

Let the cake come to room temperature then dust with powdered sugar.
Notes
If you don't want to use vodka, replace it with water.
Nutrition
Serving:
130
g
Calories:
420
kcal
Carbohydrates:
63
g
Protein:
6
g
Fat:
17
g
Saturated Fat:
2
g
Polyunsaturated Fat:
2
g
Monounsaturated Fat:
11
g
Cholesterol:
171
mg
Sodium:
286
mg
Potassium:
105
mg
Fiber:
1
g
Sugar:
41
g