This is the new star of your holiday table.
Ellie's Italian Sausage Stuffing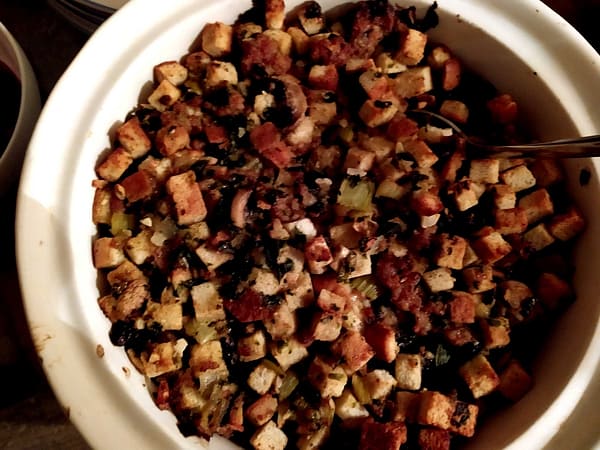 This Italian sausage stuffing is not as easy as the stuff in the box you make on the stovetop, but if you are going to have one star of your holiday table, it should be this stuffing.

For years, I have been making Oyster Cornbread Dressing and I love it. It's really a great stuffing or dressing. It's been in my family for I don't know how many years. I stopped.
We went to visit my cousin in South Carolina. While I was there, I got some of my Grandmother's handwritten recipes. My cousin raved about this one and how everyone loved it when she made it, so I took a picture of it as well. The recipe originally appeared in Sunset Magazine and googling for it did not show the results. So, here it is from the original magazine print.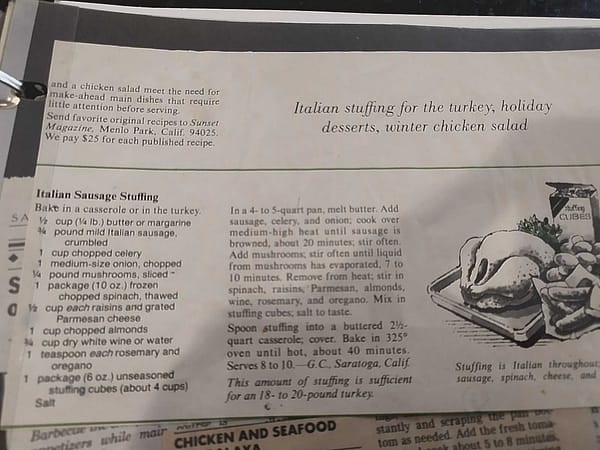 I did make some changes to the original recipe. Sometimes, foods and brands from some years ago are no longer popular so you can't find them in the stores. I was unable to find unseasoned stuffing cubes, so I got Pepperidge Farms Herb Seasoned Cubes. I really think they gave a good flavor, but next time I think I'm going to use dried Pain de Mie.
The other change I made was a little more practical. I had a bottle of wine with only a little left so I mixed it with water and chicken base. It was really a perfect blend of flavors. When you make this, make sure you use good white wine, something that you enjoy and would serve to your guests.
I think everything needs a little Justice, so I threw a couple of shakes of that in as well. Celebrations and Justice, what could be better?
Most recipes tell you to drain thawed frozen spinach.  Don't do that for this recipe. You need the liquid to moisten the stuffing.  It may look like all that's in the bowl won't fit in a two-quart casserole.  It will. Without further ado, I present Italian Sausage Stuffing…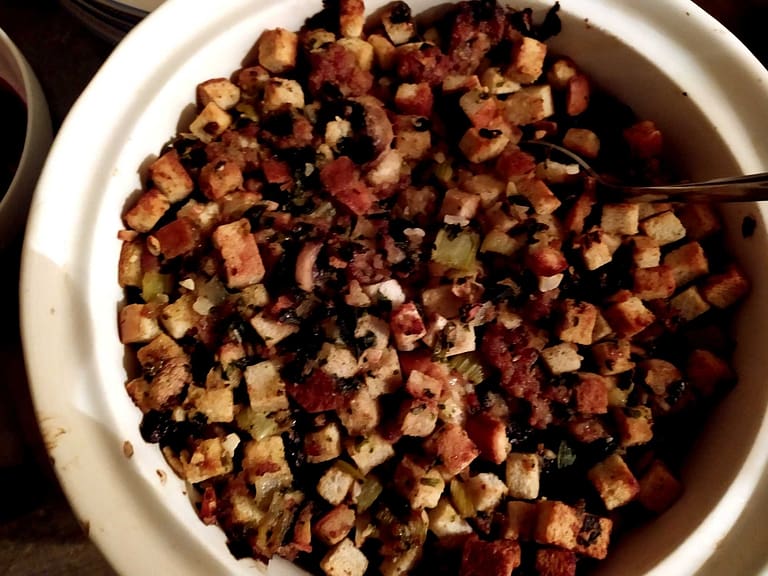 Servings (slide to adjust):
Calories per serving:
376
kcal
Equipment
Ingredients
½

cup

hot water

½

tsp

chicken base

½

cup

butter

¾

lb

mild Italian sausage

,

crumbled

1

cup

celery

,

chopped

1

medium

Onion

,

chopped

¼

lb

mushrooms

,

sliced

10

oz

frozen chopped spinach

,

thawed

1

cup

raisins

1

cup

parmesan

,

grated

1

cup

Almonds

,

chopped

¼

cup

dry white wine

1

tsp

rosemary

1

tsp

oregano

1

box

unseasoned stuffing cubes
Ingredients necessary for the recipe step are in italic.
Instructions
1/2 cup hot water,

1/2 tsp chicken base

Make chicken broth by stirring the chicken base in hot water. Set aside.

1/2 cup butter,

3/4 lb mild Italian sausage,

1 cup celery,

1 medium Onion

In a 5-quart pan, melt butter. Add sausage, celery, and onion; cook over medium-high heat until sausage browned, about 20 minutes, stirring often.

Add the mushrooms. Stir often until liquid from mushrooms has evaporated, minutes. Remove from heat.

1 box unseasoned stuffing cubes

10 oz frozen chopped spinach,

1 cup raisins,

1 cup parmesan,

1 cup Almonds,

1/4 cup dry white wine,

1 tsp rosemary,

1 tsp oregano

Stir in spinach, raisins Parmesan, almonds, wine, rosemary, and oregano. Add the broth you made earlier and taste for seasoning. Add salt to taste.

Spoon stuffing into buttered 2-quart casserole and cover.
Notes
If you have concerns about fat, you can replace the Italian sausage with ground turkey and add fennel, minced garlic, and a few chili flakes.
Nutrition
Serving:
187
g
Calories:
376
kcal
Carbohydrates:
32
g
Protein:
15
g
Fat:
21
g
Saturated Fat:
9
g
Polyunsaturated Fat:
2
g
Monounsaturated Fat:
8
g
Cholesterol:
43
mg
Sodium:
682
mg
Potassium:
497
mg
Fiber:
4
g
Sugar:
13
g