The famous soup from the movies!
Pasta Fagioli Soup
When the stars make you drool
Joost-a like pasta fazool (Pasta Fagioli)
That's amore
When you dance down the street
With a cloud at your feet, you're in love
When you walk in a dream
But you know you're not dreamin', signore
'Scusami, but you see
Back in old Napoli, that's amore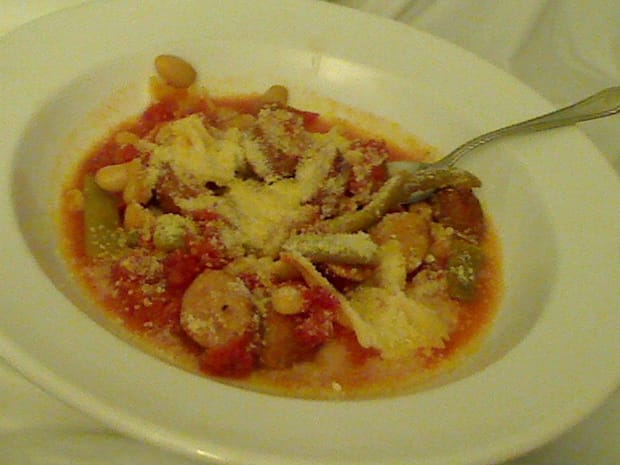 Pasta Fagioli Soup
We all remember Dean Martin singing That's Amore, either on television if you're old enough, or in the movie Moonstruck if you're not. It was raining here today in Glendale, and I had a PTA meeting to go to, so I thought that soup would be an excellent idea.
I have a wonderful book, The Mafia Cookbook, where I know I can get very authentic Italian recipes. This soup can either be an appetizer, having very little meat, as it is in the book, or you can add meat like I did and have a full filling meal.
Well, let's get started.
Our Mis En Place
If you cannot find Cannellini beans then, by all means, you can substitute Great Northern beans, although the Cannellini beans are superior.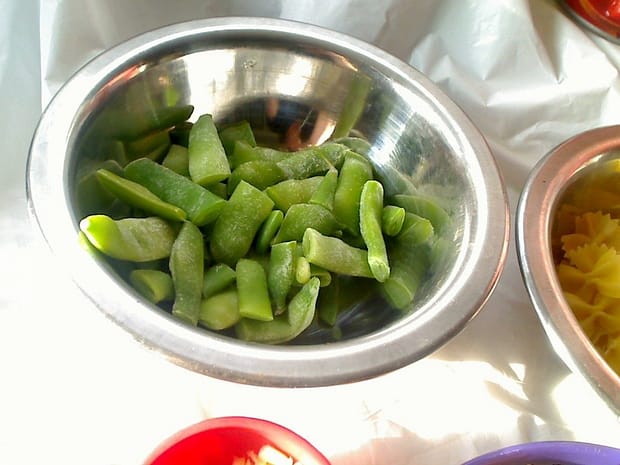 If you cannot find Italian Cut green beans, you could substitute French Haricot Vert, the very thin baby green beans. However, the flat Romano green bean is the best one for the dish. It's better to get frozen beans than canned beans.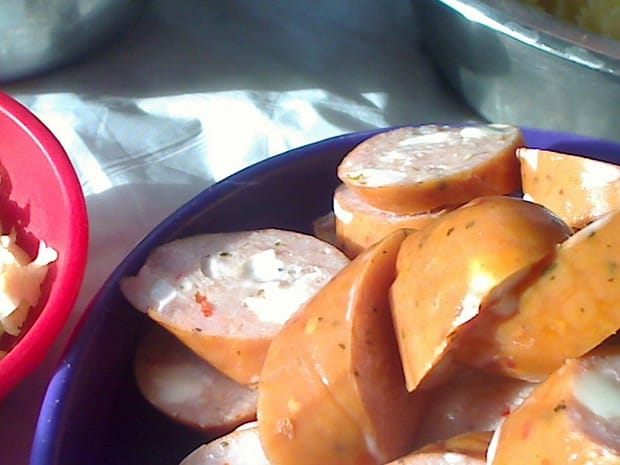 The wonderful Three Cheese Italian Style Meatballs from Johnsonville are perfect for this dish. If you want to make an appetizer soup, omit the sausage and use a few strips of bacon instead. You will want the bacon to be crisply cooked before adding any other ingredients, however.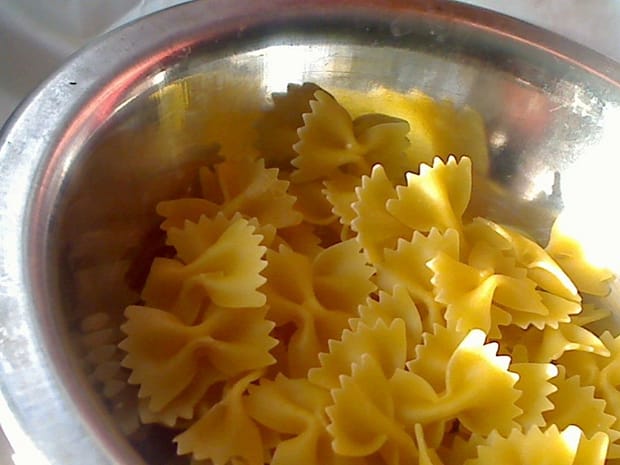 Most traditional recipes call for elbow macaroni, but you can use what you have on hand. I had a little bit of Farfalle leftover from SeeFood and Bows, so I used that.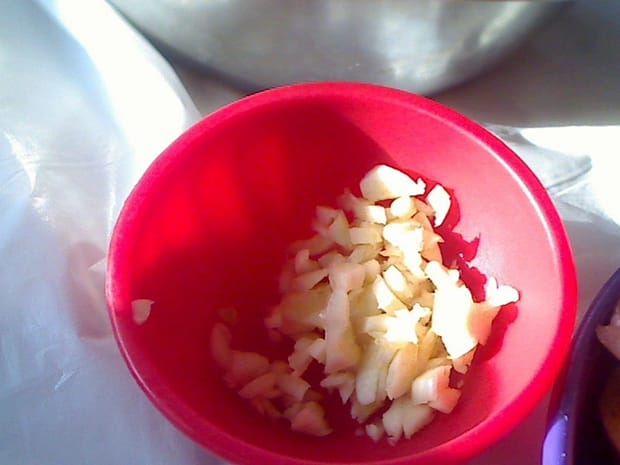 Be sure and use fresh garlic, there is no substitute for fresh garlic. Garlic is not difficult to prepare. Simply place the flat part of a chef's knife over the clove, take your fist, and pound down once. The garlic will slip right out of its skin, and you merely have to chop it from there.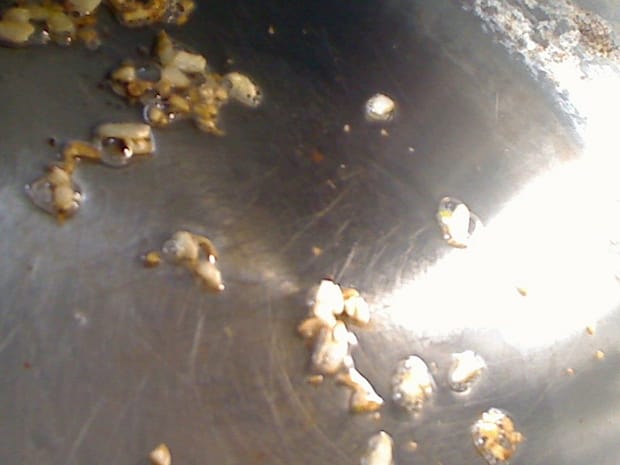 Using a large pan, sauté the garlic in bacon fat until it has turned tan. Do not let it get brown, because then it would be burned. Take the pan off the heat.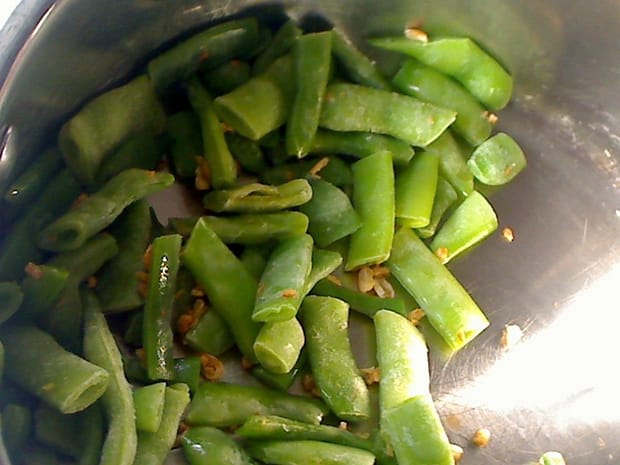 Since the Italian green beans are frozen, I added them and sautéed them a bit so they could take on some of the flavors.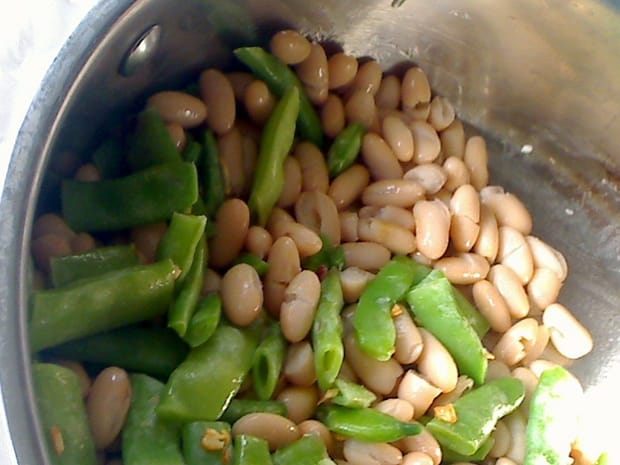 The Cannellini beans were the next thing that went into the pot. They too need a little time to absorb some of the flavors.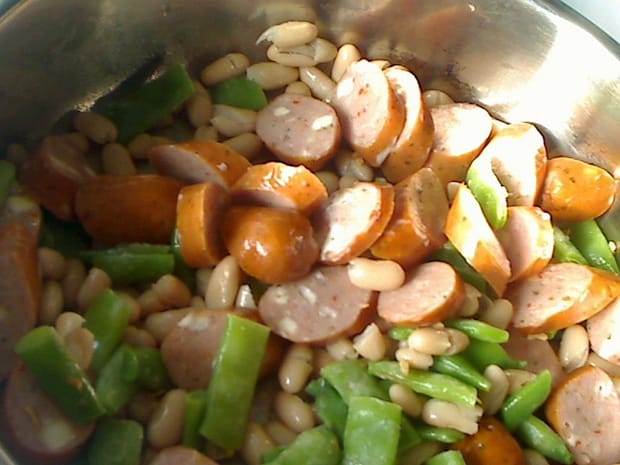 The sliced sausage was next. Just to make sure they were good, I ate a couple of slices, just to test them out, just to make sure they were good, you know?

The Liquid Part
I used canned chopped tomatoes in my soup. I prefer them because I like nice chunks of tomato. You could use tomato sauce, or crush tomatoes if you want.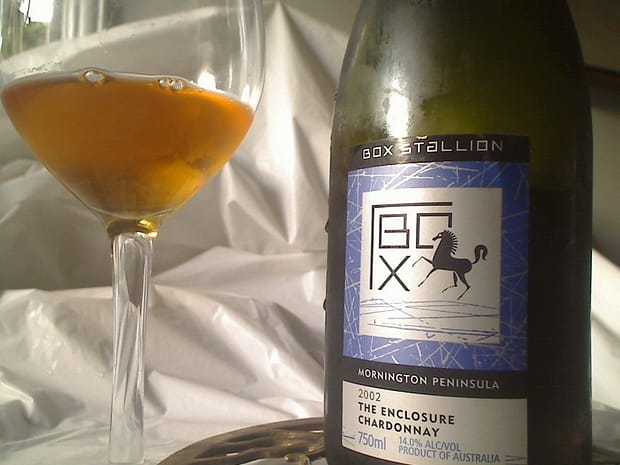 In my opinion, almost any food is better with a little bit of wine included, especially foods that have tomato. I got a wonderful bottle of Chardonnay from my local Armenian store, so I added a little bit of that. I would not suggest using a red wine because it would be too overpowering for a light soup such as this.
Because I used chopped tomatoes that do not have very much liquid, I used two cups of the drained pasta water. This practice is common in Italy, as the pasta water retains a little of the pasta's flour, which can make the liquid a little thicker.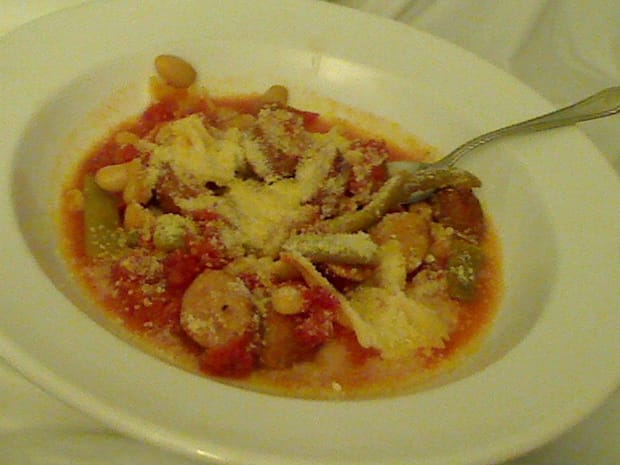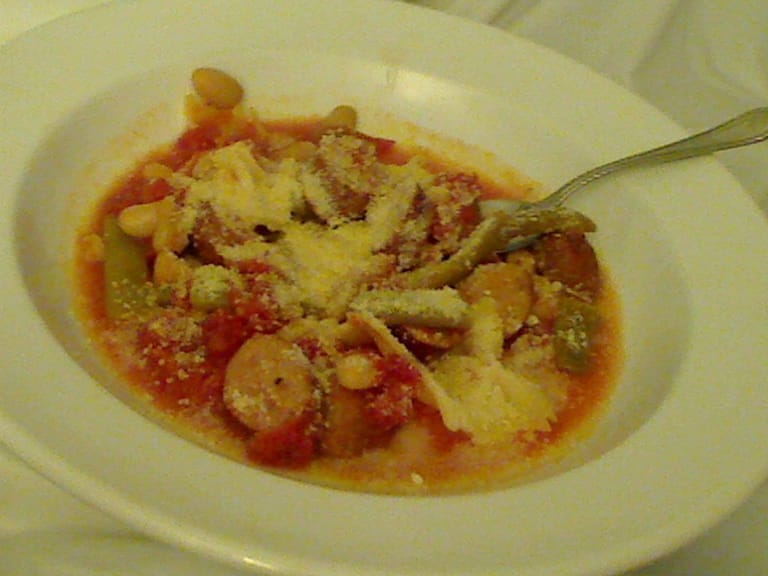 Servings (slide to adjust):
servings
Calories per serving:
253
kcal
Ingredients
1

tablespoon

bacon fat

2

garlic cloves

,

chopped

½

package

frozen Italian cut green beans

1

can

Cannellini beans

1

cup

uncooked Pasta

,

macaroni, farfalle or rigatoni

4

Johnsonville Three Cheese Italian Style Meatballs,

or other Italian sausages

1

large can

chopped tomatoes

½

cup

Chardonnay

2

cups

pasta water

Parmesan cheese for serving
Ingredients necessary for the recipe step are in italic.
Instructions
Heat a large pan and add the bacon fat. Add the garlic, and sauté, stirring constantly until the garlic is light tan.

Add the frozen beans, Cannellini beans, and sausage. Remove from the heat.

Cook the pasta with a little salt in another large pot. Have ready a heatproof measuring cup. Drain two cups of the pasta water into the measuring cup, and discard the rest of the water when draining the pasta.

Add the pasta to the bean mixture, then add the rest of the ingredients, except for the cheese.

Cook on low heat for about 20 minutes. Serve in pasta bowls with cheese on the side for garnish.
Notes
Variations
You can omit the sausage and substitute bacon. Cook the bacon and garlic together until the bacon is crisp.
Nutrition
Calories:
253
kcal
Carbohydrates:
27
g
Protein:
16
g
Fat:
8
g
Saturated Fat:
3
g
Polyunsaturated Fat:
1
g
Monounsaturated Fat:
3
g
Cholesterol:
21
mg
Sodium:
566
mg
Potassium:
561
mg
Fiber:
6
g
Sugar:
2
g