Using beef and turkey with wheat germ and plenty of spices makes this a healthy meatloaf that's long on flavor and short on fat.
Three Pepper Healthy Meatloaf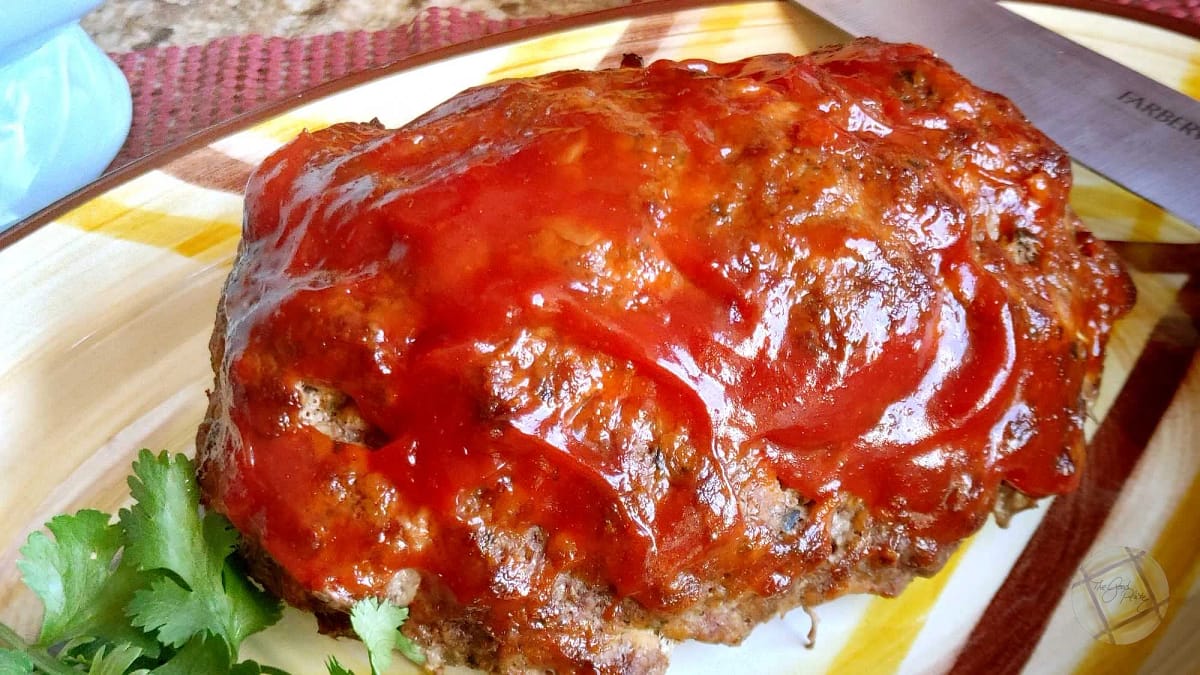 Using beef and turkey with wheatgerm and plenty of spices makes this a healthy meatloaf. It's long on flavor and short on fat.

Why this Healthy Meatloaf Works
In my quest to reduce fats in my diet but still retain flavor, I decided to try substituting ground turkey for the ground pork I would usually use in meatloaf. The fat in pork adds flavor and moisture to ground beef. However, it's fatty. The ground turkey has about 25% less saturated fat than lean ground beef. It is about 50% less saturated fat than ground pork. It has a milder flavor than beef so it needs a little help and that's where the spicy peppers come in. There is a mixture of poblano, red jalapeno, and chipotle peppers for a smoky heat that compensates well for the lack of fat.
Using a Shower Cap when Making the Peppers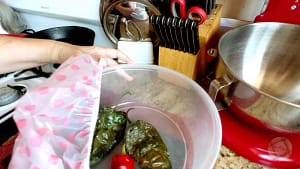 I use my rotisserie roaster air fryer for the peppers because it does a fantastic, set-it-and-forge-it job without having to stand over a hot stove burner. The air fryer chars them nicely and then I put them in a bowl and cover them with a shower cap. Shower cap? Yes, inexpensive shower caps are the right size to fit over medium to large bowls. They allow expansion so they're also great to cover a bowl of dough that needs to breathe. They can be washed and reused over and over again, so if you are concerned about using plastic wrap, this is a good solution.
Healthy Meatloaf Notes
This meatloaf will serve about 8 people with mashed potatoes and a vegetable side. If you add another side dish or have a starter, it will feed more. Plan on each person having about 4 ounces of meat, about 2 slices. Leftover meatloaf makes great sandwiches, or if you have leftover mashed potatoes, you can make stuffed potato balls.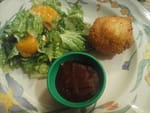 Meatloaf Stuffed Potato Balls with Dragon Sauce
These Meatloaf Stuffed Potato Balls with Dragon Sauce are great appetizers or a light lunch.
The red pepper paste is not the same thing as salsa or hot sauce. Red Pepper Paste, also known as Hamim, is made from red bell peppers, Aleppo pepper, and olive oil. It comes in varying degrees of heat and will usually say on the label whether it's very spicy or not. You can use it in just about anything that calls for bell peppers. It has excellent flavor and can also be made at home.
Hamim (Red Pepper Paste)
Hamim, red pepper paste is a hallmark of Armenian homes. Typically this paste is made with super ripe Aleppo peppers, After being prepared, it would be dried in the sun. The paste would be packed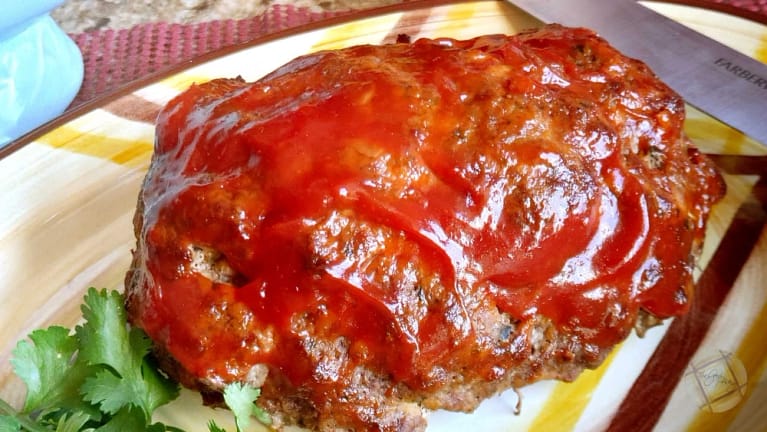 Servings (slide to adjust):
Calories per serving:
234
kcal
Ingredients
~~ — Salsa Mixture — ~~
1

Onion

,

peeled and skins removed

2

Pablano

,

or Pasilla charred

1

Jalapeno pepper

,

red

1

Chipotle chili

,

canned in Adobo sauce minced
~~ — Sauce — ~~
1

tablespoon

Red Pepper Paste

,

optional

¼

cup

Ketchup
~~ — For the Meatloaf — ~~
1

pound

Ground turkey

1

pound

Ground beef

1

tablespoon

Tomato paste

½

teaspoon

Worcestershire sauce

½

cup

Wheat germ
Ingredients necessary for the recipe step are in italic.
Instructions
Notes
If you don't want spicy, you can substitute green and red bell peppers. For the smokiness of the chipotle, you could substitute either smoked paprika or a little Liquid Smoke.  You can omit the red pepper paste if you can't find it at your local supermarket.
Nutrition
Serving:
162
g
Calories:
234
kcal
Carbohydrates:
10
g
Protein:
25
g
Fat:
10
g
Saturated Fat:
3
g
Polyunsaturated Fat:
2
g
Monounsaturated Fat:
4
g
Cholesterol:
68
mg
Sodium:
723
mg
Potassium:
589
mg
Fiber:
2
g
Sugar:
4
g
Original Three Pepper Meatloaf
If you would like to try the original Three Pepper Meatloaf, please enjoy!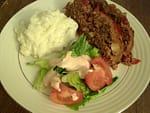 Three Pepper Spicy Meatloaf with Cowboy Salad
This Three Pepper Spicy Meatloaf is full of flavor and moist without being dried out. Great with mashed potatoes and Cowboy salad.