Impress your friends and family with this spicy Fireworks Pork Loin. It's done in the air fryer so your kitchen stays cool!
Fireworks Pork Loin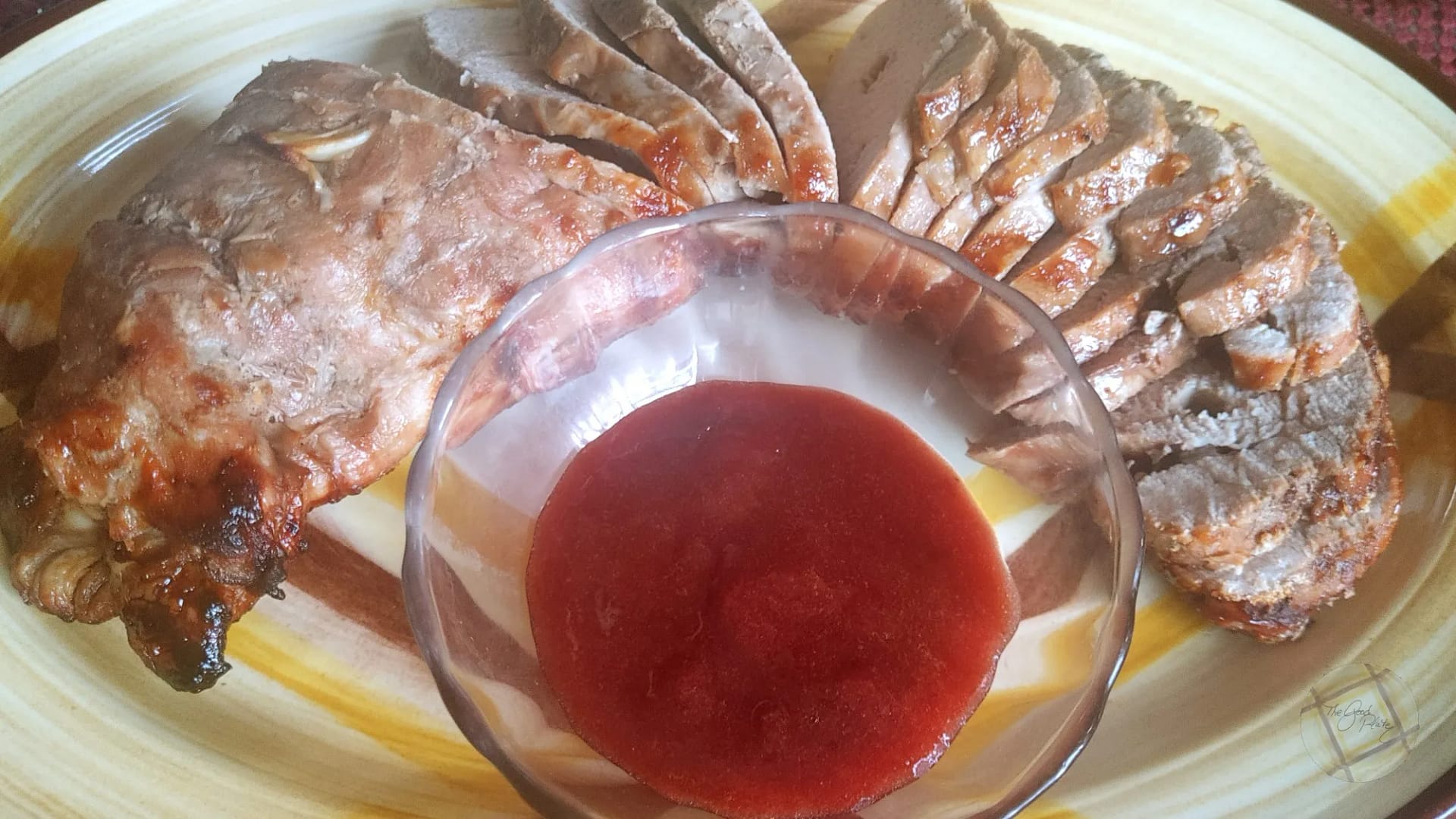 Impress your friends and family with this spicy Fireworks Pork Loin. Keep your kitchen cool by using the air fryer to roast this. Serve it with a big salad, a few good vegetables, and white wine.
The great thing about this recipe is that it can be roasted on a rotisserie in your air fryer. That means you don't have to worry about your kitchen getting like an inferno. It also means the pork will not be sitting in fat, so it will still be lean.
Stud the loin with garlic cloves. Garlic gives the meat a wonderful flavor, and the cloves themselves are delicious once they are roasted. First, cut the cloves into long strips, then poke small holes in the pork with a tip of a knife and insert the garlic clove pieces.
Fireworks Pork Loin
Serve the sauce on the side. The sauce contains horseradish, Russian mustard, and Tabasco. Serve it on the side for dipping. If you like things really spicy, you can brush the loin with the sauce before putting it on the rotisserie. This dish also works well for people who do not like spicy food.
Find Russian mustard in Mediterranean markets. It is also available on Amazon. If you can't find Russian mustard, you can use any hot style mustard. Chinese mustard would work beautifully here, too. In a pinch, you could use Dijon mustard. The only mustard that would not work here would be plain yellow mustard – save that for hot dogs and chili.
Alternatives to Rotisserie Air Fryers
Suppose you don't have a rotisserie air fryer, no worries. You could do this roast in a conventional oven. Put it on a rack and turn it every half hour or so. You could, of course, put this on an outdoor rotisserie grill. Whichever you decide to do, please enjoy it!
What to Serve with this
Depending on what time of year it is, whatever fresh vegetables are available would be great with it. Corn on the cob is a natural choice. Roasted Balsamic vegetables would be great with this.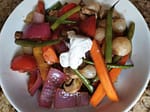 Roasted Vegetables with Balsamic Butter Sauce
My version of the venerable Trader Joe's Roasted Vegetables in Balsamic Butter Sauce – make it yours putting in veggies you like.
Shaved Brussel Sprout Caesar Salad could be an alternative to the traditional lettuce and tomato salad.

Brussel Sprout Caesar Salad in the Food Processor
Brussel Sprout Caesar Salad is quick to make using the food processor. Homemade croutons and shaved parmesan make it a great cold side dish.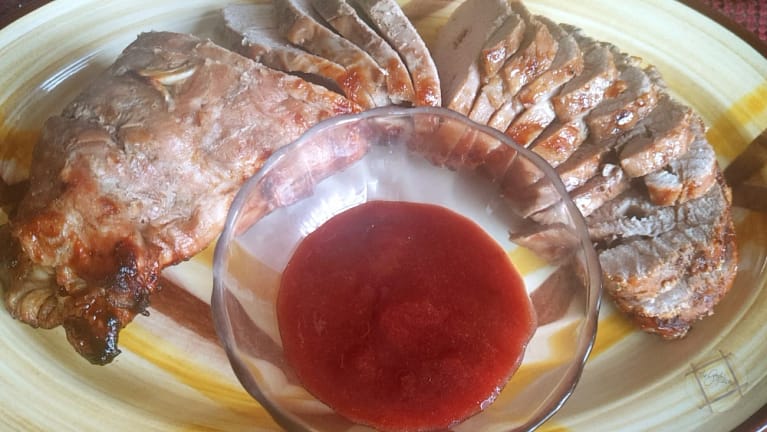 Servings (slide to adjust):
Calories per serving:
375
kcal
Ingredients
2

pounds

Pork loin

2

cloves

Garlic

,

sliced
~~ — For the Sauce — ~~
¼

cup

Brown sugar

2

tablespoon

Sour cherry preserve

1

teaspoon

Philippe's Hot Mustard

½

teaspoon

Horseradish

⅛

teaspoon

Liquid smoke

¼

teaspoon

Tabasco sauce
Ingredients necessary for the recipe step are in italic.
Instructions
2 pounds Pork loin,

2 cloves Garlic

Remove any excess fat from the meat. Slice the garlic cloves vertically. Using the point of your knife, poke holes in the meat. Slide a piece of garlic into each hole, making sure the pieces are securely placed.

1/4 cup Brown sugar,

2 tablespoon Sour cherry preserve,

1 teaspoon Philippe's Hot Mustard,

1/2 teaspoon Horseradish,

1/8 teaspoon Liquid smoke,

1/4 teaspoon Tabasco sauce

Make the sauce. Combine all the sauce ingredients in a bowl. If you like spicy, put most of the sauce in a nice serving bowl. Brush the roast with the rest.

Set the oven for 360°F / 182° C and roast it for 35 minutes or until it reaches 145° F / 62° C on an instant-read thermometer.

Remove it from the heat and let it stand for 10 minutes.
Nutrition
Serving:
256
g
Calories:
375
kcal
Carbohydrates:
21
g
Protein:
48
g
Fat:
10
g
Saturated Fat:
3
g
Polyunsaturated Fat:
1
g
Monounsaturated Fat:
4
g
Cholesterol:
143
mg
Sodium:
142
mg
Potassium:
909
mg
Fiber:
0
g
Sugar:
18
g