This easy-to-prepare turkey brine will make your holiday turkey moist and flavorful. You can use it to brine any poultry any time of year.
Turkey Brine with French Country Pate Spice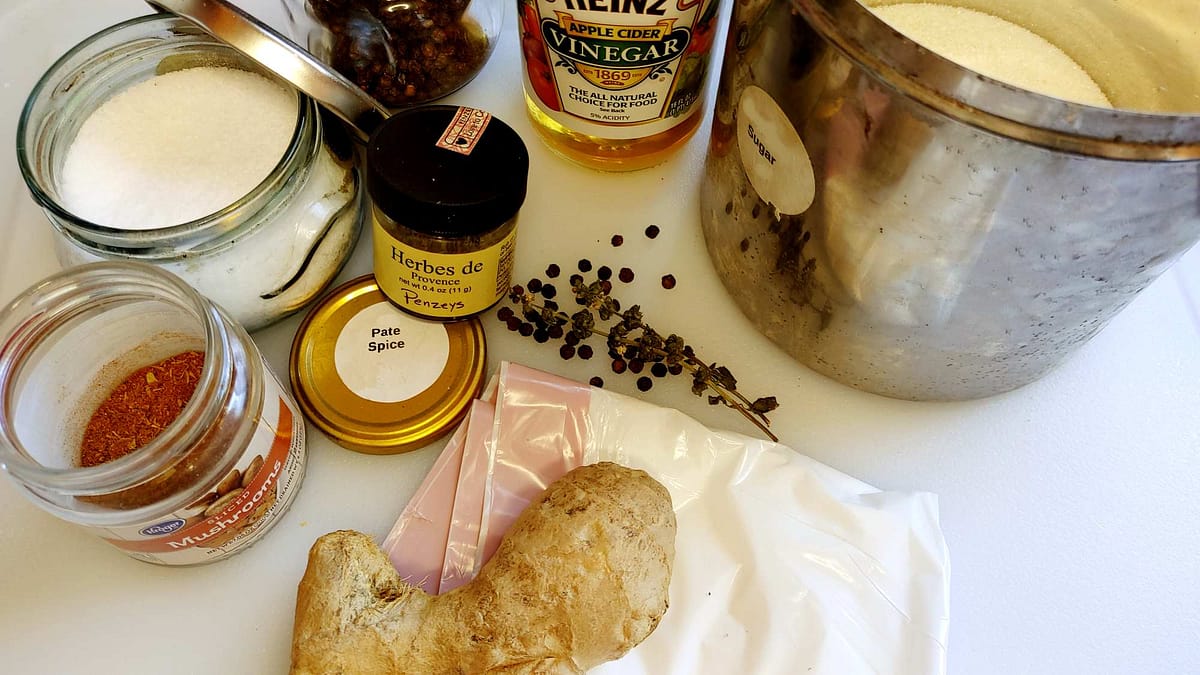 This easy-to-prepare brine will make your holiday turkey moist and flavorful. You can use it for any poultry any time of year.

Why use Turkey Brine?
Brining in cold saltwater causes a chemical process called osmosis. Initially, the moisture in the bird is drawn out into the salty mixture. Then, brining causes a change in the structure of the proteins in the muscle. First, the salt causes protein strands to become denatured. Then, as the strands unwind, they form a matrix that traps water, and as the osmosis reaction reverses with water moving into the turkey meat, with the spices added to the mixture flavor the turkey.  In simple terms, it means you get a moist, flavorful turkey.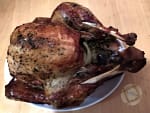 How to Roast a Perfect Turkey in a Nesco Electric Roaster
How to get your turkey's skin crisp but keep the meat moist in a Nesco roaster oven - with a timetable.
Things to Lookout For
It's well known that meat should not remain above 40° F / 4° C for more than four hours. However, the brining process takes at least twelve hours, so you need to do this in the refrigerator or somewhere you know you can keep the contents at the correct temperature.  When I do this, I put everything in a brand new plastic garbage bag, put the bag in a large roasting pan, and put that in the refrigerator.  That makes it easy to turn the bird and keeps anything from leaking inside your refrigerator.
Spices for the Brine
I realized one day that all of the spices I would typically use for this were already in the Country Pate spice that I keep on hand.  The main spices are allspice and black pepper, so the others just add more flavor.  The spice mix makes enough for this turkey brine as well as a spice for pate or sausage.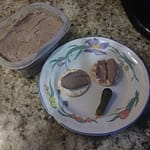 Chicken Liver Pâté with Cornichons and Blue Cheese Butter
French chicken liver pâté, little pickles, and blue cheese butter with crunchy French baguettes won the Best Appetizer Award.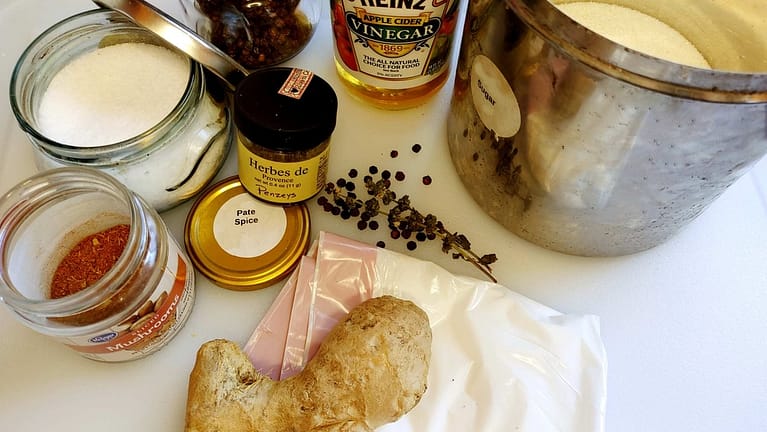 Servings (slide to adjust):
brine
Calories per serving:
46
kcal
Equipment
Ingredients
~~ Pate Spice ~~
-- For the Brine --
1

cup

Kosher Salt

1

cup

Brown sugar

½

cup

Cider Vinegar

1

tablespoon

Herbs de Provence

1

teaspoon

ginger

,

fresh grated

1

teaspoon

Black pepper

,

whole

8

cups

Water

1

quart

Ice cubes

1

quart

Water
Ingredients necessary for the recipe step are in italic.
Instructions
1/3 ounce Allspice,

1/3 ounce Bay Leaf,

1/8 ounce Clove,

1/3 ounce Coriander,

1 teaspoon Garlic Powder,

1/3 ounce Mace,

1/8 ounce Marjoram,

3/4 ounce Paprika,

1/4 ounce Rosemary,

1/3 ounce Thyme

To make the pate spice, put all the pate spice ingredients in a small food processor, spice grinder, and grind them until they are a relatively fine powder. Yes, you can do it by hand with a mortar and pestle or a molcajete - if you want strong arms. Put the finished spice in a jar. Store it in a cool, dark place.

Remove any wrapping from the turkey. If there is a bag of giblets, remove that, too. You can give that to the cat.

Crush the peppercorns with a heavy pot to break them up a bit. They do not have to be ground, just crushed a little bit.
To make the brine
1 cup Kosher Salt,

1 cup Brown sugar,

1/2 cup Cider Vinegar,

1 tablespoon Herbs de Provence,

1 teaspoon ginger,

1 teaspoon Black pepper,

8 cups Water

Combine all ingredients EXCEPT ice and the last quart of water in a very large bowl that will hold a gallon of liquid.

Transfer to a 4-quart saucepan and bring just to a rolling boil.

Immediately turn off the heat.

1 quart Ice cubes,

1 quart Water

Return to the original bowl and add ice and remaining water.

Stir to chill thoroughly.

Place cleaned turkey in a large clean garbage bag. Carefully add brine to the bag, seal, and put in the refrigerator. After 6 hours, turn the bird over and continue to refrigerate until ready to cook.
Nutrition
Serving:
228
g
Calories:
46
kcal
Carbohydrates:
11
g
Protein:
0
g
Fat:
0
g
Saturated Fat:
0
g
Polyunsaturated Fat:
0
g
Monounsaturated Fat:
0
g
Trans Fat:
0
g
Cholesterol:
0
mg
Sodium:
4723
mg
Potassium:
83
mg
Fiber:
1
g
Sugar:
9
g