Applesauce Upside Down Cake with Red Hots is a tasty treat for the fall season. Enjoy it warm with ice cream or serve it for Halloween.
Applesauce Upside Down Cake with Red Hots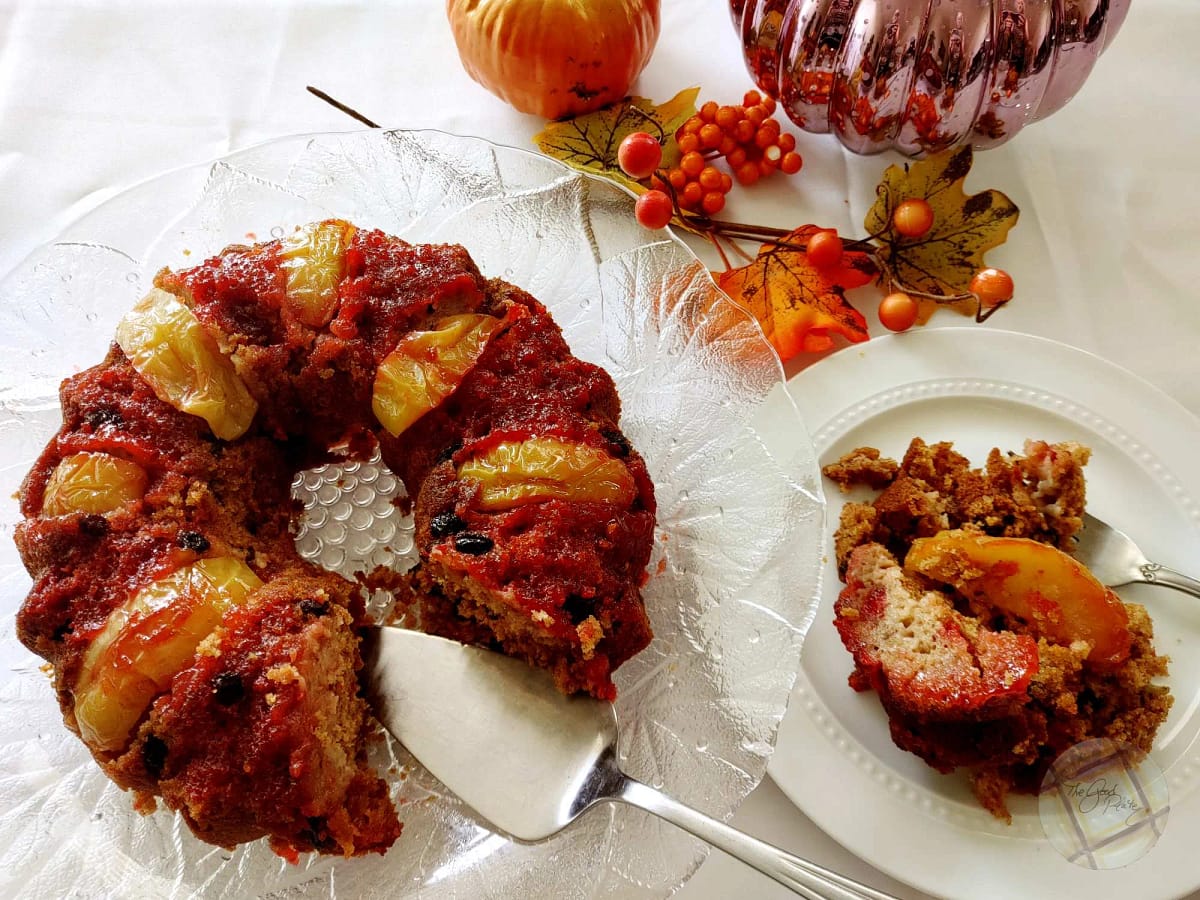 Applesauce Upside Down Cake with Red Hots is a candied apple in cake form. It's great while it's still warm. Although it might look complicated, it's actually a very simple cake to make.

I made some applesauce in my Instant Pot and decided to make a cake with the leftovers. As I was thinking about making it, I was reminded of candied apples. As a child, I loved getting a candied apple at Halloween. I liked caramel apples, too, but not as much as the red candied apples.
Ingredients for Applesauce Upside Down Cake
Red Hots, if you have never heard of them, are a type of hard candy made by the Ferrara Candy Company. It has a hard red outer shell and a slightly chewier inside. They are called Red Hots because of their spicy cinnamon taste. After the spicy flavor, the candy produces a sweet flavor. If you can't find Red Hots, you can use little cinnamon candies instead.
I recommend making your own applesauce instead of buying it at the supermarket. When you make it at home, you know what's going into it. You can follow my recipe for apple cranberry sauce to make your own applesauce in the Instant Pot.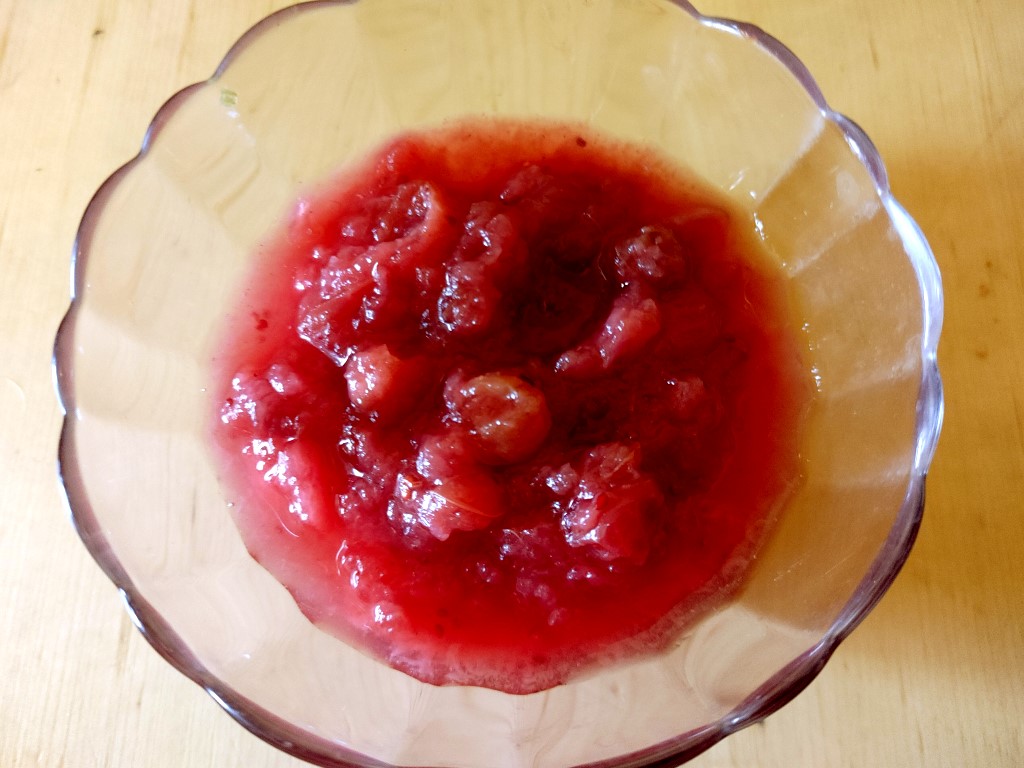 Apple Cranberry Sauce in the Instant Pot
Apple cranberry sauce isn't just for the holidays. With very little sugar, have it on yogurt or spread it on toast. It's a superfood!
Since cinnamon is a primary flavor, in this case, I highly recommend using the best cinnamon you can find.  There are different grades of cinnamon, and Vietnamese cinnamon from Penzey's is my favorite. Vietnamese cinnamon is the strongest, richest, and sweetest cinnamon around. If you cannot find Vietnamese or Cylon cinnamon, be sure to get a new jar so it will have the freshest flavor.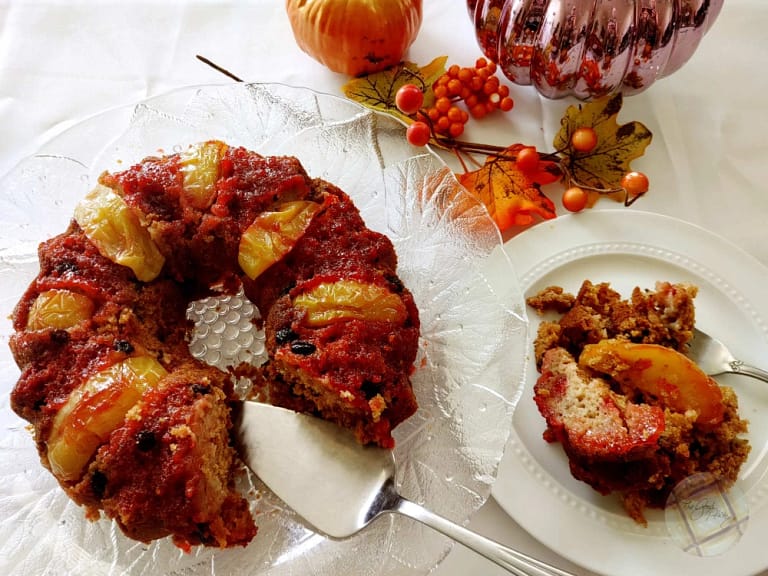 Servings (slide to adjust):
Calories per serving:
492
kcal
If you purchase any of the products through these affiliate links, I get a few pennies that help keep The Good Plate open. I use these products myself and want you to be able to easily find them.
Ingredients
~~ -- For the Upside Down -- ~~
1

Apple

,

cored

¼

cup

Butter

,

melted

¼

cup

Brown sugar

¼

cup

Cinnamon candies

,

Red Hots recommended
~~ -- For thje Cake -- ~~
~~ -- Add-ins -- ~~
¼

cup

Raisins

¼

cup

Pecans

,

chopped

¼

cup

Cinnamon candies

,

Red Hots recommended
Ingredients necessary for the recipe step are in italic.
Instructions
Preheat the oven to 350°F / 176° C.

First brush the melted butter on all sides of the pan. Be generous!

1/4 cup Brown sugar,

1/4 cup Cinnamon candies

Sprinkle the brown sugar on the butter. Sprinkle the cinnamon candies over the brown sugar as evenly as possible.

Core the apple and cut it into eight pieces. Put one slice of apple in each of the large indentations of the pan. Set the pan aside while you make the batter.

1 3/4 cup Flour,

1 teaspoon Baking soda,

2 teaspoon Cinnamon,

1/2 teaspoon Mace,

1/2 teaspoon Salt,

1/2 teaspoon Pumpkin Spice

Sift the flour, baking soda, cinnamon, mace and salt together. Set that aside,.

With the mixer running on stir, add a third of the flour followed by a third of the applesauce. Mix just until combined, then add another third flour, third applesuace, mix, and the last flour and applesauce. Mix until it is smooth and completely combined.

1/4 cup Raisins,

1/4 cup Pecans,

1/4 cup Cinnamon candies

Stir in the raisins, pecans and cinnamon candies so they are well distributed in the batter.

Spoon the batter over the apples in the bundt pan as evenly as possible. Whack the pan on the counter once or twice to remove bubbles.

Put the cake in the preheated 350°F / 176° C oven and bake for 40 minutes. Take a look and if it has not browned nicely, add another 10 minutes. Test it with a toothpick which should come out clean.

Put the cake on a rack to cool for about 10 to 15 minutes. Do not remove it from the pan.

After about 10 to 15 minutes, put a plate on the pan and carefully turn it over. Let it sit undisturbed for another 10 minutes. The cake should release during that time.

Remove the pan. You may sprnkle powered sugar over it if you wish.
Nutrition
Serving:
151
g
Calories:
492
kcal
Carbohydrates:
68
g
Protein:
5
g
Fat:
23
g
Saturated Fat:
12
g
Polyunsaturated Fat:
2
g
Monounsaturated Fat:
8
g
Cholesterol:
78
mg
Sodium:
508
mg
Potassium:
180
mg
Fiber:
3
g
Sugar:
38
g