Make a lovely Halloween Wreath - Supplies (all available at Amazon or your local craft store)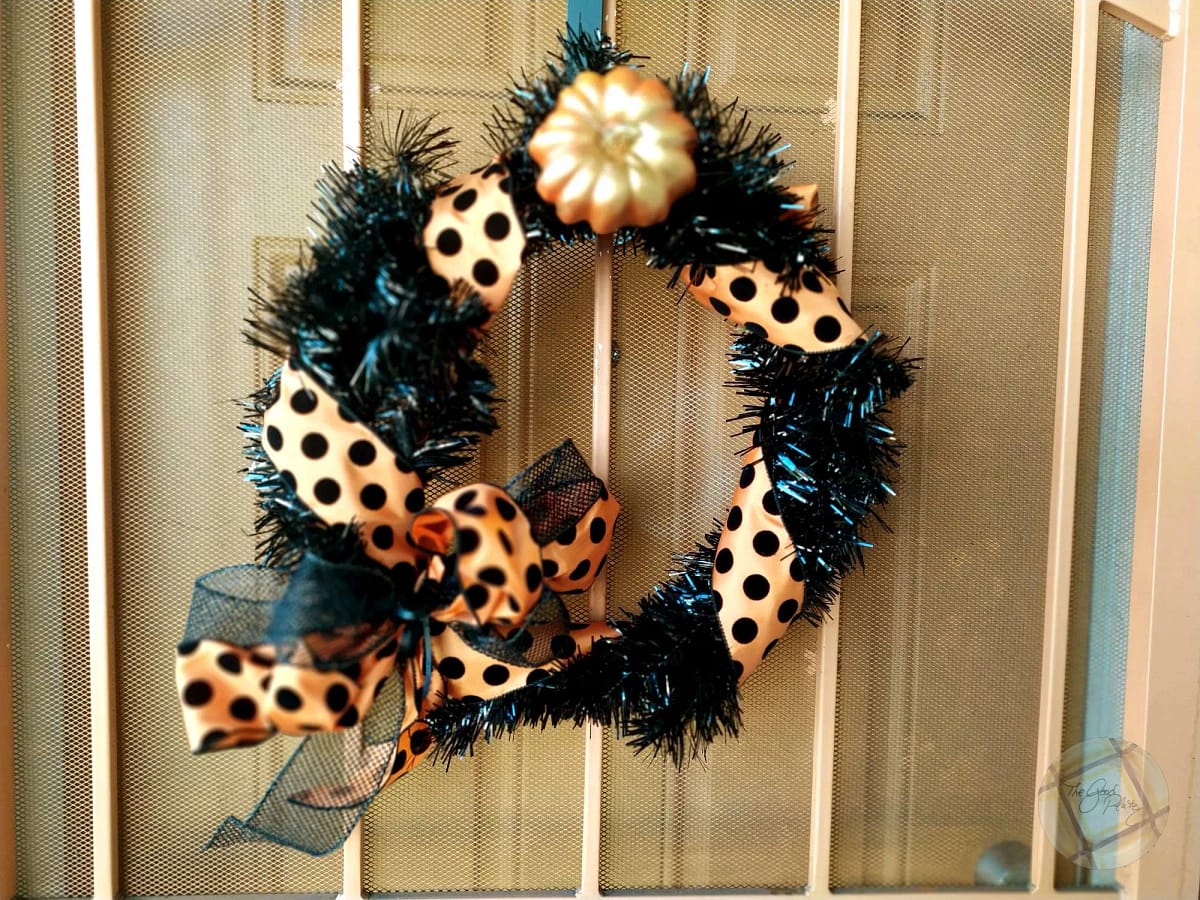 A Halloween wreath looks lovely on your front door and makes a heartfelt welcome to your visitors whether they are ghouls and goblins, or just regular friends and family.
Equipment for the Halloween Wreath
Bowdabra for Bows
I bought a Bowdabra a few years ago to help me make bows. I think every one of us remembers sitting at the table with our mother helping your mother wrap Christmas presents. Mom would ask you to put your finger on the bow and hold it down while she tied it off. More often than not, she tied it too tightly, and it was a struggle to get your finger loose again.
The Bowdabra prevents all that from happening. They come in large and mini sizes. Besides my instructions, there are instruction videos and even a Facebook page where you can post your creations for everyone to see.
How To Make a Scrunchy Ribbon Bow using the Bowdabra
Make a Coordinated Scrunchy Ribbon bow using the Bowdabra with Pictures to help you craft a beautiful accent for a gift or hair ribbons.
Ribbons
I recommend using a wired ribbon because it keeps its shape better. The black ribbon that I used in this wreath was a flocked ribbon, and although it's very pretty, I don't recommend it because the flocking was coming off all over our hands. A nice lacy, black ribbon would be fine here.
Of course, you can use any colors that you like. When I made this, I happened to have a thin black ribbon on hand so I used it to tie off the bow. The pumpkin I bought as a group and happened to have an extra one.
Hot Glue Gun
If you are not going to put a pumpkin on your wreath, you do not need a hot glue gun. However, I recommend getting one anyway because there are multiple jobs a glue gun can be used for. The little ones are relatively inexpensive and glue is easy to find for them in most dollar-type stores. Be aware, if you have never used one that you should be careful. Hot glue does hurt, but after you've burned yourself a few times, you'll be happy with whatever crafting project you had.
The Wreath
For the wreath itself, I recommend getting a black one. Your local crafting store should have them available as well as, of course, Amazon. Get the size you think is appropriate for the area you want to hang your wreath. There are even wreaths that come with lights already strung in them if you want.
The Pumpkin
When I was shopping for supplies for this Halloween wreath, there was a bag of decorative pumpkins in different sizes. I like getting one extra thing for the Halloween tablescape every year, and that year, it was those pumpkins. Then when I started making the wreath, I thought it would look very nice with a golden pumpkin to evoke the Fall season.
Of course, adding a pumpkin is optional. There are lots of other things you could add if you wanted to. You could add a small, plush bat. A small skeleton might look frightening, or even a ghost. It's your Halloween wreath, you decide what to put on it.
Wreath Hanger
I have two wreath hangers, one in green and one in black. I like using the green one for Advent but I like using the black one for this Halloween wreath. Yes, the picture has the green one and that's because I had not bought the black one before I took the picture. You can store the wreath hanger in the same box you store your wreath in.

How to Make an Advent Wreath
A well-made Advent Wreath will last for years and years. All you have to do is replace the candles when they have gotten too small.
Have fun making your Halloween wreath. I'd love to see what your wreath looks like, so please post it in the comments below.
How to Make a Halloween Wreath
Make a lovely Halloween Wreath - Supplies (all available at Amazon or your local craft store)
Print This
Pin it!
Instructions
Nutrition
Serving:
1
g
|
Calories:
0
kcal
|
Carbohydrates:
0
g
|
Protein:
0
g
|
Fat:
0
g
|
Saturated Fat:
0
g
|
Polyunsaturated Fat:
0
g
|
Trans Fat:
0
g
|
Cholesterol:
0
mg
|
Sodium:
0
mg
|
Fiber:
0
g
|
Sugar:
0
g