Ground Beef Enchilada Casserole is easier on your waistline. It gets a lot of flavor from dried chili pods, fresh corn, and the leanest ground beef.
Ground Beef Enchilada Casserole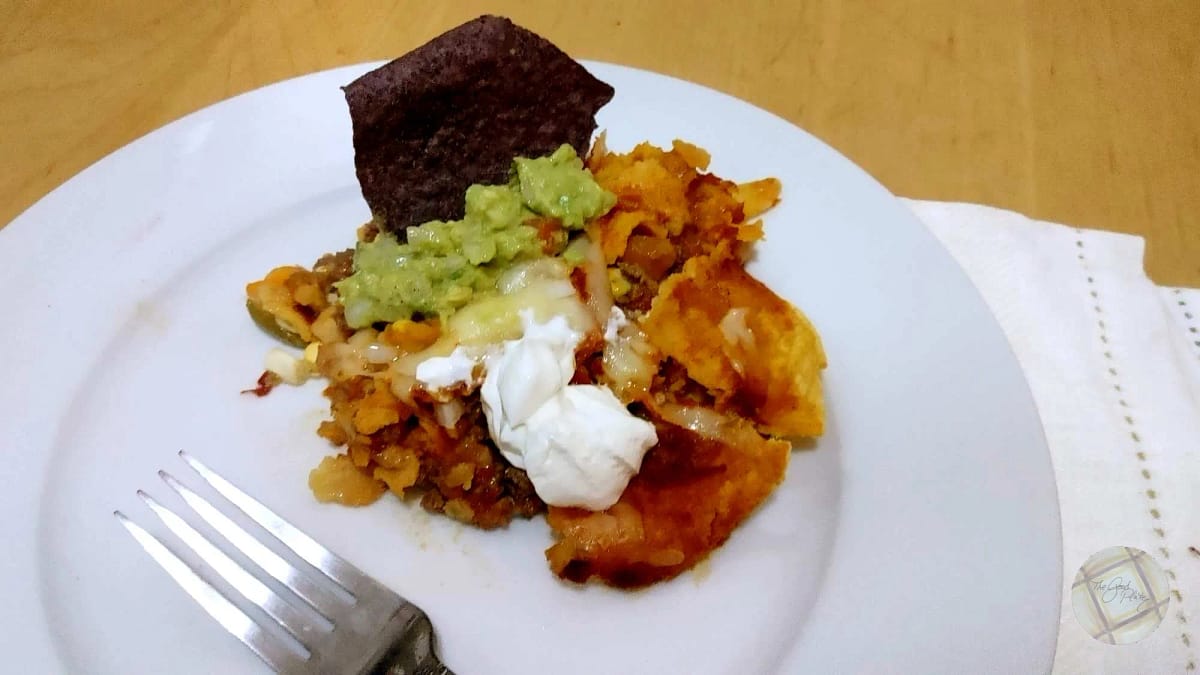 Ground Beef Enchilada Casserole is easier on your waistline. It gets a lot of flavor from dried chili pods, fresh corn, and the leanest ground beef. Tortillas for enchiladas are usually fried in oil to soften them, but not here.
Enchiladas are a Favorite
I love enchiladas but I don't love gaining weight from eating them.  There are a few ways to lighten the load, not frying the tortillas and using the leanest beef.  The trouble with that is a lot of times, the flavor is lost from lack of fat.  I have added more spices to make up for the loss of fat.
Making the Sauce
To make the sauce, I used dried California chili pods. They have a medium heat and deep flavor. You might be familiar with them from the red sauce on enchiladas.  They usually come in a glassine envelope in your grocer's Hispanic section.  If you can't find them, you can order them online from Amazon or Mex-Grocer.
Preparing them is simply a matter of soaking them in hot water.  Be careful though.  Make sure they are completely covered.  I use a plate that's slightly smaller than the bowl to weigh them down.  Don't throw that water away, all the flavor in the water goes into the sauce, too. I like using a blender to make the sauce, if you have an immersion blender, that would work just fine too.
If you have leftover chilis, you can use them in a variety of dishes, including Chili Colorado.

Chili Colorado - A Dried Chili Winter Staple
A winter staple, Chili Colorado is warm and spicy, great by itself or spooned into tacos.
There's Fresh Corn in the Ground Beef Enchilada Casserole
The fresh corn gives this casserole a fresh taste.  I recommend using white corn instead of the super sweet yellow corn.  A corn cob stripper is an excellent tool to use if you don't want to make a mess out of your kitchen.  Usually, I don't like tools that have only one use, but in this case, it's worth it. The one I have is from Chef'n.
Where's the Beef?
Try to get the leanest ground beef that you can.  I used 10% fat ground beef.  Because there is so much flavor from spices, you really don't need that fat. Even with that little amount of fat, you still want to carefully drain your saute pan.
How to Soften the Tortillas
Most enchilada recipes say to fry the tortillas in oil until they have softened.  America's Test Kitchen says to spray them with oil, put them on a half-sheet pan.  Here we are using a tortilla warmer, a moistened paper towel, and the microwave oven.  There is no oil involved!
You can use whatever tortilla warmer you have, but I highly recommend the ones from IMUSA. Tortilla warmers can also be used to keep pancakes, crepes, and waffles warm.  We also use ours to defrost burgers in the microwave.

How to Preserve Avocado and Make Guacamole Correctly
How to preserve avocado to keep it from browning to making guacamole the right way with only 5 ingredients - and no lime.
Enjoy this ground beef enchilada casserole with a dollop of sour cream and a bit of guacamole.   You could serve it with some lovely well-cooked beans,  Mexican rice, a big salad, and blue corn chips.  Ole!
If you happen to have leftovers, cover the casserole and put it in the refrigerator.  The next morning, it will be very easy to cut into individual portions. You can put the portions into vacuum-sealable bags. If you have leftover beans and rice, add that to the bag and you have a complete meal.  Seal the bags, label them and freeze them.  They can be reheated in the microwave.  This makes a nice and convenient lunch.  If you don't have a vacuum sealer, make sure you get as much air out of the bag as possible.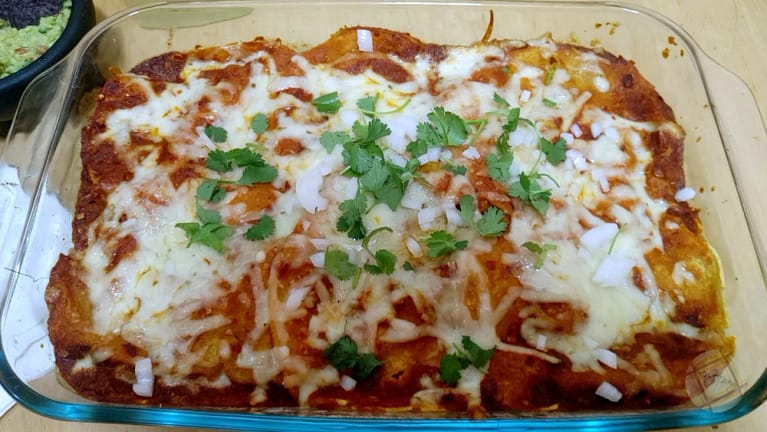 Servings (slide to adjust):
Calories per serving:
371
kcal
If you purchase any of the products through these affiliate links, I get a few pennies that help keep The Good Plate open. I use these products myself and want you to be able to easily find them.
Ingredients
~~ -- For the Sauce -- ~~
4

California Dried Chili Pods

2

cup

Water

1

tablespoon

Olive oil

½

Onion

,

chopped

½

Bell pepper

,

chopped

2

cloves

garlic

,

minced

1

teaspoon

Beef base

1

tablespoon

Tomato paste

½

teaspoon

Chipotle powder

1

teaspoon

New Mexico chili

1

tablespoon

Cumin

½

teaspoon

Fresh Jax Peppered Habanero Spice
~~ -- For the Filling -- ~~
1

tablespoon

Olive oil

½

Onion

,

chopped

½

Bell pepper

,

chopped

1

pound

Ground beef

,

leanest possible

2

ears Corn

,

fresh

1

cup

Pepper jack

,

shredded
~~ -- For the Casserole -- ~~
12

Corn tortillas

½

cup

Pepper jack

¼

cup

Cilantro for garnish
Ingredients necessary for the recipe step are in italic.
Instructions
For the Filling
Shuck the corn and remove the kernels from the cob. Set them aside.

1 tablespoon Olive oil,

1/2 Onion,

1/2 Bell pepper,

1 pound Ground beef

Add the remaining olive oil to the pan and saute the remaining onion and bell pepper until the onion is translucent. Add the beef and saute it until it is cooked through. Remove as much fat from the pan as possible.

Put the tortillas in the tortilla warmer with a damp paper towel. Put the cover on and heat them in the microwave for 1 minute.

Bake in a 350° F / 176° C oven for 45 minutes or until the cheese is bubbling.

Remove the casserole from the oven and let it sit for about 10 minutes to cool.
Nutrition
Serving:
291
g
Calories:
371
kcal
Carbohydrates:
31
g
Protein:
22
g
Fat:
19
g
Saturated Fat:
8
g
Polyunsaturated Fat:
1
g
Monounsaturated Fat:
8
g
Cholesterol:
62
mg
Sodium:
895
mg
Potassium:
561
mg
Fiber:
4
g
Sugar:
4
g