A winter staple made with dried chilis is so full of flavor.
Chili Colorado - A Winter Staple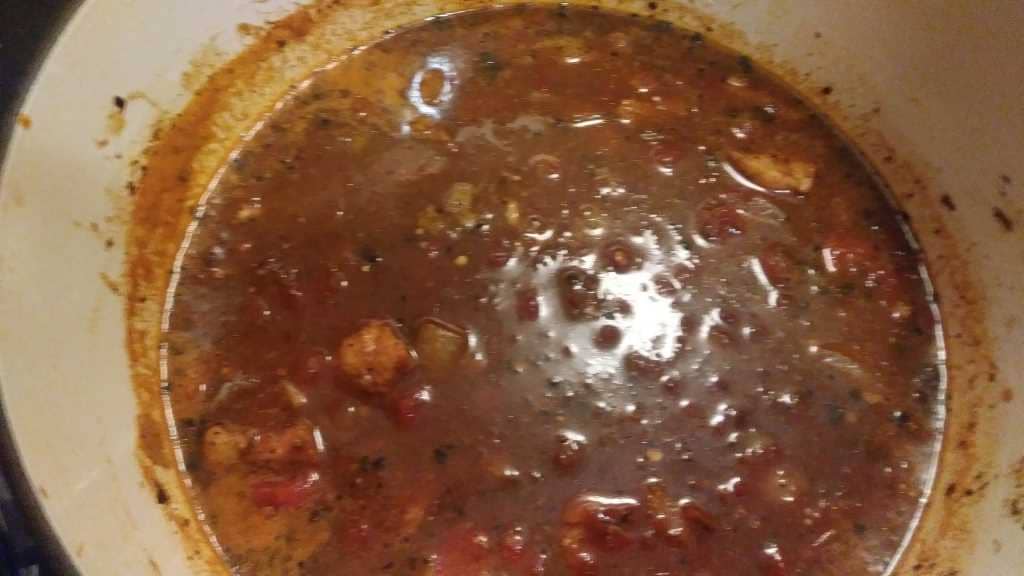 Chili Colorado really is a winter staple because it really warms you up on a cold day.  There's nothing like warming your hands on a bowl of hot chili.  Enjoy!

I really love winter.  I'm lucky that I live in Southern California where winters are mild.  I lived in Germany for a few winters when I was a little girl, and those winters are very cold compared to Los Angeles, but winter is still my favorite season.  Why? Because in the wintertime, you get to wear your favorite sweaters, your nice thick coat, warm scarves and gloves, and good, hot, warming food. For me, one of the foods I look forward to is Chili Colorado – chili made with dried chilies and pork with no beans. Certainly, if you want to, you can add beans, but that's a discussion for another time.  Want some historical information about this spicy stew, check Chili con Carne on Wikipedia and find out that Chili Colorado means Nahuatl chili and Colorado is red, so red chili.
A word about the chilis.  Please use the dried chilis in the Hispanic section of your supermarket. You might not use all the chilis for this, but you can save them and make delicious salsa from them.
When tomatillos are not in season, or your market just doesn't have them, you can use a good salsa verde. Just make sure to look at the ingredients.
Servings (slide to adjust):
servings
Calories per serving:
288
kcal
If you purchase any of the products through these affiliate links, I get a few pennies that help keep The Good Plate open. I use these products myself and want you to be able to easily find them.
Ingredients
4

Dried Pasilla Chili Pods

1

teaspoon

Bacon fat

1

Onion

,

chopped

2

Garlic cloves

,

chopped

2

pounds

Country Pork Ribs

1

Yellow bell pepper

,

chopped

1

can

Chicken broth

1

cup

Cilantro chopped

1

can

Tomatillos
Ingredients necessary for the recipe step are in italic.
Instructions
Prepare the Chilis
4 Dried Pasilla Chili Pods

Heat chilis on the stove until they burn and blister. Put in cold water and put something heavy over them like a plate, and soak for one hour. Remove from water, straining and reserving the water. Discard stems and most seeds, then put into small food processor and process into a paste. Set aside.
Prepare the Meat
1 teaspoon Bacon fat,

1 Onion,

2 Garlic cloves,

1 Yellow bell pepper,

2 pounds Country Pork Ribs

Heat a heavy skillet and melt the fat in it. Put in the onion and garlic and saute until the onions are translucent. Then add the meat. Brown on both sides. Remove from the pan and keep warm. Add the peppers and saute until they have softened a bit.

Put the meat back in the pan, and cover each piece with a little of the chili paste, turn and cover the other side of the meat with the paste. Cover and cook on low for about 5 minutes.

Add the chicken stock and the reserved chile water, and half of the cilantro.

1 can Tomatillos,

1 cup Cilantro chopped

Simmer uncovered until the liquid has reduced by half, then add the tomatillo, cilantrom ,and cook, uncovered until the liquid has reduced by half again.

The meat is done when it is fork-tender. Take a fork and pull the meat apart, and stir it well into the sauce.

Serve with tortillas and rice.
Notes
You don't have to use yellow bell pepper, use whatever you have on hand or what you can find at the market for a decent price.
If you cannot find tomatillos, use salsa verde. That's what I usually do and don't have to bother with chopping cilantro. Herdez is a good brand.
Nutrition
Serving:
1
g
Calories:
288
kcal
Carbohydrates:
16
g
Protein:
17
g
Fat:
19
g
Saturated Fat:
5
g
Polyunsaturated Fat:
1
g
Trans Fat:
0
g
Cholesterol:
53
mg
Sodium:
156
mg
Fiber:
7
g
Sugar:
1
g