A hearty stew for cold winter months, a real goulash.
German Pork Goulash Stew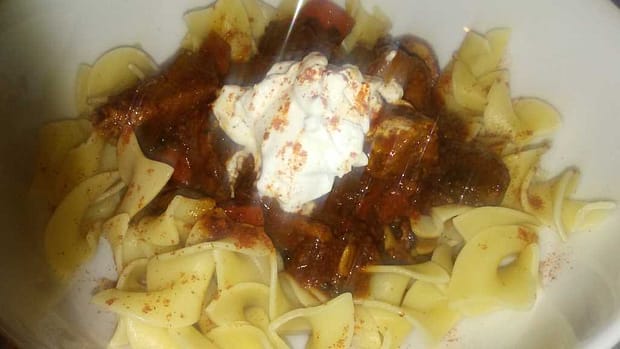 When I was a little girl, my family moved to Germany. My father was a Captain in the US Army, and Uncle Sam wanted my father to serve there.  This was in the 1960s when the United States was still heavily battling Communism and the Berlin Wall went up overnight. My mother was scared to death that we were going to get stuck behind the wall. However, I could see looking at the map with my mother that Berlin was quite a distance from Kaiserslautern (400 miles or 626 km).
One of the dishes we enjoyed when we lived there was goulash. I'm not talking about the amalgamation of ground beef, tomato sauce, and macaroni that's called goulash in the United States. I'm talking about the real thing, German Goulash Stew, pieces of beef, lots of onion, and good paprika with a little sour cream because the chef might be feisty and use the really hot paprika. I happen to like the pork version better, but if you don't like pork, beef does very nicely, too.
Let's make German Goulash Stew
There are different Goulashes all over, including the one from Transylvania, yes, Transylvania that adds sauerkraut at the end. It's also delicious, so if you feel a little daring, try adding some good sauerkraut.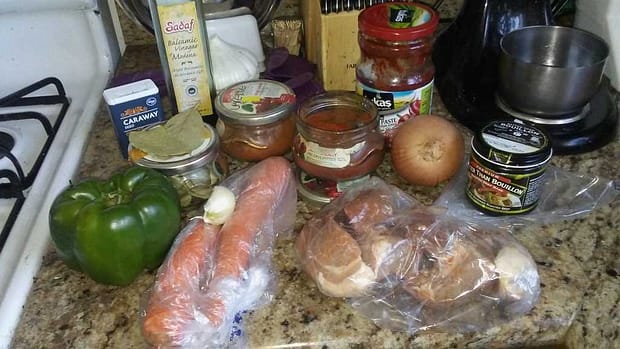 When you choose paprika, make sure it's fresh and hasn't been sitting around your spice rack unused for years and years. If you can find them, substitute whole red paprika peppers for the bells peppers.
I always put Armenian red pepper paste in my goulash.  I also put it in my meatloaf and a host of other dishes. Depending on the brand you buy, it can be mild or hot, and will usually say on the jar how spicy it is. You can find it in the Mediterranean and international markets. Zergut and Noyan are both excellent brands.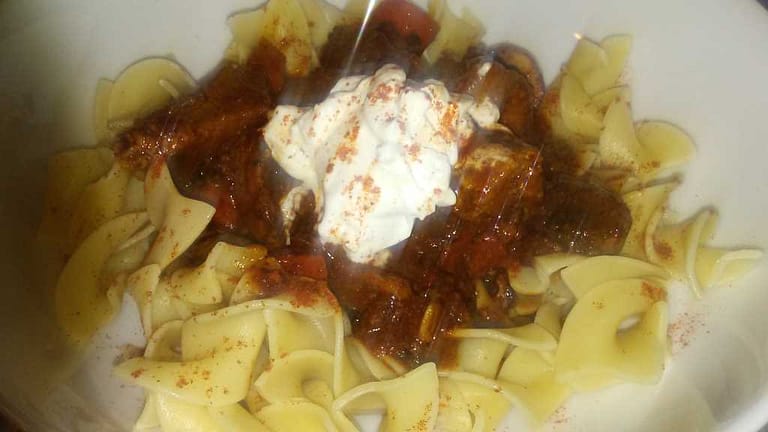 Servings (slide to adjust):
servings
Calories per serving:
495
kcal
Equipment
Ingredients
1

pound

Pork

,

cut into 2-inch pieces

3

tablespoon

Flour

1

teaspoon

black pepper

,

freshly ground

1

tablespoon

bacon fat

1

tablespoon

olive oil

1

onion

,

chopped

1

red pepper

,

chopped

3

cloves

garlic

,

pressed

1

cup

carrot

,

diced

1

cup

mushroom

,

sliced

1

tablespoon

caraway seed

,

toasted and crushed

2

tablespoon

paprika

½

teaspoon

cayenne

2

bay leaf

1

teaspoon

black pepper

,

freshly ground

3

tablespoon

Red Pepper Paste

1

tablespoon

balsamic vinegar

1

teaspoon

beef base

4

cups

Water
Ingredients necessary for the recipe step are in italic.
Instructions
Heat the caraway seeds in a shallow pan and cook on low heat until they turn fragrant and brown slightly. Stir continuously.

When they have finished browning, remove them to a mortar and pestle and grind them until they are almost a powder. You will smell their fragrance, it's nice.

Then add the other dry spices, paprika, cayenne, and black pepper. Mix together with the seeds using the pestle until they are well mixed and set aside.

Mix the beef base with water well and set aside.

Put the bacon fat into a large pan or dutch oven. Let it melt.

Put the dredged pork into the fat, shaking off any excess flour. Do not crowd the pan, you will have to do this in batches. Cook on medium heat for about five minutes, stir, then cook another five minutes or until browned. Remove from the pan, set aside, and add the rest of the pork until it has all been browned. Set aside.

Add the olive oil to the pan, then the onions and red pepper. Use a good spatula to scrape on the fond on the bottom of the pan - there is good flavor there.

Cook the onions and peppers until the onions have turned translucent and the peppers have softened a bit.

Add the browned pork, spices, red pepper paste, vinegar, and beef base. Stir to combine. Put in the bay leaf.

Simmer for another 45 minutes, stir and add the carrots.

Add the mushrooms, simmer for 15 minutes or until the mushrooms are cooked.

Remove the bay leaf.
Notes
To make it Transylvanian, add sauerkraut at the end of cooking. Yummy!
Nutrition
Serving:
321
g
Calories:
495
kcal
Carbohydrates:
25
g
Protein:
24
g
Fat:
34
g
Saturated Fat:
12
g
Polyunsaturated Fat:
4
g
Cholesterol:
88
mg
Sodium:
624
mg
Fiber:
6
g
Sugar:
8
g