Make a lovely Advent Wreath - Supplies (all available at Amazon or your local craft store)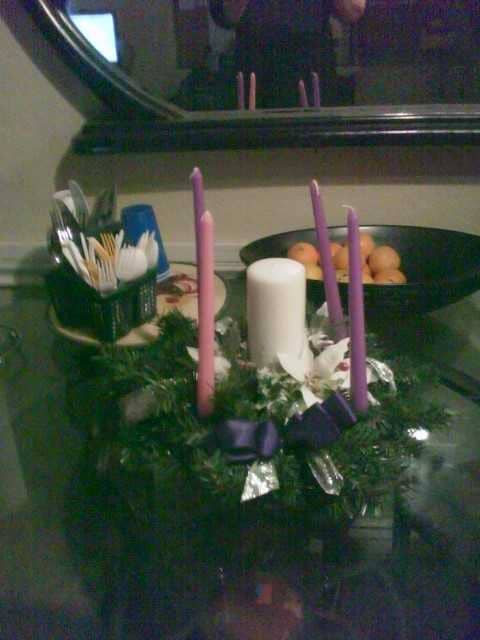 All Saints Day is the day after Halloween. This is a good time to get supplies for your Advent Wreath.
What is Advent? Advent starts on the 4th Sunday before Christmas and is the time for preparing ourselves for the coming of the Baby Jesus. Just as pregnant women "nest" in the last few weeks of their pregnancy, we decorate our house, put up the Christmas tree, the Nativity village, and bring out the Advent Wreath. For Roman Catholics, Advent is also the beginning of the Liturgical Year.
Advent comes from the Latin word, adventus, meaning "coming". It can be as early as November 27th, and as late as December 3rd, depending on that year's calendar. There are 22 to 28 days of Advent, depending on the date of First Advent Sunday. In 2018, Advent starts on December 2nd.
Advent and Christmas Week Days

| Advent Starts | Days til Christmas | Christmas Day of Week |
| --- | --- | --- |
| December 1, 2019 | 24 | Wednesday |
| November 29, 2020 | 26 | Friday |
| November 28, 2021 | 27 | Saturday |
| November 27, 2022 | 28 | Sunday |
| December 3, 2023 | 22 | Monday |
| December 1, 2024 | 24 | Wednesday |
| November 30, 2025 | 26 | Thursday |
| November 29, 2026 | 27 | Friday |
| November 28, 2027 | 28 | Saturday |
| December 3, 2028 | 22 | Monday |
| December 2, 2029 | 23 | Tuesday |
| December 1, 2030 | 24 | Wednesday |
There are a few ways you can make a wreath. You will see suggestions for using fresh evergreen, but, they dry out, and can be a potential fire hazard. For expedience and safety, it's better to use good quality simulated evergreen. You can find these at art supply stores like Michaels or you can go online at Jo-Ann. It's fun to go to Michaels, and with their great selection and reasonable prices, you might want to buy everything you see, so make sure your budget is ready for it.
You can start with a wire wreath, a Styrofoam wreath, a grapevine or even a wood wreath and cover it with artificial greenery. You can also just purchase an undecorated wreath and decorate it. That's what I do, it's a little faster, and it seems to be a little less expensive.
You will also need plastic candle cups, florist wire, greening pins, ribbons, and, of course, candles. For Advent, you should have three purple candles, symbolizing repentance; and one pink one, symbolizing the joy of the event to come. You can also have a large center white candle, which symbolizes the purity of Christ. You might want to look around for candles at party stores, as those colors seem to go very quickly around this time of year at art supply stores. For ribbon colors, I usually go with a dark purple wide wired satin, and maybe a light green wide, or white wide. I particularly like the combination of purple, green and white.
Things you will need for the project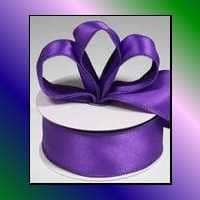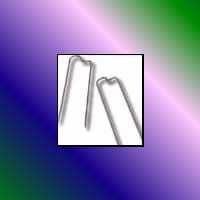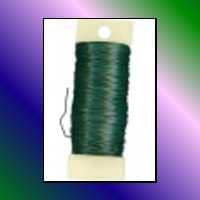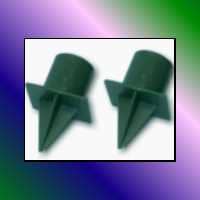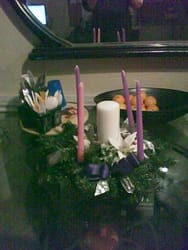 How to Make an Advent Wreath
Make a lovely Advent Wreath - Supplies (all available at Amazon or your local craft store)
Print This
Pin it!
Instructions
This wreath can be made to use on the table and hang on the wall when not in use.

Take about 12 inches of the florist wire and at the 10 o'clock position, wrap it around the wreath securely. Then go to the 2 o'clock position and wrap the end tightly. In the middle of the wire, twist it so you have a loop that you can use to hang the wreath when not in use.

When you are placing the ribbon, make sure you leave the 1, 4, 7 and 11 o'clock positions open as this is where the candle cups will be placed. Be sure and cover where the florist wire is.

Take some of the purple ribbon and wrap it around the wreath, leaving large gaps between. Tie off the purple ribbon.

Take the green ribbon, which should be much longer than the purple, and wrap it in the places where there is no purple ribbon, or overlap it slightly. Come to the bottom of the wreath at the 6 o'clock position and tie off the ribbon in a nice, big bow. If you have a Bowdabra Bow Maker, you can use it.

You can use some of the floral pins to secure the ribbon if needed.

If you are going to hang the wreath when not in use, now is the time to heat up your glue gun.

Take the candle cups and place them at 1 o'clock, 4 o'clock, 7 o'clock and 11 o'clock positions. Put hot glue on the bottom of the candle cup, and press the candle cups securely into the wreath, making sure they are upright and straight..

For presentation, lay the poinsettia wrath inside the completed wreath, and place the candles inside the candle cups, with the pink candle at the 1 o'clock position. Place the large white candle in the center.

Have a wonderful Advent!
Notes
Since this is the Advent of the Baby Jesus, Santa, reindeer, etc., are not appropriate for this wreath. Use those for the wreath on your door.
You can use other colors if you wish. You could substitute the green ribbon with a thinner pink one, 7/8" would be good. You could also use a 1 1/2 inch white ribbon instead of the green ribbon.
Nutrition
Serving:
1
g
|
Calories:
0
kcal
|
Carbohydrates:
0
g
|
Protein:
0
g
|
Fat:
0
g
|
Saturated Fat:
0
g
|
Polyunsaturated Fat:
0
g
|
Trans Fat:
0
g
|
Cholesterol:
0
mg
|
Sodium:
0
mg
|
Fiber:
0
g
|
Sugar:
0
g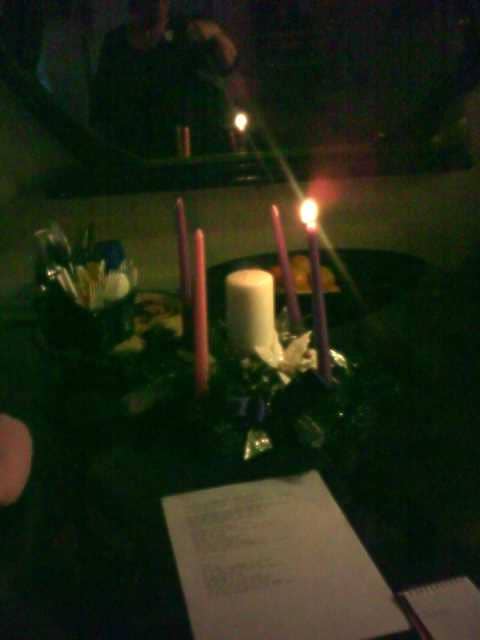 If you want to bless your wreath, it should be done the Saturday night before First Advent Sunday, or on First Advent Sunday itself. Blessing of the Advent Wreath from the United States Conference of Catholic Bishops. There are a plethora of prayers available online for lighting the candles.