Throw out that can! There's a new twist on cranberry sauce! Recipe adapted from Bryan Voltaggio, Range, Washington, D.C.
Cranberry Compote
Last Updated on October 20, 2019

Cranberry Compote – Your New Cranberry Sauce
This year, like last year, I'm going to my friend's for Thanksgiving, and like last year, I'm bringing something. It's also my son, Spane's birthday today, November 21, 2012, and he has requested Chocolate Cake with Mocha Frosting I made for his 7th birthday party. Since his birthday this year is the day before Thanksgiving, he is going to have his birthday party in December – so watch for recipes!
I have talked about going to my Grandmother's house and the wonderful turkey that came out of her Nesco Roaster. My Grandmother always had the best dressing on her table, that my Aunt Flora made every year. It was Oyster Cornbread Dressing, and it is my favorite dressing to prepare.
But, we always had canned cranberry sauce, that I really never liked. I have been making cranberry sauce for years, but today I found a new recipe that I'm going to make this year. It's from Chef Bryan Voltaggio.
Update: This cranberry compote is my new cranberry side dish. It's tasty and sophisticated but not so much that kids won't like it. It's not too overly sweet like the stuff in the can.
Your New Cranberry Sauce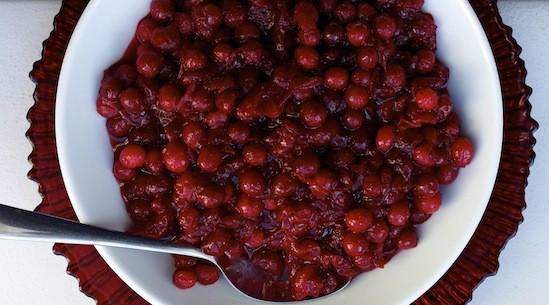 Servings (slide to adjust):
Calories per serving:
189
kcal
Ingredients
½

cup

granulated sugar

1

cup

White wine

,

sweet Riesling preferred

2

pounds

cranberries

,

pounds fresh, cleaned and picked through

1

orange

,

whole, quartered and deseeded

½

cinnamon stick

2

allspice berries

,

whole

1

bay leaf

¼

teaspoon

fine sea salt
Ingredients necessary for the recipe step are in italic.
Instructions
Heat a medium saucepan over medium heat and add the sugar and wine. Stir to combine, bring to a simmer and cook until the sugar dissolves and the mixture simmers with thick, slow bubbles, 6 to 8 minutes (the temperature will be between 234° and 240° on an instant-read thermometer).

Add the cranberries, stir to combine and reduce the heat to low. Cook for 3 minutes, then squeeze the juice from the orange quarters into the pan and add the squeezed orange quarters along with the cinnamon stick, allspice berries, bay leaf, and salt. Cook, stirring often until the cranberries begin to burst and the sauce thickens 10 to 15 minutes.

Remove the pan from the heat and set aside to cool for 10 minutes. Remove and discard the orange quarters, cinnamon stick, allspice berries, and bay leaf, and set the compote aside to cool completely. The cranberry compote can be left as is or transferred to a blender, or use a stick blender to puree until smooth. Store the compote in an airtight container in the refrigerator for up to 1 week.
Nutrition
Calories:
189
kcal
Carbohydrates:
41
g
Protein:
1
g
Fat:
0
g
Saturated Fat:
0
g
Polyunsaturated Fat:
0
g
Monounsaturated Fat:
0
g
Cholesterol:
0
mg
Sodium:
103
mg
Potassium:
237
mg
Fiber:
7
g
Sugar:
26
g