This is my replacement for Trader Joe's Fire Roasted Vegetables in Balsamic Butter Sauce.
Roasted Vegetables with Balsamic Butter Sauce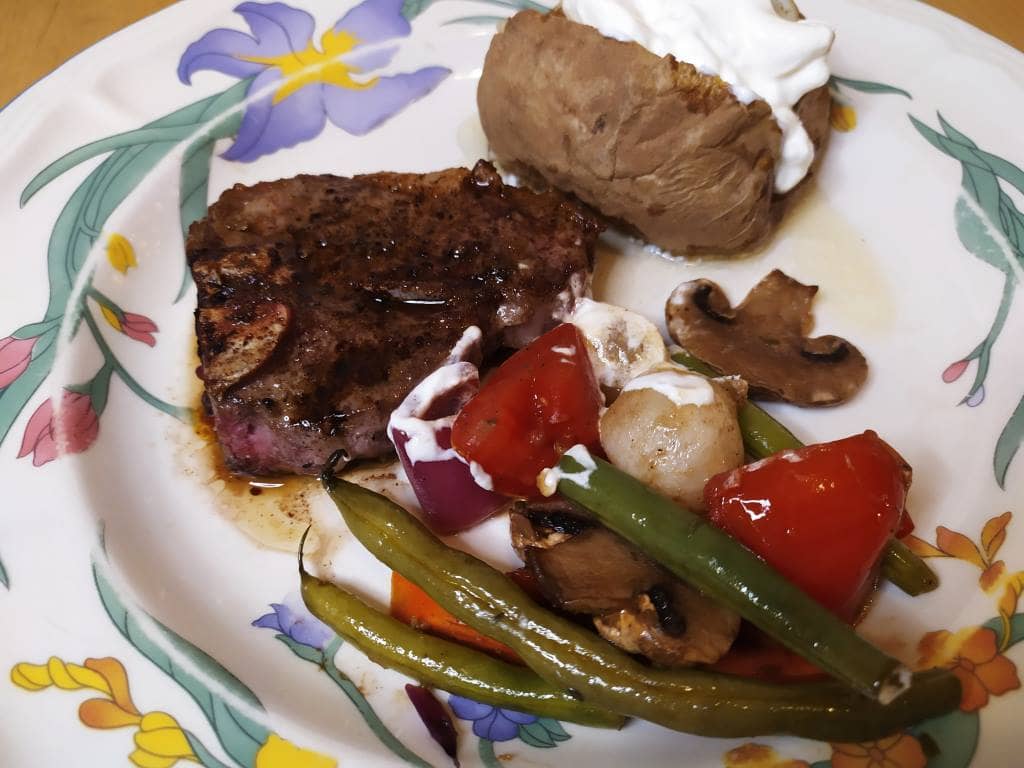 A long time ago, when Trader Joe's was close to me, I tried a sample of their Roasted Vegetables in Balsamic Butter Sauce with a dollop of creme fraiche. I loved it. Ever since then, when I would visit the store, I would always get a few bags to put in my freezer. But, you know, sometimes you're at the store, not Trader Joe's, and you really want those vegetables with no time to go and get them. That's when you get the stuff you need and make your own. Now, I'm going to share with you my take on these wonderful roasted vegetables with balsamic butter sauce.

This is actually a great way to use up vegetables that are sitting in your produce drawer that might not be the freshest in the world. If you don't like the vegetables in this mix, you can surely leave out the ones you don't like, or add more that you do. If you like green beans, add a whole bunch of them – if you like mushrooms, then add a whole bunch of those. The variety is endless.
I will say, however, that butter is really important here. Please don't use margarine because it does not have the same mouthfeel that butter does. Please use unsalted butter. Don't forget, the sauce has soy sauce, so it already has salt – no need to have more from salted butter.
You can get pearl onions in your grocer's frozen vegetable section, and I suggest you do. In my opinion, getting the skin off of pearl onions is a pain. Do yourself a favor and just get the frozen ones.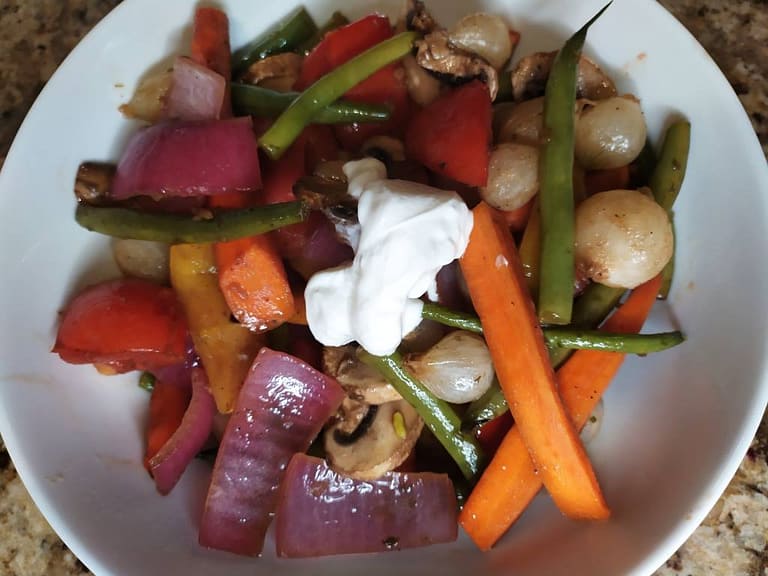 Servings (slide to adjust):
Calories per serving:
158
kcal
If you purchase any of the products through these affiliate links, I get a few pennies that help keep The Good Plate open. I use these products myself and want you to be able to easily find them.
Ingredients
1

Roma tomato

,

cut in eighths

½

Red onion

,

quartered

2

Mushroom

,

sliced

2

Carrot

,

cut

½

cup

Green Beans

¼

cup

pearl onion

½

Bell pepper

,

sliced

½

teaspoon

Sunny Paris

½

teaspoon

Ozark seasoning

¼

teaspoon

salt

¼

teaspoon

pepper
-- For the Sauce --
2

tablespoon

butter

½

teaspoon

Worcestershire sauce

¼

teaspoon

Soy sauce

¼

teaspoon

Sugar

2

tablespoon

Balsamic vinegar
Ingredients necessary for the recipe step are in italic.
Instructions
Preheat the oven to 425. Line a half sheet pan with foil and put all the vegetables on the foil. Sprinkle the herbs and spices over.

Make the sauce in a large saucepan. Add the roasted vegetables to the sauce, toss to coat, cover and cook for about 10 minutes, stirring occasionally,
Notes
You could also put these vegetables on the grill for extra flavor.
Nutrition
Calories:
158
kcal
Carbohydrates:
24
g
Protein:
4
g
Fat:
6
g
Saturated Fat:
4
g
Polyunsaturated Fat:
0
g
Monounsaturated Fat:
2
g
Cholesterol:
16
mg
Sodium:
279
mg
Potassium:
580
mg
Fiber:
6
g
Sugar:
7
g