Make this Beef Stroganoff with flap meat, the same that is used for fajitas.
Beef Stroganoff Boswell
Last Updated on October 25, 2022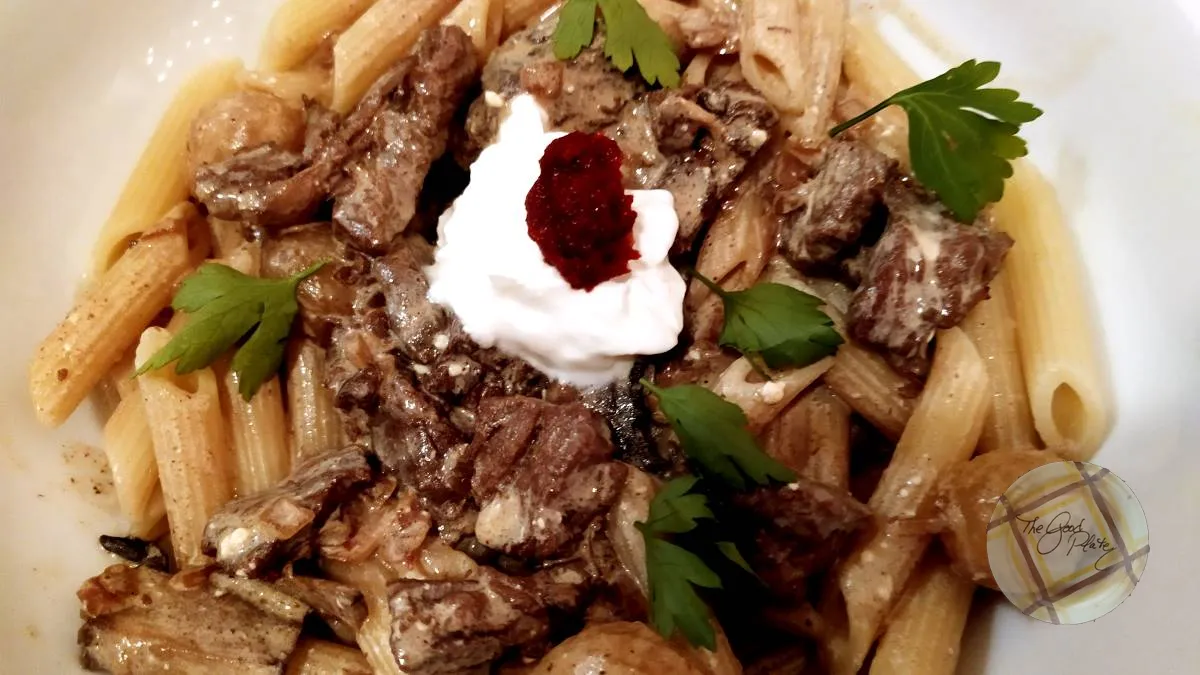 This is the Boswell version of the classic Russian dish, Beef Stroganoff. One of the problems with making this is making sure the meat is tender, not having to chew meat forever. One solution is to use ground beef, but that's not the classic version. Read on to find out my recommendation.
I found that Beef Stroganoff made with flap meat, the same that is used for Fajitas, stays nice and tender.  Flap meat is from the bottom sirloin butt cut of beef. However, it does have to be marinated to tenderize it before it is cooked.  For fajitas, I use a good cleaver and chop the meat into small bits.  For this, I still used a cleaver, but I sliced the meat into long strips, then cut the strips into 1/2 inch pieces. I tenderize it in Worcestershire sauce and some Penzey's Pepper in the refrigerator for a half an hour or so.
Pearl onions do not appear in the original recipe for this dish, but I think they make for great presentation.   I get the frozen ones because frankly my dear, the fresh ones are a PITA to prepare. However, if you can't find the frozen ones, trim the root ends off pearl onions and plunge them into boiling water for about 30 seconds and put them in an iced bowl to stop the cooking process.  Squeeze them and they should pop out of their skins.  If they don't use a paring knife to get them out of their skins. Trust me, use the frozen ones.
If you don't like beef, you can try my Turkey Stroganoff with Shallots.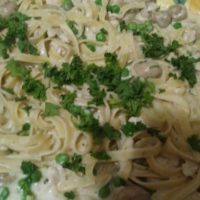 Turkey Stroganoff with Shallots
Turkey Stroganoff is full of flavor, and a quick and easy weeknight meal.
Now, let's get cooking Beef Stroganoff Boswell with flap meat.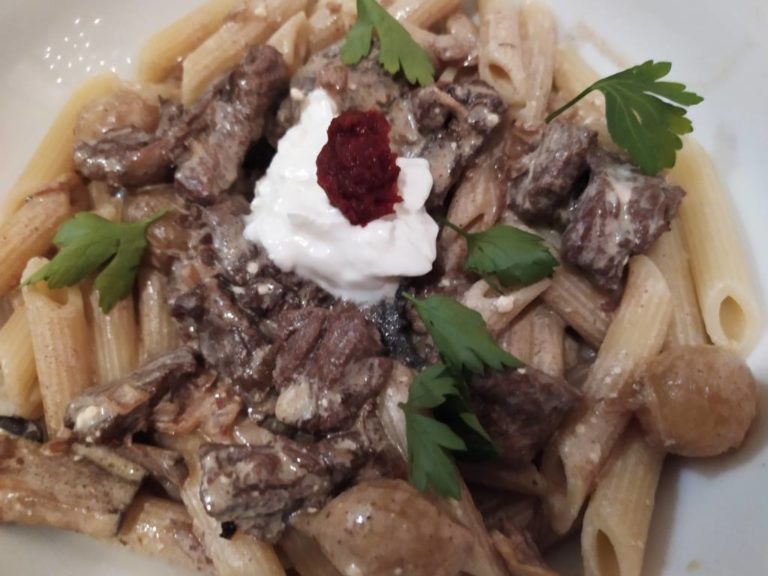 Servings (slide to adjust):
Servings
Calories per serving:
390
kcal
Ingredients
— For the Marinade —
1

pound

Flap Meat

,

cut

1

tablespoon

Worcestershire sauce

¼

teaspoon

Penzey's Pepper
— For the Sauce —
1

tablespoon

butter

¼

cup

Red onion

,

chopped

2

cloves

garlic

,

sliced

½

cup

Mushroom

,

sliced

1

teaspoon

beef base

1 ½

cups

Hot water

¼

cup

pearl onion

¼

teaspoon

dry mustard

½

cup

Sour cream

1

teaspoon

Worcestershire sauce

¼

teaspoon

Accent

,

MSG – optional

1

lb

noodles

,

cooked in salted water and drained
— For Garnish —
1

tablespoon

Sour cream

½

teaspoon

Red Pepper Paste

,

NOT hot sauce or salsa
Ingredients necessary for the recipe step are in italic.
Instructions
1 pound Flap Meat,

1 tablespoon Worcestershire sauce,

1/4 teaspoon Penzey's Pepper

Cut the meat into bite-size pieces and mix with the Worcestershire and pepper. Refrigerate for about 30 minutes.

1 tablespoon butter,

1/4 cup Red onion,

2 cloves garlic,

1/2 cup Mushroom

Melt butter in a saucepan, then add onions, garlic slices, and mushrooms. Saute until the onions are translucent.

1 teaspoon beef base,

1 1/2 cups Hot water,

1/4 teaspoon dry mustard

Mix the beef base, mustard, and water together. Add this to the pan and let it cook for about 10 minutes on low.

Add the pearl onions and continue to cook on low until the liquid has reduced by half, about 15 minutes.

While that is happening, boil water for noodles and cook the noodles.

1/2 cup Sour cream,

1 teaspoon Worcestershire sauce,

1/4 teaspoon Accent

Add the sour cream, Worcestershire, and Accent (if using). Stir it all together on a very low flame.

Drain the noodles and put some of the Stroganoff on top.

1/2 teaspoon Red Pepper Paste,

1 tablespoon Sour cream

I like mine with a little extra sour cream and a dollop of red pepper sauce. Enjoy and see you next time on the good plate.
Notes
If you cannot find Red Pepper Paste, you can omit it.  You can generally find Red Pepper Paste in Mediterranean markets. 
Nutrition
Calories:
390
kcal
Carbohydrates:
33
g
Protein:
29
g
Fat:
15
g
Saturated Fat:
8
g
Polyunsaturated Fat:
1
g
Monounsaturated Fat:
5
g
Cholesterol:
122
mg
Sodium:
466
mg
Potassium:
631
mg
Fiber:
2
g
Sugar:
1
g