Keeping chopped shallots in oil in the refrigerator is a good way to always have shallots available for any recipe.
Chopped Shallots in Oil
Keeping chopped shallots in oil in the refrigerator is a good way to always have shallots available for any recipe.

I make this about once every three months, and keep it in the refrigerator to use when I need it. The shallots stay nice, and the oil takes on the taste of the shallots. This is an essential ingredient in my Risotto, Mac and Cheese, Lamb with Balsamic Wine Sauce, Scrambled Burger Quiche, and many others.
Shallots belong to the onion family and have a taste somewhere between mild onion and garlic. They give a unique flavor to foods that make them seem special.
When you purchase shallots, look for ones that are on the small side, they will have a milder taste. They should have no spots, and their paper-thin skins should be tight.
Unlike garlic, shallots do not pop out of their skins when crushed as garlic does. To skin, a shallot, cut both ends off, then make a small long slit in the skin, and carefully pull it away.
I use one of those chopping machines to chop my shallots – about four or five medium-sized ones at a time minced finely, then I put them in a container and cover them with tasteless vegetable oil, corn oil sunflower or peanut oil is a good choice. Then I refrigerate them and use them by the spoonful when I need them in a recipe.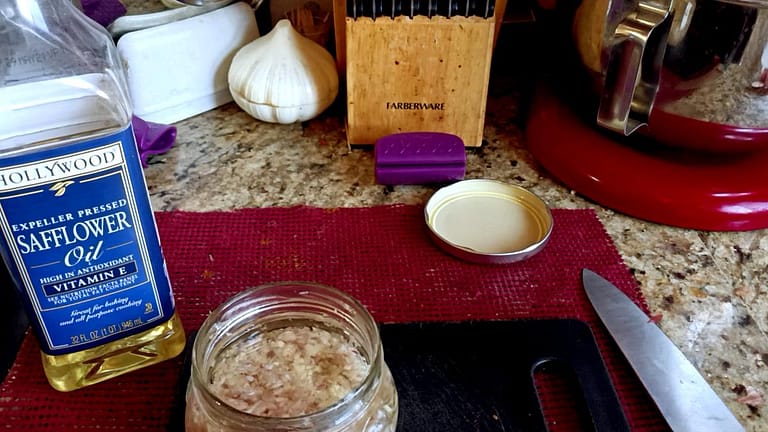 Servings (slide to adjust):
Calories per serving:
60
kcal
Equipment
If you purchase any of the products through these affiliate links, I get a few pennies that help keep The Good Plate open. I use these products myself and want you to be able to easily find them.
Ingredients
2

Shallots

½

cup

oil

,

flavorless
Ingredients necessary for the recipe step are in italic.
Instructions
Put the peeled shallots in the cup of the chopper and seal it.

Hit the top of the chopper continuously until all the shallots are chopped up.

Put the shallots in a container and pour flavorless oil over them until they are covered.

Put the shallots in the refrigerator and use as needed.
Notes
You can use the shallots right away but the oil will develop flavor after about a week.
Nutrition
Serving:
7
g
Calories:
60
kcal
Carbohydrates:
0
g
Protein:
0
g
Fat:
7
g
Saturated Fat:
1
g
Polyunsaturated Fat:
2
g
Monounsaturated Fat:
3
g
Cholesterol:
0
mg
Sodium:
0
mg
Potassium:
2
mg
Fiber:
0
g
Sugar:
0
g
Shallots in Oil Transcript
Shallots in Oil Video Transcript
Good afternoon and welcome to The Good Plate's kitchen.
Today I'm going to show you how to make
Shallots in oil.
Shallots in oil are really great for adding to a variety of foods, especially mushrooms.
Because it makes them
taste just wonderful.
Okay so.
First thing we're going to do I'm going to show you.
This is a shallot.
Shallots are part of the onion family.
And they have flavor
that's kind of a cross between
an onion
and garlic but not quite. They're
very very tasty.
Okay, so first things first.
Cut off.
That that.
They're not like onions
don't peel as easily.
That off.
And in this part off.
And then I'm going to make a little slip right here.
My knife.
Peel.
Peel.
We see
two
bulbs
of shallots.
And I have a
second candidate over here.
Move this
here.
And we go again.
And cut
right here is perfect.
Sometimes shallots to give you a hard time.
Just like this one is.
We're going to cut more.
There we go.
This one.
There we go. These.
Now.
This
is the Zyliss chopper
and these are really wonderful. You may have seen
these a long time ago. You know they're really good for
chopping nuts
but the one thing they really excel at
is chopping Shallots.
You see how
this comes out like this?
You may have seen me chopping
pistachios
for
the Chicken
with
Blue Cheese Risotto
Okay, these are not all going to fit.
Yes, they will.
We're going to make them fit.
See?
That's right at The Good Plate we make everything fit.
All right! Secure the on top.
And start smashing.
Turn the
whole thing so they get
chopped nicely. See? I'm turning the top.
How are we doing?
The other thing this is great at
if you have some anxiety or something some stress you want to get rid of
this is a great way to do it.
Okay.
Almost done.
Let's see how they look.
Aha.
There are a few pieces that are still
big in there and we will keep on going.
Okay, I'm gonna say.
And now unscrew
this.
And you can see
how nice
these came out.
Still a bit in there and
we'll deal with that later.
But the important part is now
I keep mine
In a little
glass jar in the refrigerator.
So now we're going to take this,
go like that.
Now, I want to get every little bit out.
Here we go.
Now.
That's done.
I'm going to pour
some safflower oil
on that.
You really want to use an oil that does not have any flavor so avocado oil would be
fine safflower oil would be fine.
and
even corn oil
would be OK,
depending on how you feel about
GMO or
organic or whatever.
Just olive oil is not a good idea because it has
too much flavor.
And just pour this over here like this
so they are all completely covered.
And
make sure you
get any stray ones.
Make sure everybody gets in the oil.
And take these little guys
from here
and get them in there as well.
Put that in there.
Put this in the sink to clean it.
And I'm going to put the top on.
See? This is an old jelly jar. I think it was
peaches or something originally.
And now,
this is going to go into the refrigerator.
It will last in the refrigerator for several months.
And you just keep on using the shallots as you go.
The great thing about this is that
the
oil
will take on the flavor of the shallots.
And that's a wonderful thing to put in food to
add to your
saute pan for a little bit of extra flavor
Okay that's it and we'll see you next time
on The Good Plate.