This is for the "men who don't eat quiche". Of course, it's for anyone who likes a good quiche.
Scrambled Burger Quiche
Last Updated on June 1, 2022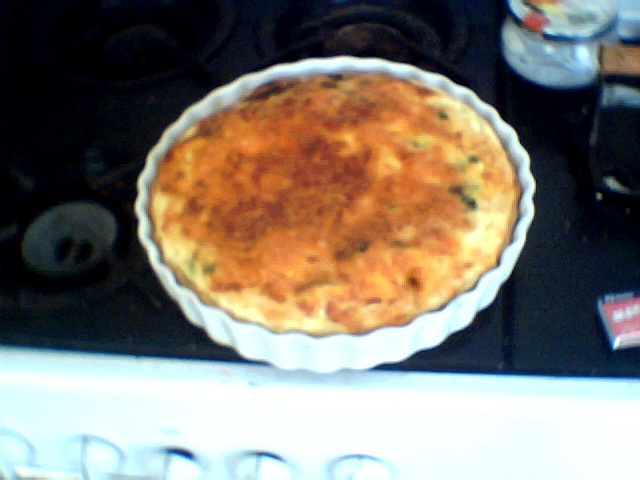 Scrambled Burger Quiche is my take on one of my favorite meals. Many years ago, we used to go to a restaurant that had something called Scrambled Burgers. I loved them, being a mixture of ground beef, spinach, onion, and cheese. I thought that combination would make a wonderful quiche.
$1.00 vs $20.00
A Note About Blind Baking
If you have never heard of blind baking, it means to partially bake a pie crust before putting in any filling. You will want to do this if your filling is or has a lot of liquid. There is nothing worse than eating a piece of pie with a raw crust, and this will prevent that from happening.
You can buy blind baking beads at your local gourmet shop, or online, and they will run you anywhere from $6.00 to $20.00. Yes, you can reuse them. Better yet, you can use plain old dried beans, which will cost you about a buck, and yes, you can reuse those, too. In fact, my beans are about 10 years old. Be frugal — choose beans!
Let's make Scrambled Burger Quiche!
It seems like an awful lot of spinach, but spinach cooks down very much.  You want about a cup of cooked spinach for this.  You could use frozen spinach, but the fresh spinach just tastes so much fresher and better. One large bag should be just about how much you need.
If you don't like mushrooms, you can omit them.  If you like tomato on your burger, by all means, add some fresh, chopped tomato.  Onion lover? Add some chopped onion to the mix. This really is the kind of recipe you can make your own.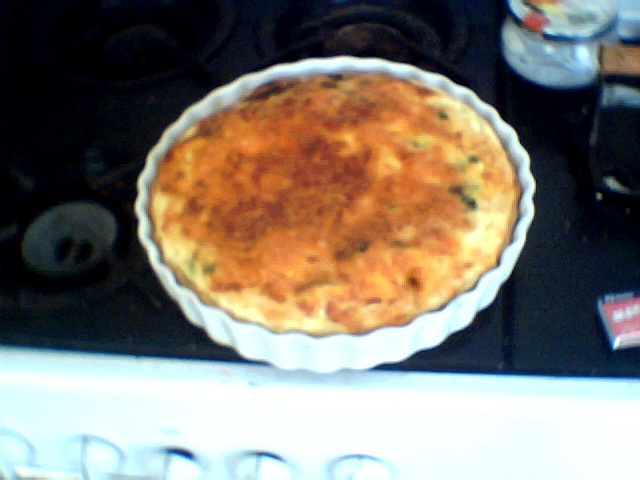 Servings (slide to adjust):
Calories per serving:
428
kcal
Ingredients
1

cup

sliced mushrooms

1

tablespoon

shallots

,

minced

1

teaspoon

dry sherry

1

tablespoon

butter

¼

lb

ground beef

4

cups

fresh spinach leaves

,

loosely packed

1

cup

cheddar cheese

,

not white, grated

4

eggs

1

cup

cream

1

cup

milk

1

teaspoon

Worcestershire sauce

¼

teaspoon

Tabasco sauce

½

teaspoon

nutmeg,

grated fresh

½

teaspoon

freshly ground pepper

1

blind-baked pie crust
Ingredients necessary for the recipe step are in italic.
Instructions
Have ready a quiche pan to blind bake the crust. If you don't have a lot of time or patience, a store-bought roll out pie crust is fine. To blind bake, prick the crust with a fork several times, then put some wax or parchment paper over the crust, and fill with dried beans. Bake in a preheated 375-degree oven until the crust starts to brown, about 10 minutes. Remove from the oven, then remove the beans by lifting out the wax paper. Set the beans aside to save for next time. The crust is ready.

Melt the butter in a large sauté pan. Add the shallots and sauté until translucent. Add the mushrooms, making sure they are well covered with the butter, then add the sherry and continue to sauté until they are lightly browned on all sides.

Add the beef, and break up, then sauté until all the beef is not pink. Add the spinach, and cook down, stirring constantly. The spinach will wilt considerably.

Remove from the heat, and put in prepared blind-baked pie crust. Top with the cheese.

Mix together the remaining ingredients and pour over the mixture in the quiche pan.

Bake in the oven at 375° until the cheese melts and the quiche rises slightly out of its pan, about 30 minutes . Remove from the oven and cool before serving.
Nutrition
Calories:
428
kcal
Carbohydrates:
19
g
Protein:
13
g
Fat:
34
g
Saturated Fat:
17
g
Polyunsaturated Fat:
4
g
Monounsaturated Fat:
12
g
Cholesterol:
82
mg
Sodium:
397
mg
Potassium:
366
mg
Fiber:
2
g
Sugar:
2
g