Our Catholic Seder menu is a way for those wishing to share a meal with friends and honor the Passover meal to do so. There are also some fun craft projects.
I am a practicing Catholic. What does that mean? It means I go to Mass every Sunday, where I have Communion, I try to go to Confession once a month (and definitely before a Holy day), and I share the Good Word with others.
Growing up, I heard about the Passover Seder, and my mother had Jewish friends, but we never went to one. It was not until a year after I went through RCIA (Rite of Christian Initiation for Adults) that I went to any form of Seder, and that was put on by a lovely Catholic couple. I thought it was such a nice way to help celebrate what God has given us that I decided I would have my own Seder. Last night was that first attempt and was the start of a new tradition in our small family. I did not do a full Seder, I just presented a Seder plate, said some words of explanation in which we all participated, and then I served a great dinner that brought it all together. I will share that with you here.
On this day, Thursday of Holy Week, April 1, 2010, we celebrated the Passover service, which we were asked in Exodus Chapter 13, verses 8-10:
This is not a complete Seder; it is a much-shortened version, but I wanted to note the meanings of the items on the Seder plate in the center of our table.
The Decorations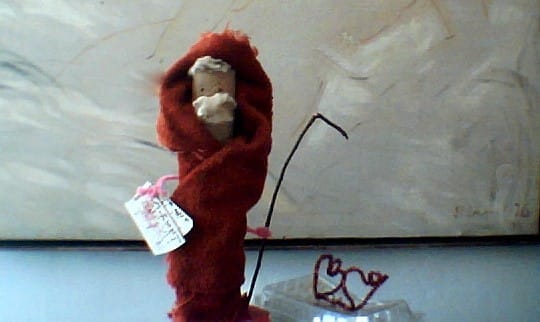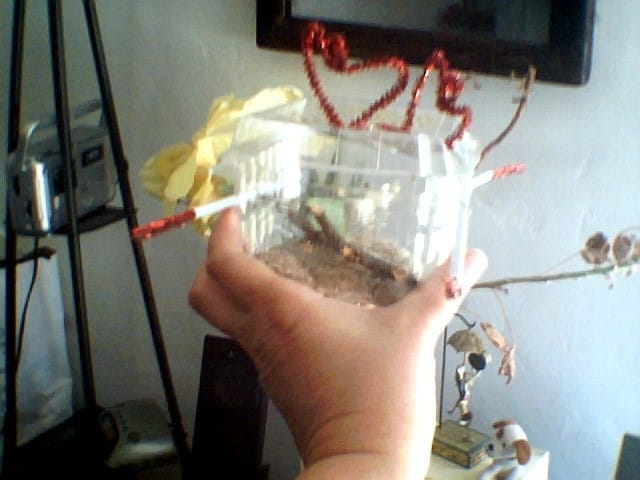 I thought it would be fun to find some interesting Passover craft projects. We made a Moses with the cardboard tube left over from paper towels, a brown washcloth, and some real lambswool. I found the lambswool I used for the hair and beard at Christmas time. We also made an Arc of the Covenant out of a clear plastic strawberry box. We covered the box with gold stars and put the contents of the arc inside. Spane made a pyramid out of legos, and we made placemats with the 10 plagues on construction paper.
The Seder Plate
I used a large round plate and put the various ingredients into Wilton Silicon Baking Cups. They come in pastel colors and looked very nice on my table.
Karpas (vegetable) – we used Romain. We dipped it in salt water. It represented the humble beginnings of Jewish people and the food they ate in Egypt as slaves. Saltwater is perceived as tears their Jewish ancestors shed because of the hardships of slavery.
Maror (bitter vegetable) – I used creamy horseradish and carefully looked at the ingredient list. It seemed fine, and no one had it, but I left it out for the lamb. This vegetable symbolizes the bitter, harsh living of Jewish people in Egypt.
Charoset – Charoset is a paste made from tart apples, dates, nuts, honey, wine, or grape juice. It has spices such as cinnamon and ginger. The mixture looks like clay and represents the mortar that Jewish people used to build cities for Pharaoh. I made a bunch of this as I knew this tasted really good. It was nice to have with my morning yogurt.
Beitzah. – Beitzah is a boiled or roasted egg. The egg represents the reminder of the festive sacrifice brought to the Temple in Jerusalem and then eaten. Since Temple was destroyed, the egg serves as a reminder of this loss. It also symbolizes eternal life, which is fine for a Catholic Seder. I thought it was important to use an organic brown egg. So is this how the Easter Egg tradition started?
Zeroah – Zeroah is a piece of roasted shank bone of a lamb (sometimes chicken wing). It represents God's helping hand and the traditional lamb sacrifice before Exodus from Egypt. It also represents the following sacrifices at the Temple until it was destroyed. Zeroah is usually not eaten but serves as a reminder of the Passover miracle and liberation from slavery. I did not have a lamb shank, but I was going to be serving lamb. I did not have a chicken wing, so I used a chicken wishbone and a turkey wishbone as stand-ins.
Matza – we did not have Matza. I used Carr's Water Table crackers, which are basically the same thing, unleaved bread. I did not have a large gathering and did not want to buy three boxes of Matza to go bad.
Our Catholic Seder Menu
I had used romaine for my Seder plate, so salad was a good accompaniment for the lamb. The perfect salad was Grapefruit and Candied Walnut Salad.
Salad Course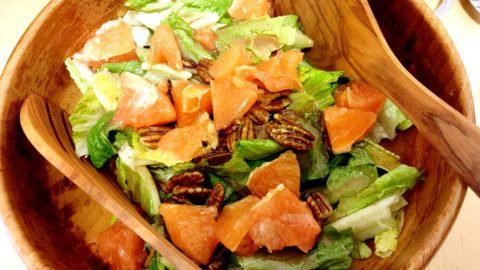 Meat Course
My friend, and owner of Heritage Cafe, Alisia Asmarian, does not give up her recipes. However, this one was pretty easy to recreate. This dish goes very well with the lamb above but also accompanies chicken and pork nicely as well.
Dessert
No dinner is complete without some dessert. I wanted something light and simple.
Tiramisu Without Brandy
Don't cut corners making this lovely dessert. Prepared properly, it is truly wonderful. Marscapone is an Italian cheese, similar, but much creamier than cream cheese.
Get this recipe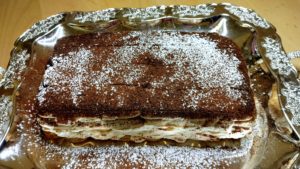 Final Thoughts on the Catholic Seder Menu
We had this with Armenian coffee. It was lovely. I am drinking some now as I post this. I hope this post has inspired you to have your own Passover Seder, regardless of your view of God. This was a great way to share a meal with friends.