Don't cut corners making this lovely dessert. Prepared properly, it is truly wonderful. Marscapone is an Italian cheese, similar, but much creamier than cream cheese.
Tiramisu Without Brandy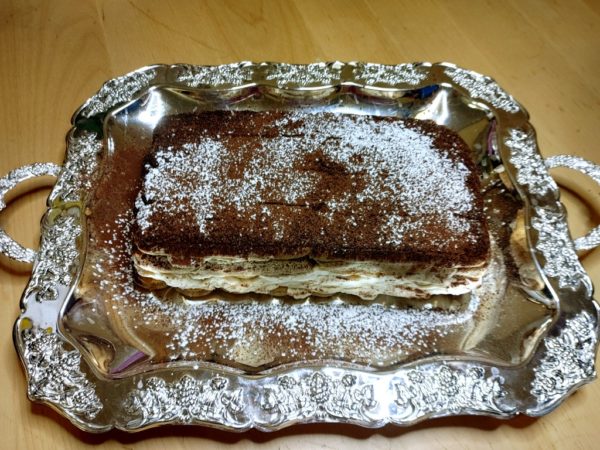 This is an elegant and easy to make a dessert that because it doesn't have brandy, everyone can have. If you are concerned about caffeine, then use decaffeinated coffee instead.

I made dessert for Thanksgiving without brandy because one of my guests is allergic to alcohol. By adding some spices for the season, I was able to up the flavor so no one even noticed there was no brandy. It's a great holiday dessert because you can make it the night before and let it sit in the refrigerator until you are ready to serve it – and it doesn't take up any room in the oven!
Ladyfingers for Tiramisu
You might have to go to a special Italian or Mediterranean store to get real ladyfingers. Real ladyfingers are hard and dry so they do a good job of soaking all that tasty liquid. If you can't find them at a specialty store, they are also available on Amazon. If you must, you can substitute pound cake. Cut it into fingers and dry it on a wire rack in your oven at 250 F / 121 C for about 30 minutes. Please don't try to use those ladyfingers in the produce section of the supermarket. They are advertised for Strawberry shortcake, but in reality, biscuits do a better job for that dessert.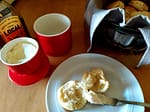 Buttermilk Biscuits
Ever wondered how to make your biscuits nice and flaky? Let me show you how to make flaky buttermilk biscuits in a food processor.
What Kind of Coffee?
Use the coffee that you like. I happen to really like Cuban coffee and Cafe La Llave Espresso is my favorite. I prepare mine in a French press and enjoy it strong. You can also use a decaffeinated coffee if you are concerned about little ones eating this, just make sure it's good and strong. I would not suggest using a flavored coffee because it would fight with the delicate mascarpone flavor.
Speaking of mascarpone, what is that anyway? Mascarpone is an Italian cheese that is similar in texture to cream cheese, except it doesn't have the cream cheese flavor, just cream flavor. It's excellent for a variety of foods, so I suggest you keep some in your cheese drawer. It's almost always available at your local supermarket, or there are plenty of very easy recipes available on the Internet to make it at home. Watch this space – I might make some soon!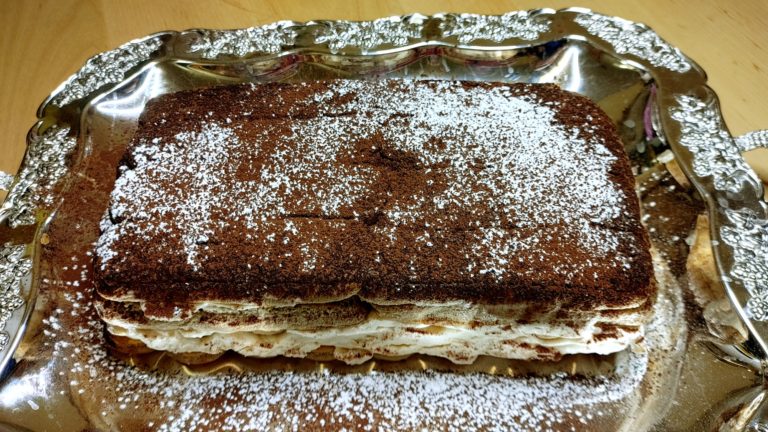 Servings (slide to adjust):
Calories per serving:
282
kcal
If you purchase any of the products through these affiliate links, I get a few pennies that help keep The Good Plate open. I use these products myself and want you to be able to easily find them.
Ingredients
Ingredients necessary for the recipe step are in italic.
Instructions
Prep the loaf pan by putting a sheet of foil large enough that it comes out the sides. This will make it easier to get the tiramisu out of the pan at serving time.

In a medium mixing bowl, mix together the mascarpone, vanilla, cinnamon, nutmeg, and mace.

Make a layer of some of the mascarpone mixture, then dipped fingers, then mascarpone, and finally dipped fingers.

Put the loaf in the refrigerator, covered, until serving time.

At serving time, get a nice serving dish and put it on top of the loaf pan. Turn the pan upside down and the tiramisu should fall out nicely.

Put the cocoa in a strainer and dust the top of the tiramisu with the cocoa.
Notes
If you are concerned about caffeine, please feel to use decaffeinated instead.  Just make sure it's made very strong.
Nutrition
Calories:
282
kcal
Carbohydrates:
36
g
Protein:
6
g
Fat:
13
g
Saturated Fat:
8
g
Polyunsaturated Fat:
1
g
Monounsaturated Fat:
4
g
Cholesterol:
139
mg
Sodium:
151
mg
Potassium:
176
mg
Fiber:
0
g
Sugar:
25
g