Skinny breakfast casserole has the sausage, bread, and cheese, but half the calories, fat, and carbs of the traditional holiday casserole.
Skinny Breakfast Casserole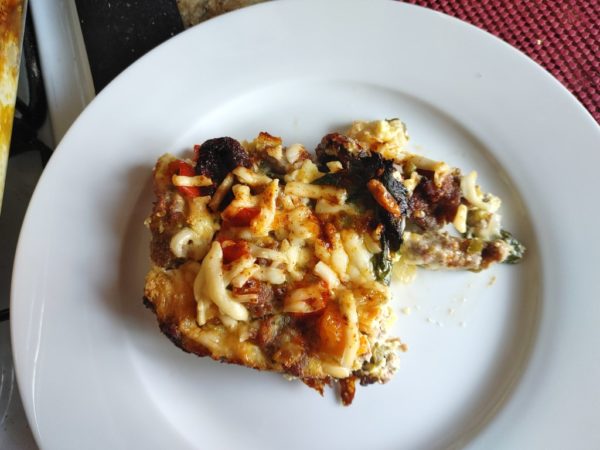 As good as holiday breakfast casseroles are, they are full of fat and carbs. I wanted to make a casserole that wasn't so fat heavy but would have all the good flavors of the high-calorie one.  Let me show you how to make a skinny breakfast casserole.
Most breakfast casseroles call for Italian sausage made with pork. Sausage by its nature usually requires a lot of fat to give it flavor and structure. Unless you are making your own Italian sausage, that's a lot of fat. The other ingredient is day-old typically white bread and which has a lot of carbs. How to reduce fat and make the bread healthier? What to do, what to do?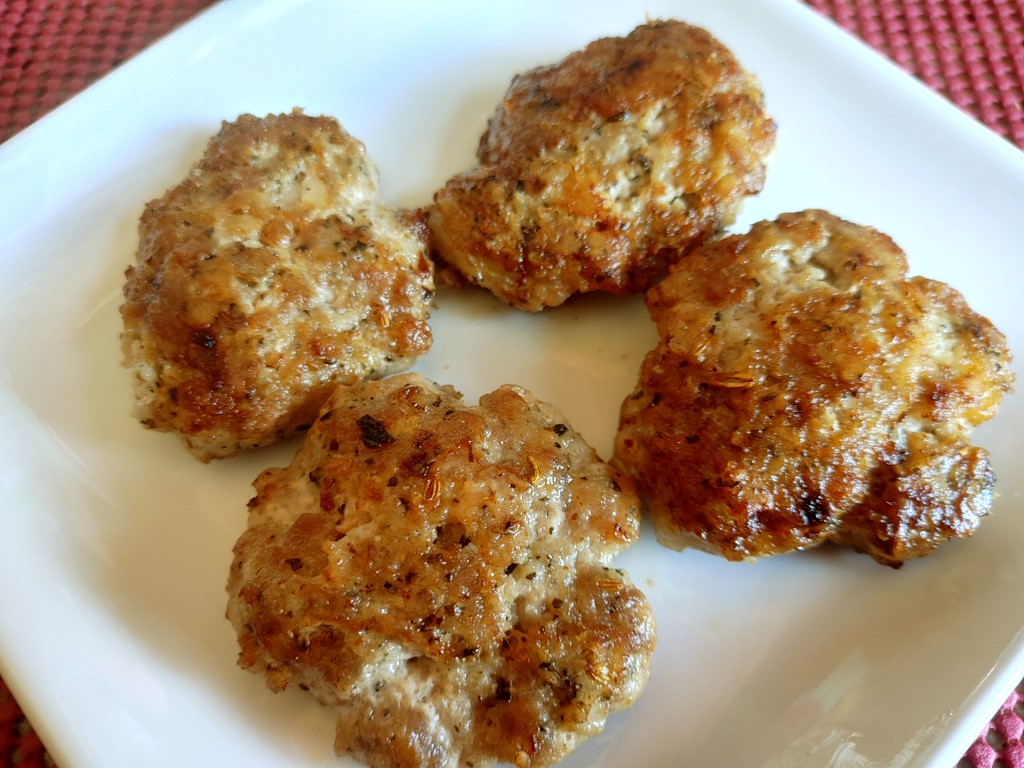 How to Make Italian Sausage in a Braun Food Processor
Yes you can make Italian Sausage in a Braun food processor. Make it just the way you like it, sweet as a kiss or angry hot - your choice.
Replace the Sausage for Skinny Breakfast Casserole
The first place I looked to reduce fat was to replace the sausage.  Even homemade pork sausage where you can regulate the amount of fat is still a lot of fat. I don't like meat substitutes as some are even fattier than the real thing – and frankly, I think they taste absolutely awful. Turkey sausage is a good substitute and the flavors could be upped so the casserole would taste close to its pork brethren.
Replace the Bread
I really feel like we've all been jipped. We have been led astray thinking that white was superior in every way – white sugar, white flour, white pasta, white bread, white rice, white eggs… I'm here to tell you that's not true.  The sugar with a little of its molasses intact has much better flavor; white flour, pasta, bread, and rice have very little flavor of their own; white eggs taste exactly the way that brown eggs do except the chickens' feathers are just different colors.  I didn't want to use whole wheat seeded bread because I didn't want its flavor to fight with the other ingredients. But, you know what kind of bread has great flavor and is healthier for you?  Good old sourdough!
Servings (slide to adjust):
Calories per serving:
356
kcal
Ingredients
1

tablespoon

Olive oil

1

Onion

,

chopped

1

Bell pepper

,

chopped

12

ounces

turkey sausage

1

teaspoon

Fennel

2

tablespoon

Jalapeno peppers,

canned, chopped
~~ -- For the Casserole -- ~~
6

slices

Sourdough bread

,

torn

½

cup

Spinach

,

fresh leaves

2

slices

Swiss

,

torn

2

tablespoon

Parmesan

,

shaved
~~ -- For the Custard -- ~~
6

Eggs

1

cup

Milk

1

cup

Cream

1

teaspoon

Sunny Paris

1

teaspoon

Justice

½

teaspoon

Worcestershire sauce

½

teaspoon

Salt

,

Kosher or pink himalyan
~~ -- For the Topping -- ~~
½

cup

White cheddar

2

teaspoon

Paprika
Ingredients necessary for the recipe step are in italic.
Instructions
Heat a pan and add the olive oil. Swirl it around to cover the entire pan. Add the onion and saute until translucent. Add the bell pepper and saute until slightly soft.

Add the sausage and fennel and cook the sausage completely, breaking it up and stirring frequently. When the sausage is cooked, add the jalapeno and saute until most of the liquid is gone. Set aside.

Pour the custard over the casserole, distributing it evenly.

Put the casserole in the oven and heat the casserole to 350 F / 176 C. Bake for 1 hour then remove from the oven and let it sit to cool for about 10 minutes.
Nutrition
Calories:
356
kcal
Carbohydrates:
21
g
Protein:
20
g
Fat:
22
g
Saturated Fat:
10
g
Polyunsaturated Fat:
2
g
Monounsaturated Fat:
8
g
Cholesterol:
250
mg
Sodium:
968
mg
Potassium:
368
mg
Fiber:
2
g
Sugar:
5
g