How to make flaky buttermilk biscuits in a food processor
Flaky Buttermilk Biscuits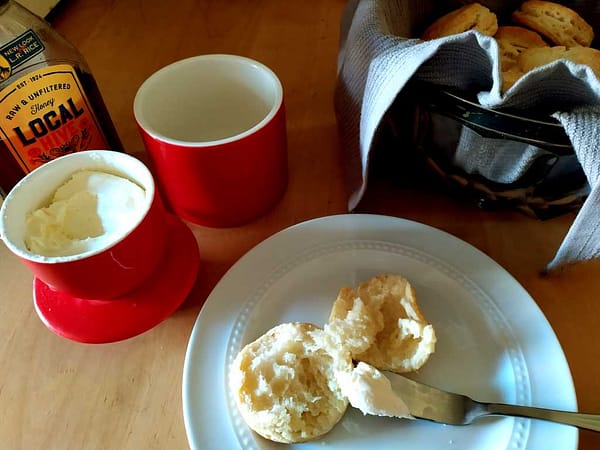 Flaky Buttermilk Biscuits are so nice in the morning with honey and a cup of coffee. They are very easy to prepare with the help of a good food processor. Tired to flat, hard, hockey puck biscuits? Read on.

For years and years, I could not for the life of me make a decent biscuit.  Even with prepared Bisquick, I was still a failure.  Then, I found a recipe for scones and adapted it.  The scones turned out great.  I thought, hey, scones are just British biscuits. I can make biscuits!
It's important when you are making biscuits to keep the butter as cold as possible. I cut mine up and put it in the freezer for about 10 minutes so it gets really firm. I use a food processor because it's very simple and the S blade spinning so quickly cuts the butter without getting too hot. Food processors do tend to get hot which is another reason for the butter to be super cold.
I'm surprised at how much I use buttermilk. I use it for biscuits, cakes, marinades, for Southern Style Spicy Macaroni and Cheese, and I'm finding more uses all the time. If I make butter, then I have fresh buttermilk, otherwise, I just buy it at the supermarket.  It lasts a long time in the refrigerator, too, so don't worry about using it up – you will find things to use it for, that is if you don't just drink it.
Making Flaky Buttermilk Biscuits
Watching videos about croissant dough, it occurred to me that I could fold the biscuit dough and that would make it flake. In the video, you will see that I fold the dough three times and on the fourth fold, I do the final rollout and cut the biscuits.  Please use a real metal biscuit cutter.  They are relatively sharp so they actually cut the dough.  You want a nice clean cut.  Using a glass just crushes and tears at the dough so the dough doesn't get a chance to make a good rise – it just makes a tasty hockey puck.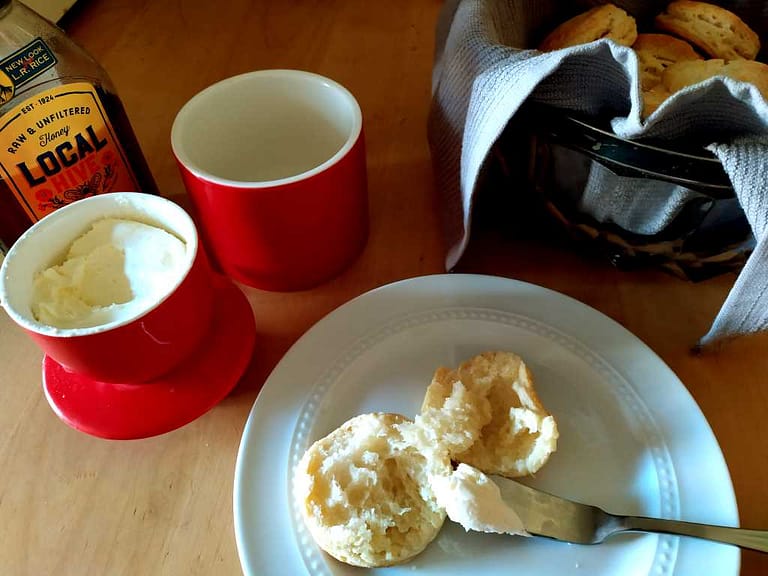 Servings (slide to adjust):
Calories per serving:
201
kcal
If you purchase any of the products through these affiliate links, I get a few pennies that help keep The Good Plate open. I use these products myself and want you to be able to easily find them.
Ingredients
½

cup

butter

,

unsalted (1 stick)

1 ½

cups

flour

2

teaspoons

baking powder

1

teaspoon

sea or Kosher salt

¾

cup

buttermilk
Ingredients necessary for the recipe step are in italic.
Instructions
Preheat the oven to

400

°F

Cut the butter into 1/4 inch cubes and put it in the freezer for about 10 minutes.

1 1/2 cups flour,

2 teaspoons baking powder,

1 teaspoon sea or Kosher salt

Insert an S blade in the bowl of your food processor. Add the dry ingredients to the bowl. Agitate the processor to aerate.

Put the butter into the processor and pulse it until the prices of butter are very small about 5 or six times.

Add the buttermilk and pulse until a ball of dough forms. STOP.

Put the dough on a floured surface. Shape it into a flat ball then roll it out to about 1/4 inch thickness. Fold the dough, pat it down and roll it again to 1/4 inch thickness. Do this three more times.

On the final rollout, get your biscuit cutter and cut the biscuits out and put them on a cookie sheet. Leave about a half-inch distance between them.

Bake the biscuits for 18-20 minutes or until they have risen and are a golden color.
Notes
If you don't have buttermilk, by all means, use regular whole milk.  Plain yogurt can also be used in the same amount.
Nutrition
Calories:
201
kcal
Carbohydrates:
19
g
Protein:
3
g
Fat:
12
g
Saturated Fat:
8
g
Polyunsaturated Fat:
1
g
Monounsaturated Fat:
4
g
Cholesterol:
34
mg
Sodium:
399
mg
Potassium:
64
mg
Fiber:
1
g
Sugar:
1
g