The salmon can be served hot or cold, it's good either way.
Stovetop Smoked Salmon with Green Sauce
Stovetop smoked salmon is so easy to make and tastes out of this world good. I serve it with creamy dill sauce, steamed new potatoes, broccoli, and white wine. You will seriously wonder why you haven't made this before.
I have already talked about how to smoke chicken on the stovetop, and this stovetop smoked salmon uses the same procedure. I use a regular stainless steel stockpot with a pasta insert. There's plenty of room in it, so if you wanted to add some veggies, you could do that, too.
But this was all about the salmon.  I like freshly caught wild salmon from a good fishmonger. I'm very lucky to live in Glendale, California where we have one of the last and the best fish stores, Fish King. All the fish at Fish King is same-day caught and cut.  If you don't know exactly what you want, they are more than happy to help you.  In addition, they have a cafe and you can get fish cooked to take home. If you are near Glendale, I highly recommend visiting them.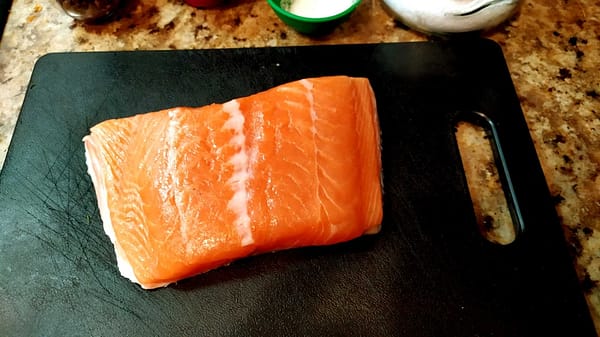 How to Buy Fish
Fish King smells like the ocean when you walk in the door.  That's how a good fish market is supposed to smell.  If it smells like fish, that means the fish is old. If you don't like the way fish smell, there's a good reason for that.  Smelly fish means that the fish has started to decompose, and just as human decomposition is God awful smelling, it's just as bad in fish or any other protein. If you are buying fish from the fish counter in your local supermarket, always smell it first.  Even if it's a little off, don't buy it, but tell the store manager or butcher so they can get rid of it – it's not safe to eat.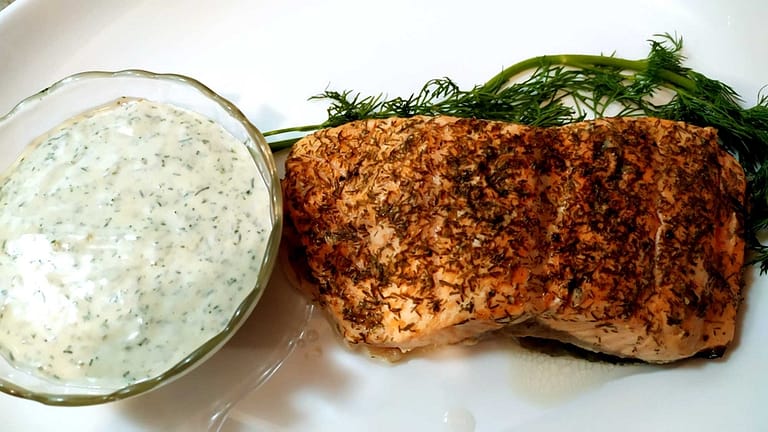 Servings (slide to adjust):
Calories per serving:
239
kcal
If you purchase any of the products through these affiliate links, I get a few pennies that help keep The Good Plate open. I use these products myself and want you to be able to easily find them.
Ingredients
Dill Rub
2

tbsp

freeze-dried dill

½

teaspoon

crystallized lemon

1

teaspoon

sugar

⅛

teaspoon

kosher salt

,

or sea salt

⅛

teaspoon

black pepper

,

freshly ground
Green Sauce
1

bunch

fresh dill

,

a few sprigs reserved for garnish

1

teaspoon

capers

½

Lemon

,

juice of

½

cup

Mayonnaise
Ingredients necessary for the recipe step are in italic.
Instructions
Prepare the Wood Chips
Soak the wood chips in water for at least half an hour.
Make the Dry Rub
Make the Sauce
Prepare the Salmon
Put a large piece of foil in the bottom of a large stockpot. It should come up the sides as well.

When the wood has soaked enough, drain it carefully and well and put it on another large piece of foil. Put one more piece of foil loosely on top of that so there is room for the smoke to come out. Please that on top of the foil already in the pot. Light the burner under the pot.

Now you have to be QUICK.

Lightly oil the pasta insert and put the salmon on top. Don't remove the rub. Put it in as-is. Put the pasta insert into the pot and put the lid on the pot.

Let it sit on high for 5 minutes, then reduce it to low. After 30 minutes, turn the heat off completely. Let the fish rest for about 10 minutes before serving.
Nutrition
Calories:
239
kcal
Carbohydrates:
9
g
Protein:
16
g
Fat:
16
g
Saturated Fat:
4
g
Polyunsaturated Fat:
6
g
Monounsaturated Fat:
4
g
Cholesterol:
57
mg
Sodium:
308
mg
Potassium:
314
mg
Fiber:
1
g
Sugar:
2
g