Just the perfect soup when you want something warm and comforting
Egg Drop Soup with Dumplings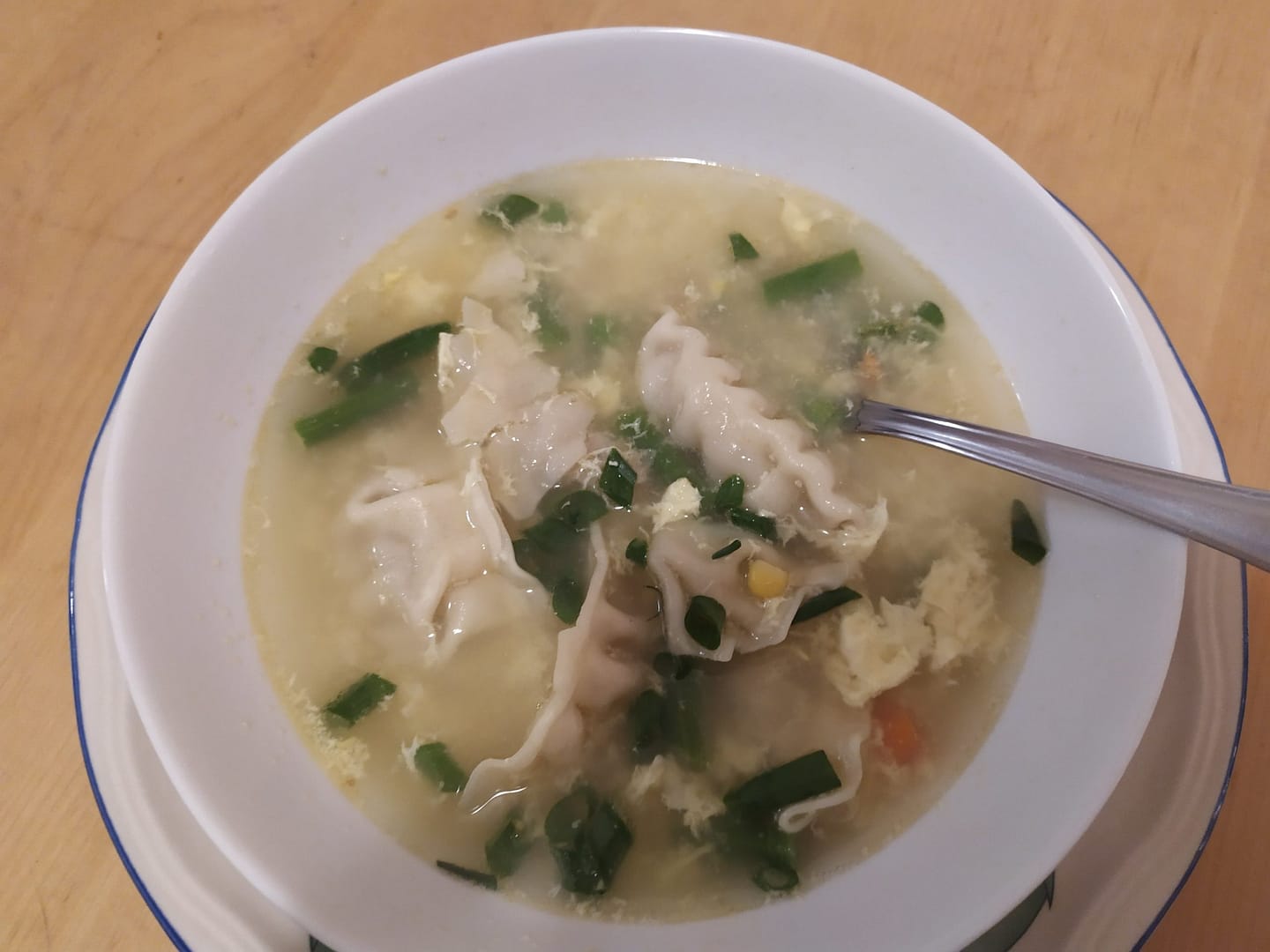 Egg Drop Soup is so easy to make. Add dumplings and vegetables to make a whole meal.
My mother used to make egg drop soup for me when I was a child if I had a cold or flu. I loved it and considered it a real treat. I never asked my mother why she only made it for me when I was sick, it's great at any time. Then when I got the flu and needed something warm and comforting I remembered this soup. The wonder of wonders, I actually had everything I needed to make it.
Ok, I will tell you the truth. I cheat. I don't make soup stock unless I have bones and I know I'm going to use it right away. So, I use Better Than Bouillon bases. The bases are much less salty than regular bouillon cubes and you can use just enough to make as much as you want. Sometimes, if I want something to taste beefier, I add a tiny bit of it to beef. It makes great dips, soups, gravies, and sauces. You can find it in the soup aisle of your grocery store or you can buy directly from them if your market doesn't have the one you want.
The dumplings I used in this were frozen potstickers. I like having them in the house because they only take a few minutes to prepare and they make an excellent appetizer or dinner depending on how many you want.  I get them in my grocer's freezer.
Really, put what you like or have available in this soup.  You don't have to put the potstickers. I added regular frozen vegetables to mine because that's what I had on hand.  But, if you find frozen Asian vegetables, they would be great in this.
Don't wait to get sick to make this.  Enjoy it any time as a meal for two, or as an appetizer for an Asian feast for four.
Servings (slide to adjust):
Calories per serving:
221
kcal
If you purchase any of the products through these affiliate links, I get a few pennies that help keep The Good Plate open. I use these products myself and want you to be able to easily find them.
Ingredients
1

quart

Water

4

teaspoons

chicken base

¼

teaspoon

ground ginger

1

cup

frozen mixed vegetables

10

frozen potstickers

¼

teaspoon

Soy sauce

½

teaspoon

Sesame Oil

2

Eggs

2

tablespoon

Green onion

,

sliced

½

teaspoon

Sesame seeds
Ingredients necessary for the recipe step are in italic.
Instructions
Put the water in a large saucepan. Bring it to a boil and add the chicken base and ginger Stir it thoroughly so it is all mixed in.

Add the frozen vegetables and frozen potstickers.

Add the soy sauce and sesame oil. Taste for seasoning.

Reduce the heat to medium and let the soup simmer until the potstickers are hot and done - about 7 minutes.

Carefully remove the potstickers and set aside.

Whip the eggs together in a bowl using a fork, adding air to them as you go. Stir A LOT.

When the eggs are ready, bring the soup back to a boil and carefully and slowly add the eggs to the soup. They will turn into threads and that's exactly what you want.

When all the egg has been incorporated, reduce the heat and put the potstickers back. Let it cook a minute or two, just in case the potstickers got cold.

Divide the soup into bowls and garnish with the sliced green onion and sesame seeds.
Notes
This will serve two for a meal, and 4 as an appetizer.
Nutrition
Calories:
221
kcal
Carbohydrates:
21
g
Protein:
9
g
Fat:
9
g
Saturated Fat:
2
g
Polyunsaturated Fat:
1
g
Monounsaturated Fat:
1
g
Cholesterol:
11
mg
Sodium:
586
mg
Potassium:
328
mg
Fiber:
3
g
Sugar:
3
g