Make this traditional dish any time of year with the versatile pot.
Corned Beef with Stout the Instant Pot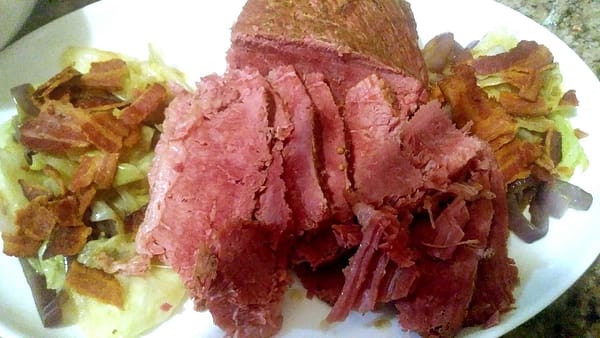 Corned Beef with Stout is so easy to make in the Instant Pot. The stout gives it a lot of flavors, and the Instant Pot makes it quick. You don't have to wait until St. Patrick's Day – this is easy enough for any time.
A Funny Thing Happened
A funny story just to show you how not to make corned beef. A long time ago, when Spane's dad, Douglas and I were first dating, he came home with corned beef and decided to tell me how to cook it. Despite me telling him the traditional way to cook it was to simmer it for a couple of hours, he insisted that his mother told him to roast it in the oven. I was in love with him, so I decided, what the hell, why not? Let me tell you now – do NOT do this.  The corned beef was put in the oven at noon. At nine o'clock, I gave up. The corned beef had shriveled up and was still tough as nails.  I served it anyway. Douglas gamely chewed and smiled and chewed and smiled and chewed some more until he finally just gave up and swallowed it. Luckily, I had made plenty of Colcannon as a side dish, so the meal wasn't a complete bust.  I think he gave the rest of it to the neighborhood dog.
About that Corned Beef with Stout
My mother came from Brooklyn, New York. When she first came to California she was told that she was too thin. My mother had been a performer in the vaudeville act Hells-a-Poppin'. Her friends told her that Stout would fatten her up quickly. She and her friends went to Tom Bergin's. Understand, my mother had a thick Brooklyn accent. When she asked the bartender for a "batel a bare", he could not understand her.  My mother got louder and louder thinking that misunderstanding means having to shout. Her friend finally told the barkeep to give her a glass of stout. She then told my mother that she had to go to elocution school if she ever wanted any success. My mother told me she didn't really like the stout,  but she drank it anyway to gain weight. Note: this is NOT a recommendation – there are far more healthy ways of gaining weight.
So, when I found a recipe that called for a stout, I was a little hesitant, but, like my mother, I decided to soldier on and try it. I was pleasantly surprised at how rich and delicious it is. It's not something I drink a lot, but I do have one can of Guinness in my pantry that I will enjoy very cold on a hot, summer day.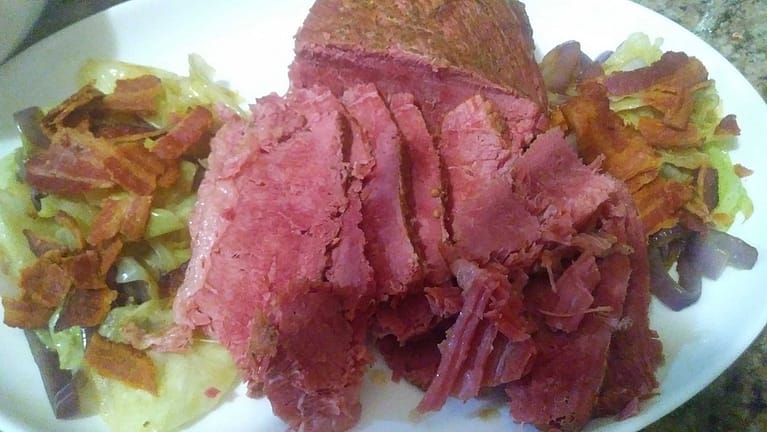 Servings (slide to adjust):
Calories per serving:
488
kcal
If you purchase any of the products through these affiliate links, I get a few pennies that help keep The Good Plate open. I use these products myself and want you to be able to easily find them.
Ingredients
~~ -- For the Corned Beef -- ~~
1

Corned beef

2

cloves

Garlic

2

Bay leaf

1

teaspoon

Mustard seed

1

teaspoon

Old Bay seasoning

1

16 oz can

Guinness Stout

1

teaspoon

Black pepper

,

freshly ground
~~ -- For the Cabbage -- ~~
1

head

Cabbage

,

sliced

4

slices

Bacon

1

teaspoon

Butter
Ingredients necessary for the recipe step are in italic.
Instructions
Remove the corned beef from the package and rinse it off. Save the seasoning packet for something else.

Put the pot on Pressure Cook for 90 minutes.

Use natural release for 10 minutes, then quick release.

Take the beef out of the pot, let it rest for about 10 minutes, then cut against the grain.

While the corned beef is releasing pressure, cook the bacon until it is crisp. Set it aside.

Take a little of the bacon fat and set it aside as well.

Put the butter and bacon fat into a saute pan and saute the cabbage until it has started to wilt. Cover it and reduce the heat to low.

Cook for about 5 to 10 minutes or until the cabbage is soft.

Break the bacon into pieces and serve it on top of the cabbage with the corned beef.

Enjoy this with a glass of stout.
Notes
If you don't have the Old Bay seasoning, you can use the packet that comes with the corned beef.
Nutrition
Calories:
488
kcal
Carbohydrates:
6
g
Protein:
28
g
Fat:
37
g
Saturated Fat:
12
g
Polyunsaturated Fat:
2
g
Monounsaturated Fat:
17
g
Cholesterol:
106
mg
Sodium:
2256
mg
Potassium:
638
mg
Fiber:
1
g
Sugar:
1
g