Learn how to make Faberge-style Easter eggs at home with plastic eggs and decorations from your local craft supply store.

Learn how to make Faberge-style Easter eggs at home with plastic eggs and decorations from your local craft supply store.

Many years ago, I had some interesting neighbors. Although many generations removed, one of my neighbors was a direct descendant of the Russian royal family. My other neighbor was part of the Pasadena Huntington family. Oddly enough, Huntington had a Faberge Egg, a family heirloom. He brought it out one night and let me hold it. I have been fascinated with those eggs ever since.
Faberge-style Easter eggs are named after the famous Russian jeweler, Peter Carl Faberge, who created a series of exquisite Easter eggs for the Russian imperial family in the late 19th and early 20th centuries. These eggs were made with precious metals, gemstones, and intricate designs and were filled with surprises such as miniature figurines, jewelry, and other luxurious items.
As Easter approaches, it's time to start thinking about decorating eggs. If you're looking for a way to make your Easter eggs stand out, why not make Faberge-style eggs? Make this Easter even more fun by hiding prizes in the eggs. That's fun for everyone!
Here's how to make your own:
Decorations
Decorate with rhinestones, pearls, sequins, beads, and even feathers.
Peel-and-stick rhinestone strips are very easy to work with but may not withstand a lot of wear and tear. If you leave the eggs in a basket to use year after year, then the peel-and-stick small rhinestones are fine. To be extra sure, put a small bit of hot glue and then the peel-and-stick decoration.
Pearls are another thing entirely. The easiest to work with is, again, the peel-and-stick strips. Those pearls are flat on one side, so they stick well. Individual pearls also come flat-sided. Whole rounded pearls have to be put on with hot glue.
Just be careful when using a hot glue gun, especially with children involved.
Stuffing Faberge-Style Easter Eggs
"An Easter egg is a message, image, or feature hidden in software, a video game, a film, or another, usually electronic, medium. The term used in this manner was coined around 1979 by Steve Wright, the then-Director of Software Development in the Atari Consumer Division, to describe a hidden message in the Atari video game Adventure, in reference to an Easter egg hunt"

Wikipedia
Easter Eggs in the software world are myriad; even Google has some fun Easter Eggs. Now that you know what Faberge-style Easter eggs are, let's consider what kind of fun surprise you can put in them. The possibilities are endless, but here are some ideas to get you started:
Jewelry – A Faberge-style Easter egg is the perfect place to hide a special piece of jewelry, such as a necklace, bracelet, or pair of earrings.
Miniature Figurines – Small figurines of animals or other objects can be a fun surprise to find inside an Easter egg. You could even create a miniature scene inside the egg with several figurines.
Sweets – Fill your Faberge-style Easter egg with chocolate truffles or other small candies for a sweet surprise.
Notes – Write a special note or message to the recipient and hide it inside the egg.
Cash or Gift Cards – If you really want to surprise someone, tuck a few bills or a gift card inside the egg.
If you want to use real eggs and decorate them, you can use silk ties, onion skins, or other vegetables.
Silk Tie Dyed Easter Eggs
That old silk tie or old silk blouse might not be fashionable anymore, but your silk tie dyed eggs will be the talk of the town.
Faberge-style Easter eggs are a luxurious and elegant way to celebrate this festive season. They are perfect for gifting someone special or for adding a touch of sophistication to your Easter décor. Whether you fill them with jewelry, sweets, or something else entirely, they will surely delight and surprise the lucky recipient.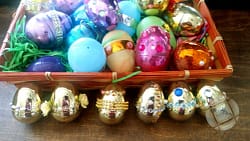 Faberge-Style Easter Eggs at Home
Learn how to make Faberge-style Easter eggs at home with plastic eggs and decorations from your local craft supply store.
Print This
Pin it!
Supplies
1

plastic egg

gold

rhinestones

your choice of colors and shapes
Instructions
Place a strip of rhinestones around the bottom of the top piece.

Put more decorations of your choice.

Put a prize inside the bottom half of the egg and close the egg up.

Put the egg in an Easter basket, hide it, or display it.
Faberge-Style Easter Egg Transcript
Good afternoon and welcome to the Good Plate's kitchen.
Actually, no, this is the Good Plate's table. It's a rather large table.
So, we're doing here today as we're going to make Faberge-Style Easter Eggs.
I've always been fascinated by the Faberge Eggs, obviously.
can't afford to make real ones because that involves real jewelry and real
jewels and real gold. This is plastic, but that's okay.
They lasted a lot of time.
I started doing this a few years ago
and here are some of my really old eggs.
And you see, open them up and you can put treats inside of them.
And it's another older one. Isn't that pretty?
And here's another older one.
This is one of the newer ones that I'm making.
There, seeing these are gold ones and
you can open them up and you can put
something inside.
They look very pretty.
Stand them up like that. I hope.
Yes, stand them up like that.
Now, I have a lot of things to decorate these eggs with.
See, now these are these stick, which is
really very nice and more stick, purple, red,
various different colors.
I also have some ones that would stick on with glue.
They're flat on one side, as you can see.
And here we have a glue gun.
This stick is glue stick in here. Glue comes out here.
I'm going to touch it because it's not on yet.
But when you're working with these, especially if you
decide to do this with children, you have to be very careful
because this gets very, very, very hot.
And you don't want to burn yourself or, especially, don't want your children
to get burned.
So, you can usually find these little
stands for your glue gun. So it's like this,
and the glue goes here when it's not in use.
So it's not dripping on your furniture or your table.
These are usually available in the dollar
stores and they're very cheap, highly recommend them.
And here we go. And
we're going to plug that in.
While that is heating up,
we can make some eggs.
Now, let's start with a golden egg.
And we're going to take this.
See? Oops. That.
And when you put the sticky on, you want
to make sure that you're not covering the
part where you open it up.
It's kind of important, otherwise you won't be able to put anything inside.
And that's half the fun of Easter eggs.
And keep it straight.
Go around.
And you might need an Exacto knife to cut off
excess. It's like that.
And it comes off. OK.
Put the rest of it on here so
we can patch some others.
And this part's on here.
Let's see what else do
we want to put on here.
No.
Put some of this.
You can put these ones on.
It'll look pretty.
And let's put these
around like this.
And we had that one little
piece left over over here.
So, let's take this little piece right here.
We have an empty spot right there.
So we can put it right here.
Kind of looks like R2D2.
We see how creative you can get making these.
There's another one.
These are so much fun.
They're for spring.
Let's take one of these.
I wanted to use these because they're very springtime and they're flowers.
Oh, they're remnants of something else.
Just stick them around here.
It works.
Time to use the glue gun.
Put one little bit of glue.
And we're going to take that.
Put it right there.
There we go. Oh, that looks pretty.
Get the other side.
And one more.
That glue.
Like that.
Now, isn't that festive?
You can see from my
example here exactly
how to do this and how pretty this is.
And put a candy in.
Close it up.
This one already has a candy.
So we can have a new candy. You can put whatever kind of candy you want.
This this just happened to be something I got.
And we can go ahead and decorate these.
And you know, the sky's the limit depending on what you want to do.
And here's our Easter basket.
And we can put the new eggs in the basket.
This one is a new one.
One of the old ones.
And here's one of the old ones already filled up.
Okay.
Here we go.
Here we go.
There we go.
That.
This one.
All right. There you have it.
Some very pretty eggs
for Easter. I hope you have a wonderful Easter.
And I hope you have a great time decorating.
And we will see you next time on the Good Plate.
Bye bye now.