This salad is savory and sweet and goes perfectly with a grilled steak.
Grapefruit Pecan Salad
Last Updated on February 3, 2023
My adopted mother made this wonderful Grapefruit Pecan Salad for a fancy dinner one night and everyone loved it. It's a great accompaniment to a grilled steak.

Helen Reeves Pearson didn't adopt me, I adopted her. She was a wonderful cook, and I got many of my family's favorites from her.
During the 1990s, Raspberry Dressing was all the rage, and it was on everything. Some brands were worse than others. Luckily, this salad has stood the test of time, and the wonderful people at Girard's make an excellent raspberry dressing.
Using Fresh Grapefruit
When she made it for us, she complained about not being able to get fresh grapefruit, so she used the ones in the refrigerated fruit section of the supermarket.  I have used Del Monte on many occasions, and it's always good. I like having the fruit cups in my refrigerator so I can make this salad any time I want.
If you are going to use fresh grapefruit, it should be a ruby red or other sweet variety of grapefruit. Pink grapefruit and white grapefruit are too sour.  Don't roll a grapefruit because it will break up the cells holding the juice – that's fine for a lemon or lime you want to juice, but not here.  You want to enjoy that pop of juice when you bite into the piece of grapefruit.
To prepare grapefruit, simply cut it in half horizontally across its equator. You can run a knife around the interior edges and then cut the individual sections, or you can use the Chef'n Grapefruit Sectioning Tool. I have one, and I swear by it.  It does a great job of sectioning the fruit without making a mess.
The Pecans
This salad is best with candied pecans.  My supermarket, Kroger, has them, and I love them for this salad.  Candying pecans is pretty simple, though. Make sure you have some parchment paper ready. You can put some butter in a pan, and sugar, and the pecans and stir them until the sugar has melted into the butter and started to coat the pecans.  Pour the pecans on the parchment paper and quickly separate them with a fork.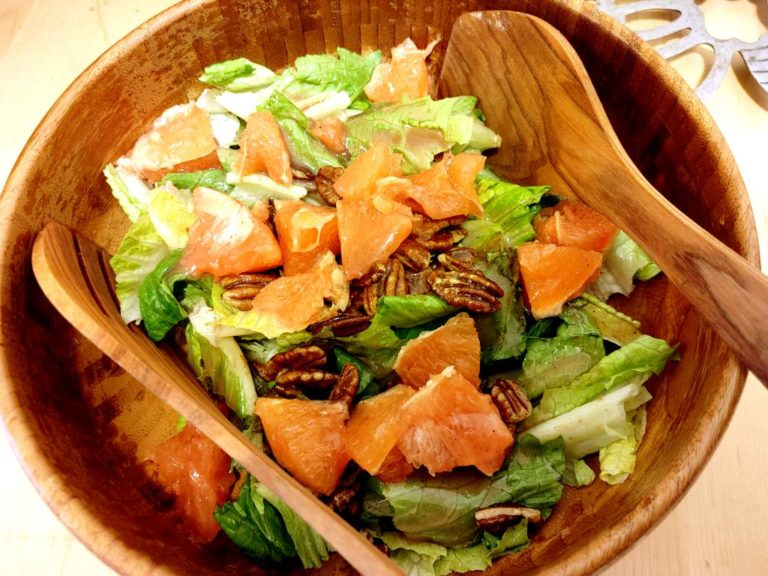 Servings (slide to adjust):
Calories per serving:
249
kcal
Equipment
Ingredients
1

head

Lettuce

,

Butter or Romaine preferred

1

grapefruit

,

ruby red, sectioned

¼

cup

pecans

,

candied (or candied walnuts below)

¼

cup

Raspberry Dressing
Ingredients necessary for the recipe step are in italic.
Instructions
Break the lettuce up into a nice serving bowl.

Add the grapefruit and pecans.

Dress with raspberry salad dressing and lightly toss.

Serve immediately and enjoy!
Nutrition
Calories:
249
kcal
Carbohydrates:
11
g
Protein:
17
g
Fat:
22
g
Saturated Fat:
2
g
Polyunsaturated Fat:
13
g
Monounsaturated Fat:
6
g
Cholesterol:
0
mg
Sodium:
60
mg
Potassium:
325
mg
Fiber:
3
g
Sugar:
6
g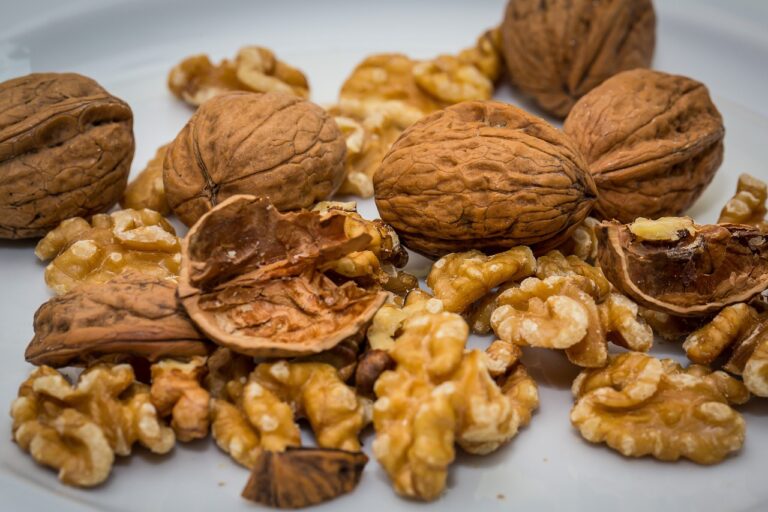 Ingredients
½

cup

sugar

1 ½

cups

raw walnut halves

⅛

teaspoon

Coarse salt
Ingredients necessary for the recipe step are in italic.
Instructions
1 1/2 cups raw walnut halves

Preheat oven to

350

°F

. Use the middle rack in the oven. Lay walnuts out on a baking sheet in a single layer. Bake for 5 minutes. Test for doneness. If not quite toasted enough, toast for 1 or 2 more minutes. Be careful not to burn. Remove from oven and let cool in pan on a rack. They should be cool enough by the time the sugar is ready in step 2.

Pour sugar into a medium non-reactive saucepan with a thick bottom. Have walnuts nearby, ready to quickly add to the pan at the right time. Cook sugar on medium heat, stirring with a wooden spoon as soon as the sugar begins to melt. Keep stirring until all the sugar has melted and the color is medium amber. As soon as the sugar is melted and the color is medium amber, add the walnuts to the pan, quickly stirring and coating each piece with the sugar mixture. Do not let the sugar get more cooked than this, because then it will start to burn and you will have a sour-tasting product.

As soon as the walnuts are coated with the sugar mixture, spread them out on a rimmed baking sheet, lined either with a Silpat non-stick mat or parchment paper. Use two forks to separate the walnuts from each other, working very quickly. You may sprinkle the nuts with salt. Let cool completely.

Immediately immerse the pan in water (it will make a lot of noise), but this will make cleaning the pan much easier later.