Enjoy this roast pork with caramelized onions and feta cheese roasted in your air fryer.
Rotisserie Stuffed Pork Roast
Pork roast stuffed with caramelized onions and feta cheese roasted on the rotisserie in the air fryer. This couldn't be simpler or more delicious.

I was perusing Facebook one night and the discussion was about caramelized onions. One of the participants mentioned stuffing a pork roast with caramelized onions and feta. Another person talked about her method of using the slow cooker to caramelize the onions overnight. I knew I had to make this. When I bought an air fryer with a rotisserie, I knew I had to make this pork roast.
Caramelizing the Onions
This is so dead simple you will wonder why you never did this before. Use your slow cooker.  Simply slice about 6 onions and put them in a slow cooker with a pat or two of butter. Set the machine on low, walk away, and come back in 12 hours.  You can use them right away, put them in a storage container, or even freeze them for later. Use them for this roast, soup, burgers, Alsatian Caramelized Onion Pizza, or anything you like with caramelized onions.
Rotisserie Stuffed Roast
You can use a boneless roast, or if you feel comfortable with boning, you can use a roast with a bone. You want to cut the roast so there is a cavity to put the stuffing. Don't make the sides too thin because you still have to stick a rotisserie spit in it.
A Word About Air Fryers
I love machines that do more than one thing.  I wanted one that had rotisserie, kabobs, and a dehydrator. When I was looking on Amazon, I found several that had a rotisserie function, but only one had kabobs. That sold me. The GoWise Air Fryer with Rotisserie was the one for me. I highly recommend it.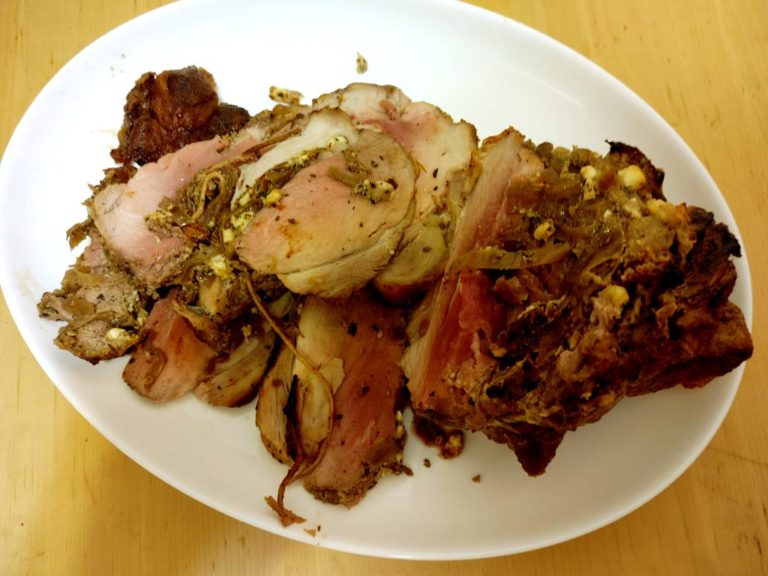 Servings (slide to adjust):
Equipment
Ingredients
~~ -- For the Stuffing -- ~~
Ingredients necessary for the recipe step are in italic.
Instructions
Make a slit in the roast to butterfly it. Put the roast on its back and put the stuffing on the top.

Use butcher's twine to wrap it up and then sprinkle it with more Tuscan Sunset and freshly ground black pepper. Remove the toothpicks.

Put the roast in the oven and set it tp 360, Make sure you set the rotisserie function.

Cook it for about an hour, 25 minutes per pound or until it reaches an internal temperature of 145 F / 63 C. Use an instant-read thermometer to make sure it is thoroughly cooked.

Remove the roast from the oven and let it rest for about 10 minutes before removing the spit.
Notes
If you want to make this in a conventional oven, just turn it every half hour or so.
Nutrition
Calories:
250
kcal
Carbohydrates:
2
g
Protein:
29
g
Fat:
13
g
Saturated Fat:
5
g
Polyunsaturated Fat:
1
g
Monounsaturated Fat:
6
g
Cholesterol:
97
mg
Sodium:
192
mg
Potassium:
539
mg
Fiber:
0
g
Sugar:
1
g