Crispy skin and lovely lemon flavor make this Asian dish a great weekday meal.
Air Fryer Chinese Lemon Chicken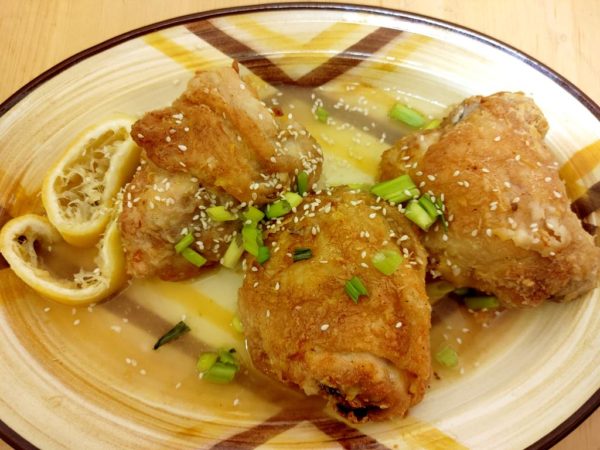 Usually, Chinese lemon chicken is sliced breast of chicken, but when you have some lovely thighs, you can't resist that crispy skin from air fryer Chinese lemon chicken.

This dish was really a happy accident. Usually, I use chicken breasts and fry them to make Chinese lemon chicken. But, I had only thighs. I also had a new air fryer, so I thought, why not? Let's see what this air fryer can do.
I wasn't disappointed. The skin was crisp with that sweet-sour lemony sauce. It was real perfection served with Asian Noodles with Broccoli.
Of course, this method is a lot easier than the traditional method. Traditionally, you fry chicken breasts then slice them for serving with the sauce.  This you only have to air fry the thighs and then put the sauce and any garnish on. Simple.
Why Thighs?
Please don't be afraid of chicken thighs. They have more flavor than the breast and do not dry out. Since chickens don't do much flying, those muscles have a tendency to dry out where the legs and thighs that propel the chicken most of the time do have just enough fat to make them flavorful and tender.
Air Fryer is Better in the Summer
Did you know that as long as it fits, you can put anything you put in your regular oven in an air fryer? That means not having to buy extra pots and pans just to fit in the air fryer. I like using my eight-inch Pyrex glass baking dish. My kitchen is very small and turning the regular oven on in the summer makes my kitchen into an inferno.  Thankfully, my air fryer only heats up its little space and cools off just as quickly. Between that and the Instant Pot, I know I will be able to stay cool this and every summer.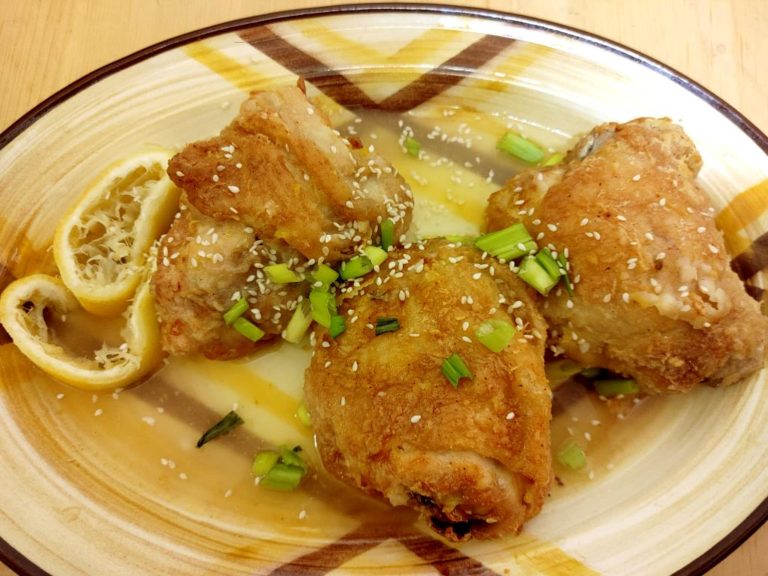 Servings (slide to adjust):
Calories per serving:
521
kcal
Equipment
If you purchase any of the products through these affiliate links, I get a few pennies that help keep The Good Plate open. I use these products myself and want you to be able to easily find them.
Ingredients
~~ Chicken ~~
4

large chicken thighs

1

egg white

1

teaspoon

water

¼

cup

all-purpose flour

1

teaspoon

baking soda

¼

cayenne pepper
~~ Sauce ~~
¼

cup

sugar

½

teaspoon

chicken base

½

cup

hot water

1

teaspoon

lemon peel

,

grated

3

tablespoons

lemon juice

2

tablespoons

light corn syrup

2

tablespoons

rice vinegar

⅛

teaspoon

sesame oil

¼

teaspoon

garlic powder

2

teaspoons

cornstarch

1

teaspoon

cold water
~~ Garnish ~~
½

lemon

,

cut into thin slices

1

green onion

,

sliced

½

teaspoon

sesame seeds
Ingredients necessary for the recipe step are in italic.
Instructions
Mix egg white and water in a bowl large enough to fit the chicken thighs. Add chicken, turn to coat both sides and let stand 10 minutes.

Put the flour, baking soda, and cayenne in a clean paper bag. Add the chicken and shake vigorously so all the chicken gets coated.

Put the chicken in an 8-inch baking dish and put the dish in your air fryer. Set the air fryer for 400 F/ 204 C and bake for 20 minutes or until the chicken reads 160 F / 71 C on an instant-read thermometer.

While the chicken is in the air fryer, make the sauce. Mix the chicken base with the hot water and set aside. Mix the cornstarch and cold water in a small bowl and set aside.

Put the remaining ingredients in a small saucepan. Add the hot base mixture, turn the heat on, and mix thoroughly. Cook until all the sugar has dissolved and the mixture is hot. Set aside until the chicken is done.

Prepare the garnish by slicing the green onion on the diagonal and the lemon thinly.
Nutrition
Calories:
521
kcal
Carbohydrates:
33
g
Protein:
29
g
Fat:
31
g
Saturated Fat:
9
g
Polyunsaturated Fat:
7
g
Monounsaturated Fat:
13
g
Cholesterol:
130
mg
Sodium:
467
mg
Potassium:
418
mg
Fiber:
1
g
Sugar:
22
g
.