Simple and flavorful
Cranberry Couscous
Last Updated on January 15, 2021
Cranberry Couscous makes a delightful and healthful side dish. It's quick and simple to make. It's ready in five minutes and you can add different spices, fruit, or vegetables according to your taste. Cranberries have also been shown to be very good for preventing urinary tract infections.

We just moved into our new apartment this week, and we had to have a celebratory dinner. We still don't have a refrigerator, that's coming tomorrow, so I was a little hindered in exactly what I could make.
Because we don't have a refrigerator, and I'm limited in what I can make, I went to the local small store near my office and bought 2 lovely chicken breast halves. I already had Parmesan and garlic, so I made Nancy's Garlic Parmesan Crusted Chicken and I wanted something fun and interesting to go with it. Couscous is a favorite of ours, and they had a nice box there at the store just as I was going crazy trying to find the perfect side dish for my chicken.
If you have never made couscous, it couldn't be simpler. Couscous is a fine-grained pasta that can have any number of extra ingredients to make it tasty. I chose onions and cranberries.
This is fine-grain couscous, not to be confused with Israeli pearl couscous. However, if you want to try pearl couscous, you could easily adapt this recipe to use those instead. We also like couscous with spring onions, raisins, and pinenuts. Trader Joe's makes a boxed curried couscous which is just delicious. Please enjoy this side if it's new to you.
If you want to make this completely vegan, you can substitute olive oil for the butter.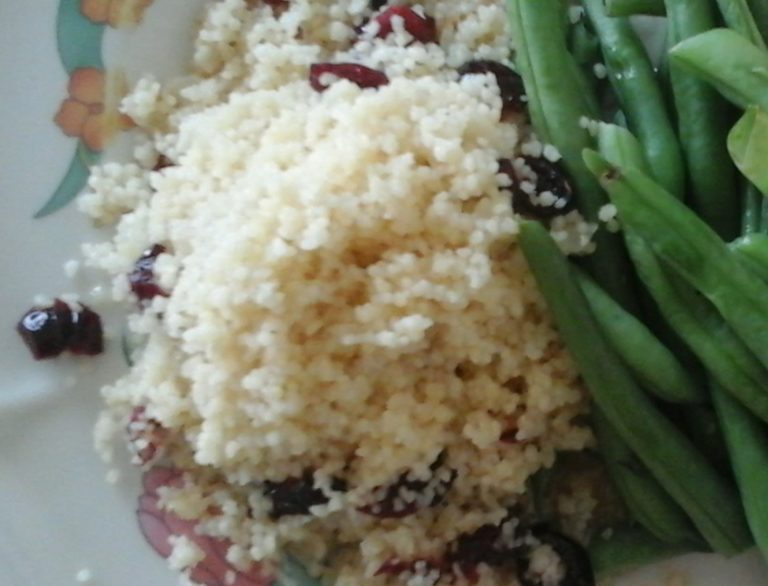 Servings (slide to adjust):
Calories per serving:
287
kcal
Ingredients
1

cup

water

1 ¼

cup

fine couscous

¼

tsp

sea salt

3

tbsp

butter

¼

onion

,

chopped

¼

cup

dried cranberries
Ingredients necessary for the recipe step are in italic.
Instructions
3 tbsp butter,

1/4 onion,

1/4 cup dried cranberries

Melt the butter in a separate pan and saute the onions, just until they start to brown. Add the cranberries and saute them just until they slightly soften. Set aside.

1 cup water,

1 1/4 cup fine couscous,

1/4 tsp sea salt

Bring the water to boil in a medium-sized pan. Add the salt. When the water is rapidly boiling, remove it from the heat and add the couscous. Cover and let sit for 5 minutes.

Remove the cover and add onions, butter, and cranberries. Use a fork to fluff up the couscous.
Notes
If you can't find dried cranberries, raisins do a fine job.
Nutrition
Calories:
287
kcal
Carbohydrates:
44
g
Protein:
7
g
Fat:
9
g
Saturated Fat:
5
g
Polyunsaturated Fat:
0
g
Monounsaturated Fat:
3
g
Cholesterol:
23
mg
Sodium:
192
mg
Potassium:
113
mg
Fiber:
3
g
Sugar:
1
g