If you don't like zucchini, you will like this.
Easy Zucchini Casserole
This easy zucchini casserole is ready in about 15 minutes so it's a great side dish. It's also a good way to use up leftover spaghetti sauce and bits of mozzarella you might have in your cheese drawer.

When I was in high school, Immaculate Heart, my best friend's mother used to make this casserole and I loved it. I think what surprised me most was that she used jarred spaghetti sauce. Her husband was Italian and her mother-in-law cooked everything from scratch from the homeland. Grandpa still spoke very broken English. Yet, there she was, reaching into her pantry to grab a jar of Ragu spaghetti sauce. She used it to make "Mexican" Pizza, too, and I'll have that recipe here soon.
What You Need to Make Easy Zucchini Casserole
Of course, you want to use fresh zucchini when you make this. If you want to make a lot, perhaps to feed a lot of people or for a holiday, then definitely increase the amounts here. The ratio is one zucchini to half a jar of spaghetti sauce.
Speaking of spaghetti sauce, I'm very picky where that comes in. As much as I loved my friend's mom's jar of Ragu, I prefer Barilla Tomato and Basil or Roasted Garlic. They do not have very much added sugar, preservatives, or other nasty ingredients. Of course, you can use the brand you want or you could use our Fresh Tomato Sauce if you want.
For cheese, please get a block of real parmesan. You don't have to get the very expensive parmesan, but don't use the stuff that comes in the can. Use a hard cheese grater and have some at the table in case anyone wants extra cheese.
Fresh basil chiffonade is best for this. It's not quite the same thing as chopping or mincing. You simply take the leaf of basil and roll it up very tightly then cut it into thin strips with a knife or sharp scissors.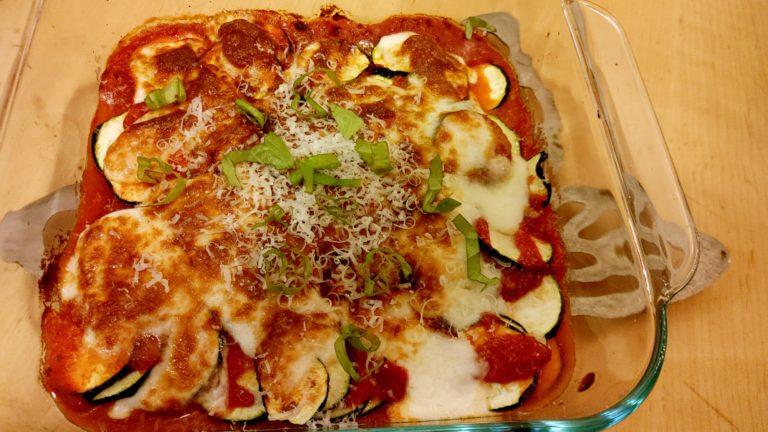 Servings (slide to adjust):
Calories per serving:
160
kcal
Ingredients
1

Zucchini

,

sliced

½

cup

Mozzarella

,

sliced

¼

cup

Parmesan

,

shredded

6

ounces

Spaghetti Sauce

1

leaf Basil chiffonade
Ingredients necessary for the recipe step are in italic.
Instructions
Notes
You can make this vegan by using vegan cheese.  Feel free to use your own spaghetti or tomato sauce.
Nutrition
Calories:
160
kcal
Carbohydrates:
7
g
Protein:
13
g
Fat:
9
g
Saturated Fat:
5
g
Polyunsaturated Fat:
1
g
Monounsaturated Fat:
3
g
Cholesterol:
26
mg
Sodium:
536
mg
Potassium:
308
mg
Fiber:
1
g
Sugar:
4
g