There is nothing as wonderful as tomato sauce made from fresh summer tomatoes. It's pretty easy, too.
Fresh Tomato Sauce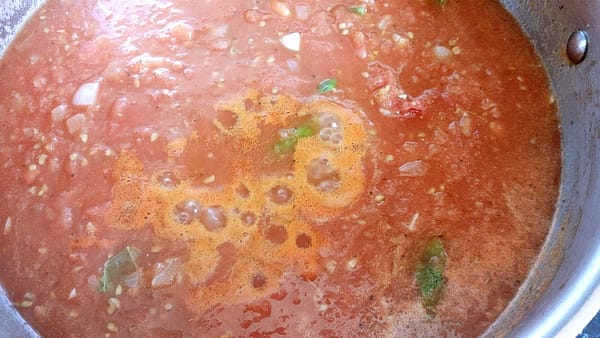 There is nothing like tomato sauce made from fresh tomatoes in the summer. But, no worries, if you have an abundance of tomatoes the rest of the year, you can easily turn them into tomato sauce, too.

My neighbor came by with two large bags of tomatoes. It was late summer so they were nice and sweet and ruby red. There's only so much salad a person can eat, but there's always Ricotta Cheese Balls and Lasagna to be made, and both of those call for tomato sauce. I rolled up my sleeves, got my equipment, and started making the sauce.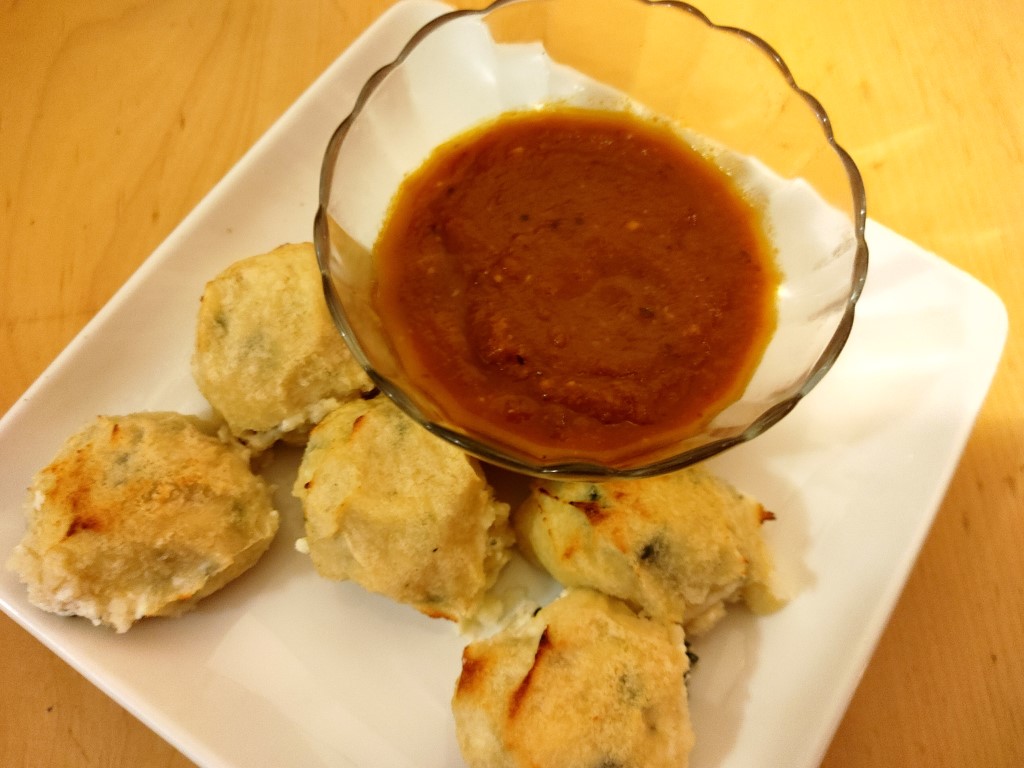 Ricotta Cheese Balls with Marinara Sauce
Ricotta Cheese Balls with Marinara Sauce make a quick dinner with salad. They are easy to prepare, freeze well, and make great appetizers
What Kind of Tomatoes for Fresh Tomato Sauce
You can really use any kind of tomato you have.  If you go to the market in the summer and ask if they have any tomatoes that are super ripe those are a great choice.  The big beef steaks are so juicy and sweet in the summer if you can keep from making tomato sandwiches with them. Regular salad tomatoes can be a little drier and harder – best to let them sit on the counter to ripen a bit.  The same is true of Italian plum tomatoes if they are still hard as rocks; let them sit on the counter and ripen a bit. If when you are making the sauce and it seems too sour, bitter, or not bright enough, add a pinch of sugar.
A Tip For Making Your Life Easier
If you are lucky enough to have a trash can right under your counter, good for you.  However, a lot of us have the trash can somewhere else in the kitchen.  It's a PITA to have to take vegetable ends, discards, bones, cheese wrappers, and eggshells all the way across the room, dripping and making a mess to put in the garbage can. I keep a small plastic bowl on my countertop to hold those things. If you want to save vegetable ends or bones for making soup, use separate bowls. Don't even mix vegetable ends and bones in the same bowl. Instead of constantly going to the trash, I just empty the bowl at the end of prep and put it in the sink to wash.
About Skinning the Tomatoes
When I first started blanching tomatoes and didn't know any better, I was afraid to leave them in boiling water too long because I thought they would be cooked. Not so.  Tomatoes are like people, they are all different and some are more stubborn than others. So just keep boiling them until they skin breaks then immediately put them in an ice bath. I find a good spider strainer is a good tool for the job.
How to Use the Sauce
You can use this sauce for anything that calls for tomato sauce.  It makes enough for a lasagne.  You can make a marinara sauce out of it. Put it in mason jars in a pressure canner and can it, or add sugar and citric acid for hot water canning.  You can also put it in small containers and freeze it, or put it in a vacuum bag, seal it and freeze it.  It will keep in the refrigerator for about a week.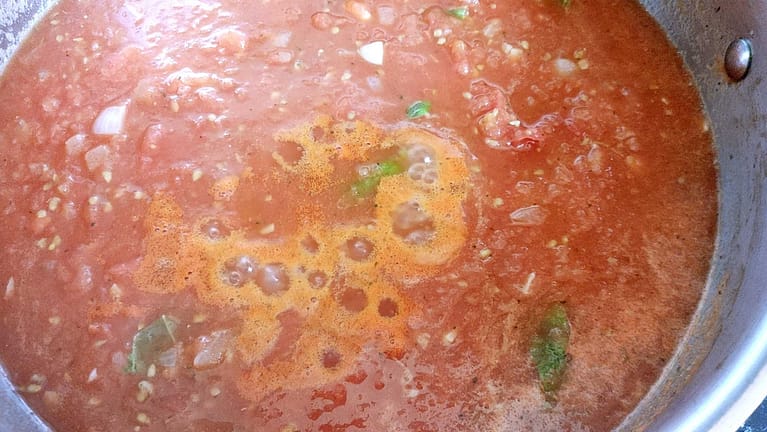 Servings (slide to adjust):
Calories per serving:
61
kcal
If you purchase any of the products through these affiliate links, I get a few pennies that help keep The Good Plate open. I use these products myself and want you to be able to easily find them.
Ingredients
4

quarts

water

2

cups

Ice

5

pounds

tomatoes

,

fresh

2

tablespoon

olive oil

1

onion

,

chopped

3

cloves

garlic

,

minced

½

teaspoon

salt

,

kosher

1

teaspoon

Tuscan Sunset

½

teaspoon

anchovy paste

¼

teaspoon

Balsamic vinegar

1

tablespoon

tomato paste

3

basil leaves

¼

teaspoon

sugar

,

optional
Ingredients necessary for the recipe step are in italic.
Instructions
Put ice in a large bowl and put a smaller bowl in it. Also, have ready another bowl for discards. You need three bowls.

Bring a large pot of water to a boil and put the tomatoes in the boiling water. As the skin breaks on each tomato, take it out with a spider strainer and put it in the bowl that is on ice. Do this for the remaining tomatoes. Some may be stubborn and not want their skin to break but be patient and this will happen to all.

When they are cool enough to handle, remove the stem part with a strawberry huller. Remove the skin and break the tomatoes up with your fingers. Try to put the seeds and hard core in the discard bowl and the rest of the tomato in the large bowl. You won't be able to keep all the seeds out, but that's okay, too. When you have finished all the tomatoes, put your hands in the bowl and break them up more with your fingers. Yes, you could use a stick blender or food processor for this, but, hey, it feels good!

Put the large saucepan on the stove and heat it. When it is hot, add the olive oil and let it get to the point where it almost smoking. Add the onions and saute them until they are translucent then add the garlic and cook it until it is also translucent but do not let it burn!

Add the remaining ingredients and taste for seasoning. If the tomatoes were not very ripe, they may need a little sugar. Add the sugar a little at a time and keep tasting until you like it.
Notes
You can add citric acid and sugar if you want to can using the hot water method. You do not have to add citric acid if you are going to pressure preserve.
The anchovies add umami to the sauce.  They do not taste like fish. If you want the sauce to be completely vegan or vegetarian substitute Umeboshi paste instead.
Nutrition
Calories:
61
kcal
Carbohydrates:
7
g
Protein:
1
g
Fat:
4
g
Saturated Fat:
1
g
Polyunsaturated Fat:
0
g
Monounsaturated Fat:
3
g
Cholesterol:
1
mg
Sodium:
220
mg
Potassium:
265
mg
Fiber:
1
g
Sugar:
1
g
.