Make homemade yogurt the way you like it. It's even simpler with a sous vide immersion cooker.
Homemade Yogurt with the Sous Vide Immersion Cooker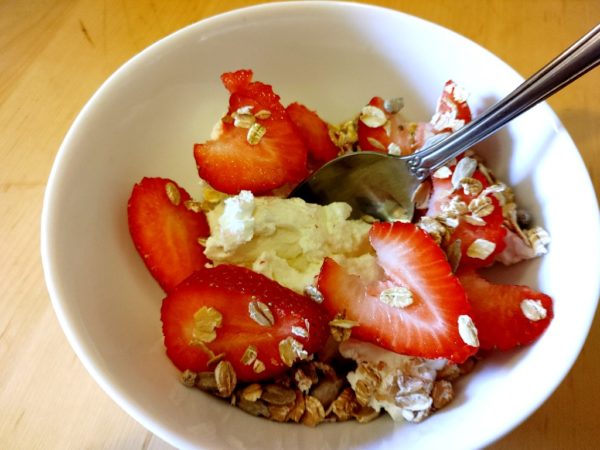 Homemade yogurt is pretty easy to make, but it's even easier to make using the sous vide immersion cooker. Yes, you can have the yogurt you like any time you want. No more running out of yogurt.

I like to make Yogurt Parfait, which is plain yogurt, fruit, and muesli. Sometimes, I put applesauce on it and sometimes I add a sliced banana. It's a good protein-filled breakfast that's fast, easy, and tasty. We usually go through about a quart of yogurt a week. Yogurt is about $4.00 a quart, and milk is under $4.00 for a gallon – 4 quarts. See? The math told me I could be making yogurt myself and saving a lot of money, plus I could control how I wanted it.
I'm not the only one who loves yogurt for breakfast. The furry people in our house, Oscar the dachshund and Chloe the Torti cat, both enjoy a teaspoon of yogurt with their food. Nottina, our black senior cat, doesn't like yogurt but does enjoy the whey. Yogurt is very good for your furry friends, too. The bacilli in yogurt eat most of the lactose so there are no problems with lactose intolerance. Healthy digestion and a shiny coat are your rewards for giving your fur babies a bit of yogurt with their food.
The process is pretty simple. Heat half a gallon of milk to temperature, cool it, mix in existing live yogurt, and keep it warm for about eight hours. The first time I made it, I put it in the oven with a towel around it to keep it warm. But, I worried that the temperature wouldn't be consistent and the little bacilli could die. I thought to myself, what can I use that keeps a consistent temperature? Finally, it hit me! The sous vide immersion cooker keeps consistent temperatures for hours if not days and I could attach it to a large enough vessel. Problem solved!
What Kind of Yogurt Do I Need to Make Homemade Yogurt?
Basically, any kind of yogurt with live cultures in it. It should not have anything but yogurt, so no gelatin, no vanilla, no mint, no sugar, no fruit, no salt, just plain yogurt.  Our favorite brand is Mountain High because it's rich and creamy with a little tang but it isn't too sour.  If you have a favorite brand of plain yogurt, use it.
Troubleshooting
If you want to make more or less of the recipe, it's nice to know the correct ratio.  If you put too much yogurt, you will have a sour product. The ratio of milk to yogurt is one half-gallon (1.89 l) of milk to one half-cup (120 ml) of live yogurt.  You don't have to use whole milk, use low-fat or even non-bovine milk.  Temperature is very important here.  If you go above 190 F / 87 C, the yogurt will have a grainy texture, still edible, but not as nice. If you decide to drain the yogurt, about 15 to 20 minutes will be enough.  The longer you drain it of whey, the thicker it will become.  It gets very thick and creamy at 45 minutes, but there is also considerably less yogurt made.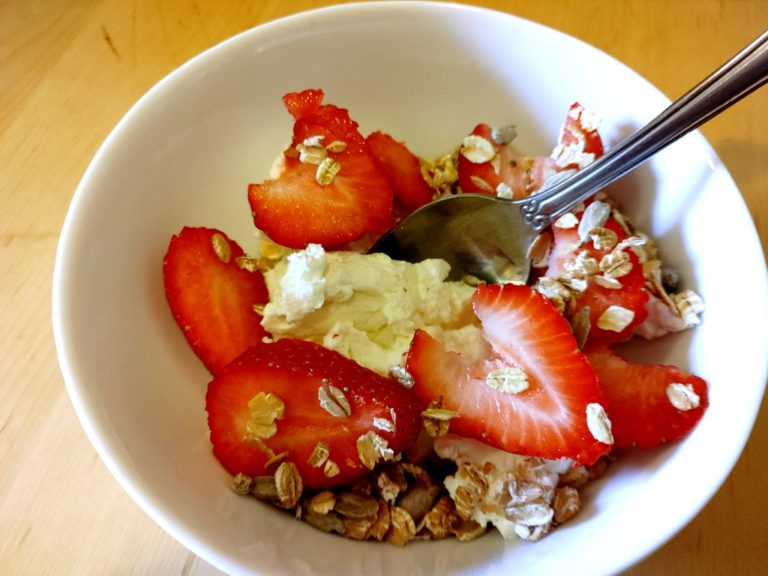 Servings (slide to adjust):
Calories per serving:
79
kcal
If you purchase any of the products through these affiliate links, I get a few pennies that help keep The Good Plate open. I use these products myself and want you to be able to easily find them.
Ingredients
8

cups

Milk

½

cup

Yogurt

,

with live cultures
Ingredients necessary for the recipe step are in italic.
Instructions
Prep
Put 1/2 gallon of water into containers that will fit in whatever you are going to attach the immersion cooker to. Put the container in and the immersion cooker. If you are not using jars with a waterproof seal, just put enough water to come to where the yogurt will be. Remove the container the yogurt is going to go in.
The Sous Vide
Put the eight cups of milk into the container you are going to make the yogurt in. Set it in the water with the immersion tool and set it to 185 for 0 minutes. Cover it and let it go. The machine will beep when the milk has reached the correct temperature.

While that is happening, prepare an ice bath. Put ice in a large enough bowl to hold a bowl large enough to hold the yogurt. Add water to make the ice bath.

Carefully remove the container from the water and empty it into the large bowl. Let the milk get to 115 F / 46 C before proceeding, Remove some of the water from the container of water and replace it with cold water until it gets to at least 100 F / 37 C. Set the immersion tool to 109 F/ 43 C.

Add the half cup of yogurt to the warm milk and whisk it until it is thoroughly mixed in. Pour that mixture back into the warm milk.
Nutrition
Calories:
79
kcal
Carbohydrates:
6
g
Protein:
4
g
Fat:
4
g
Saturated Fat:
3
g
Polyunsaturated Fat:
0
g
Monounsaturated Fat:
1
g
Cholesterol:
18
mg
Sodium:
63
mg
Potassium:
197
mg
Fiber:
0
g
Sugar:
7
g