A great holiday dinner
Flank Steak Stuffed with Duxelle, Spinach, and Blue Cheese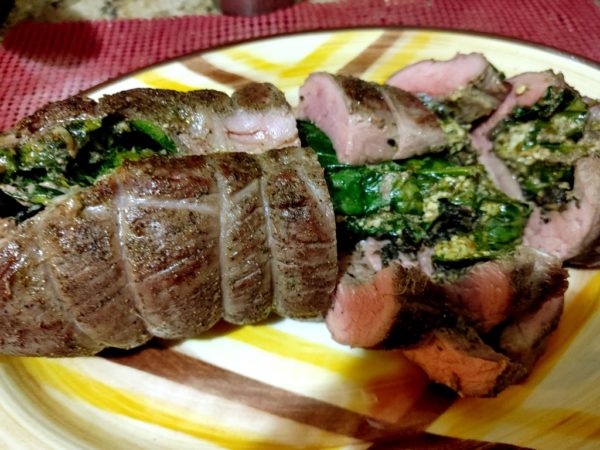 Flank Steak Stuffed with Duxelles, Spinach, and Blue Cheese is a great holiday dinner that's healthy, impressive, and won't break your bank. You could put it on the grill or in the oven in a Graniteware Covered Roaster.

Duxelle is minced mushrooms that have been sauteed. I saute mine with Shallots in Oil and a little butter for flavor.  If you don't want to mince the mushrooms by hand and don't have a food processor, you can simply slice the mushrooms thinly and saute them as usual.
The Flank Steak
Flank steak is usually not very fatty, however, you do want to examine it thoroughly and remove any excess fat.  Feel free to give the fat to a furry companion! You could also use a London broil and split it halfway to make a large enough surface so you can stuff it and roll it up.  ask your butcher for recommendations.
Cook the steak to 130-135 and no more.  For those who insist on eating shoe leather, they can have the end pieces.  Everyone else can have a nice pink interior. I like cutting the slices rather thickly so you get lots of stuffing in each bite.
The Stuffing
Please get a wedge of blue cheese that you like.  My favorite is Bay Blue from Point Reyes  Farmstead Cheese Co. Don't get the pre-crumbled because it is the last bit of leftover cheese that the cheesemaker just wants to get rid of.  It's usually dried out, hard, and tasteless. If you don't want to use blue, you could use gorgonzola, Roquefort, or feta.  Just make sure the cheese you choose will crumble and that it's a taste you enjoy.
You can make pesto yourself easily, or if you don't have fresh basil on hand, go ahead and get the jarred pesto.  Get a good one that has cashews, not walnuts, and uses basil in the ingredients.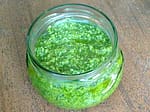 Basil Pine Nut Pesto - Freshly made with love
Fresh basil pine nut pesto is quick and easy to make. Don't buy the stuff in the refrigerated section when you can make your own in seconds. Yeah, it's that good!
Please use fresh spinach in this.  Frozen spinach, as good as it is, is a little too moist for this application.  Even squeezing it dry will still be too moist.  You don't want your roast to be dripping all over the place.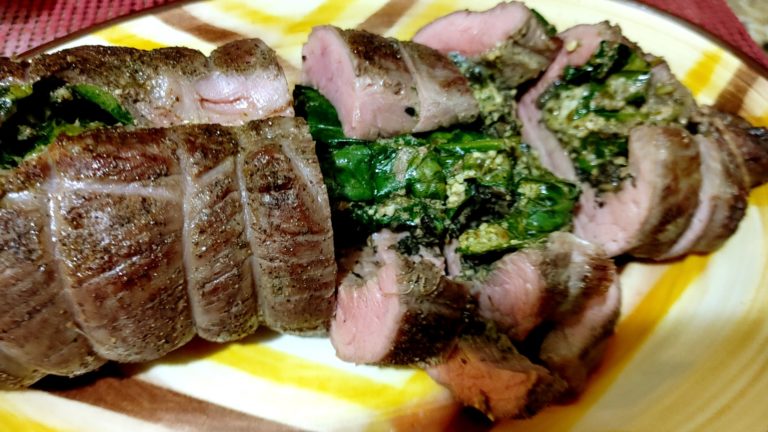 Servings (slide to adjust):
Calories per serving:
228
kcal
If you purchase any of the products through these affiliate links, I get a few pennies that help keep The Good Plate open. I use these products myself and want you to be able to easily find them.
Ingredients
2

pounds

Flank steak

1

cup

Spinach

,

frozen, thawed

2

tablespoon

Blue cheese
~~ -- Duxelle -- ~~
10

pieces

Mushroom

,

chopped

1

tablespoon

shallot,

minced

1

teaspoon

Butter

1

teaspoon

sherry
Ingredients necessary for the recipe step are in italic.
Instructions
For the Duxelle
Chop the mushrooms in a food processor, not too small.

Saute the chopped mushrooms, shallots, and sherry in the butter. Cook until the mushrooms have given up their juice and most of it has evaporated. Set aside until cool.
Nutrition
Serving:
144
g
Calories:
228
kcal
Carbohydrates:
1
g
Protein:
24
g
Fat:
14
g
Saturated Fat:
6
g
Polyunsaturated Fat:
1
g
Monounsaturated Fat:
5
g
Cholesterol:
63
mg
Sodium:
1024
mg
Potassium:
512
mg
Fiber:
0
g
Sugar:
0
g