Moist and flavorful pork loin with cashews, fennel, and garlic roasted in an air fryer
Cashew and Fennel Seed Crusted Pork Loin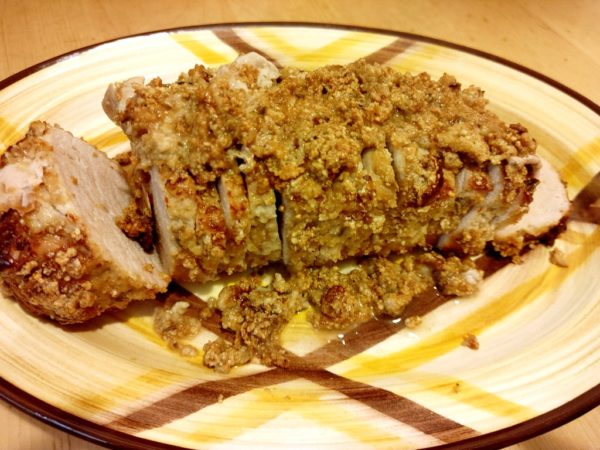 This moist and flavorful pork loin with cashews, fennel, and garlic was roasted in an air fryer. If you don't like pork that is all dried out, you will like this because the crust keeps the moisture in.

I developed this recipe for the air fryer based on the oven recipe for Fennel and Cashew Crusted Pork Loin. Cashews do very well with pork, and even better with fennel seed.  If you are trying to lower your carb and fat intake, this air fryer version might just be the one for you!  The original recipe uses Panko bread crumbs, and I'll leave the recipe for it below.
Fennel Cashew Crusted Pork Loin
This Fennel Cashew Crusted Pork Loin Roast will remind you of Italian sausage. It stays nice and moist from its Panko crust.
Pork Loin
Pork loin has very little fat so you have to do something to keep it moist. Using a crust and an air fryer, which is quicker than a conventional oven. keeps the moisture inside. If you are watching your fat intake, even though loin is less fatty than other pork parts, I would advise trimming any loose or thick fat. Use a sharp boning knife to do the job.
Cashew Crust
The cashew crust comes together in a jiffy in the small bowl of a Braun food processor or any small food processor. Just process the cashews, fennel seed, and garlic together. It smells really good and you will probably find yourself having a few bites for yourself. You could even spread it on crackers and forget the pork altogether, it's that good.
Air Fryer Roasted Pork
There are still people who roast pork to death because they are afraid of getting Trichinosis. Pork is treated now to reduce this from happening, so you don't have to eat shoe leather anymore. However, the pork should still be cooked until it's light pink, 145 F / 162 C. Use an instant-read thermometer and put it in the thickest part of the meat.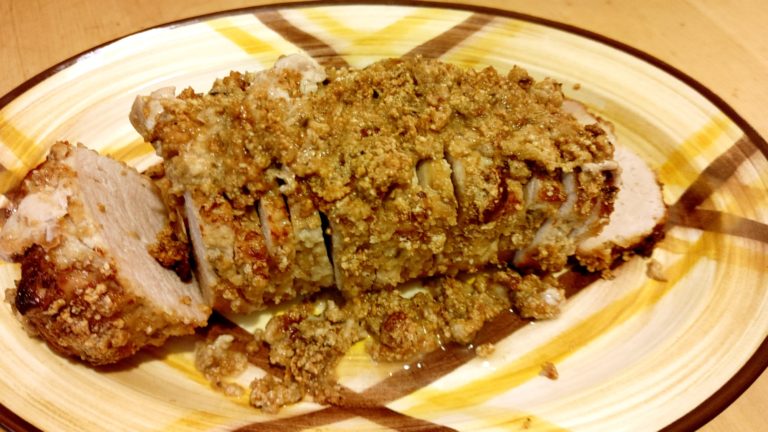 Servings (slide to adjust):
Calories per serving:
304
kcal
Ingredients
1 ½

pound

pork loin

½

cup

cashews

6

cloves

garlic

,

medium size

2

tablespoons

fennel seed

½

teaspoon

whole peppercorns

½

teaspoon

red pepper flakes

¼

cup

extra virgin olive oil
Ingredients necessary for the recipe step are in italic.
Nutrition
Serving:
142
g
Calories:
304
kcal
Carbohydrates:
6
g
Protein:
26
g
Fat:
19
g
Saturated Fat:
4
g
Polyunsaturated Fat:
2
g
Monounsaturated Fat:
12
g
Cholesterol:
71
mg
Sodium:
94
mg
Potassium:
551
mg
Fiber:
1
g
Sugar:
1
g