These Asian Roasted Vegetables are easily made on a sheet pan and tossed with a light sauce. They're tasty and healthy.
Asian Roasted Vegetables
Roasted vegetables are so easy to prepare on a sheet pan – set it and forget it. Adding an Asian-style sauce to them makes them even better.
When I made this, I based it on Roasted Vegetables with Balsamic Butter Sauce and decided to put an Asian tweak to it. The great thing about this dish is you can put whatever vegetables you have together and have a great side dish. I happened to have some green beans, snap peas, broccoli, mushrooms, and carrots on hand that I needed to use up so I used these. With the sauce, it was quite tasty.
Roasted Vegetables with Balsamic Butter Sauce
My version of the venerable Trader Joe's Roasted Vegetables in Balsamic Butter Sauce – make it yours putting in veggies you like.
One thing to remember when you are making anything like these Asian roasted vegetables that are going to be roasted on a half-sheet pan is that the vegetables should all be about the same size so they will all be done around the same time. Some vegetables can be parboiled ahead of time if need be. Carrots would be a good choice for parboiling since they do take longer to cook than the other vegetables.
You are free to put the vegetables you like in this, but I would highly recommend the snap peas and the cabbage because they add to the overall Asian flavor. Cut the cabbage into rather large pieces, about an inch each. You could use pearl onions instead of chopped onions if you wish.
I served these Asian Roast Vegetables with Same-Day Fried Rice and Boswell Kung Pao Chicken. It made quite a lot, so I had enough for lunch the next day. Yes, it was just as good cold as it was hot.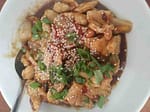 Kung Pao Chicken – Boswell Style
My take on Kung Pao Chicken. This is dead simple to make, and you probably have the ingredients in your house right now. Enjoy Chinese food at home!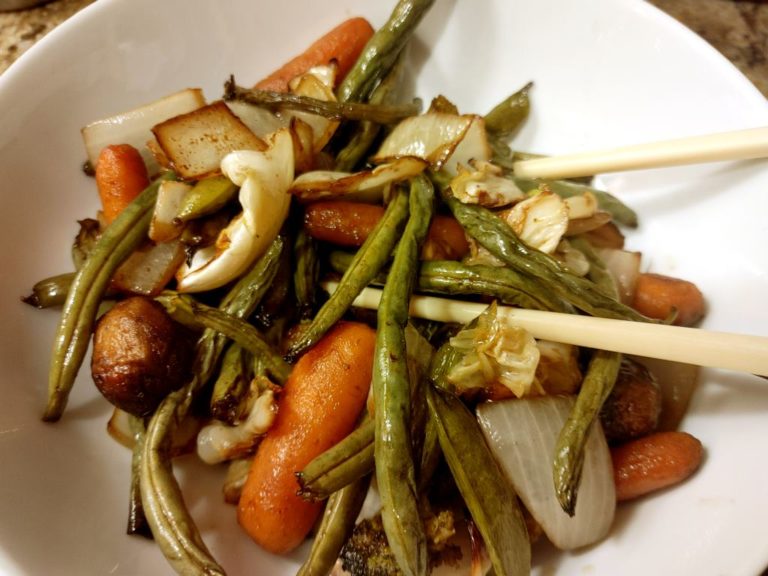 Servings (slide to adjust):
Calories per serving:
168
kcal
If you purchase any of the products through these affiliate links, I get a few pennies that help keep The Good Plate open. I use these products myself and want you to be able to easily find them.
Ingredients
1

head Broccoli

1

cup

Cabbage

,

sliced

1

Onion

,

chopped

1

cup

Carrot

,

chopped

1

cup

Snow peas

8

Mushroom

,

whole

1

cup

Green Beans

,

whole

1

tablespoon

Olive oil
~~ — Sauce — ~~
1

tablespoon

Soy sauce

1

teaspoon

Sesame Oil
Ingredients necessary for the recipe step are in italic.
Instructions
In a large bowl, mix all the vegetables with some peanut oil. Put parchment on a half sheet pan and spread the vegetables so they are in a single layer.

Roast them at 350 F / 176 C for about 30 minutes or until the carrots are tender soft. While that is happening, combine the sauce ingredients and set them aside.

Put the roasted vegetables in a large pot and pour the sauce mixture over them. Toss to coat. Serve immediately.
Nutrition
Calories:
168
kcal
Carbohydrates:
26
g
Protein:
8
g
Fat:
5
g
Saturated Fat:
1
g
Polyunsaturated Fat:
1
g
Monounsaturated Fat:
3
g
Cholesterol:
0
mg
Sodium:
394
mg
Potassium:
771
mg
Fiber:
9
g
Sugar:
6
g