Make this lovely salad with sous vide Asian marinated chicken. With just enough spice, this salad comes together easily for lunch or dinner.
Sous Vide Asian Marinated Chicken Salad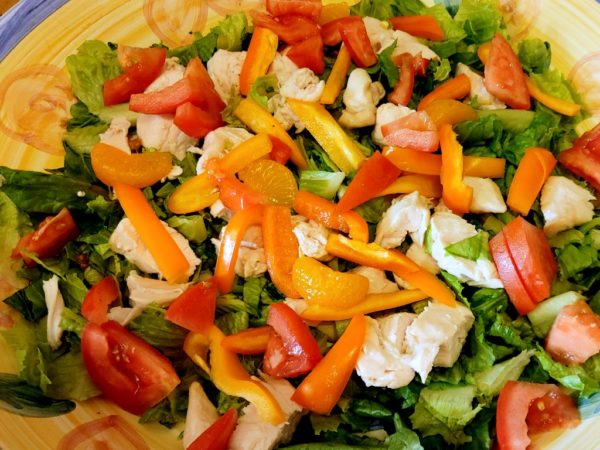 Using a sous vide immersion cooker for the chicken in this salad makes it moist and full of flavor. A shout out to my good friend, Liza Boubari, who designed part of our logo, has a new show for women, about women, by women called The Original with Chris and Liza.

When I first got my sous vide immersion cooker, one of the first things I did with it was put some chicken in a bag with some Asian salad dressing. I was surprised at how good it tasted. That's the great thing about sous vide, the food can marinate while it's cooking. You get great flavor without food drying out.
The great thing about this salad is you can add whatever you want to it.  I like to add wonton strips or chow mein noodles.  Japanese pickled ginger is also a good addition. I happened to have an orange bell pepper on hand when I made this, but the more colors the better.  If you get the small baby bell peppers, they usually come in yellow, orange, and red in the package and they look and taste lovely in this salad.
Depending on what you put in the salad, it can be served for a light lunch, or you could have it as a part of a larger dinner meal.  When I made it I served it with egg rolls.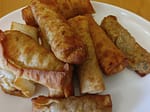 Air-Fried Egg Rolls with Steak, Rice and Cabbage
Air-fried egg rolls with steak, rice, and cabbage are tasty, easy to make, and healthy. Make them part of your Asian feast.
How long to Sous Vide Marinated Chicken
One of the best things about sous vide is you don't have to baby it. If you are a little late taking it off the heat, it's not a disaster. However, you do need to cook it for at least an hour but no more than four.  If you cook it for more than four hours, it will be mushy and not appealing at all.  For more information about sous vide chicken, check the article at Serious Eats.
The Marinade
If you want to use your own Asian salad dressing for the marinade, feel free.  We happen to like the one from Girard's, Toasted Sesame Ginger Vinaigrette. It has great flavor, not too sweet, not too salty, just right.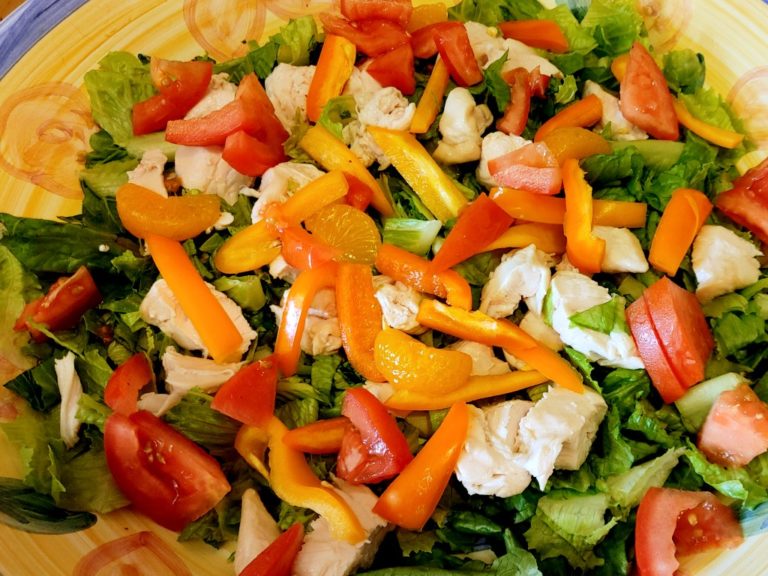 Servings (slide to adjust):
Calories per serving:
113
kcal
Ingredients necessary for the recipe step are in italic.
Instructions
Put the chicken in the bag with salad dressing. Seal the bag and cook it via sous vide at 150 F / 65 C for one to four hours. Remove the bag from the water and put it in the refrigerator to cool for about 2 hours. When the chicken has cooled, slice it nicely for the salad. Toss the juice that''s in the bag.
Notes
You can add additional ingredients if you wish, wonton strips, sliced water chestnuts, sliced ginger, green onions, etc.
Nutrition
Calories:
113
kcal
Carbohydrates:
9
g
Protein:
10
g
Fat:
31
g
Saturated Fat:
1
g
Polyunsaturated Fat:
0
g
Monounsaturated Fat:
0
g
Cholesterol:
23
mg
Sodium:
176
mg
Potassium:
300
mg
Fiber:
1
g
Sugar:
7
g