This stuffed roast of beef will be the talk of your dinner party.
Rotisserie Stuffed Beef Roast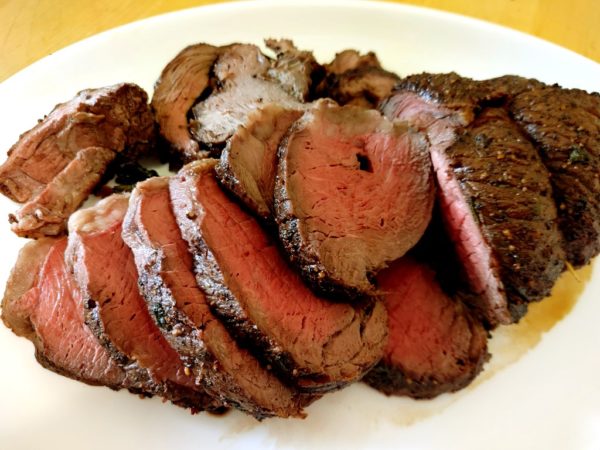 Have a wonderful stuffed beef roast at any time of year either with your rotisserie air fryer or the rotisserie on your grill.

The great thing about rotisserie is that your food cooks evenly, whether it's chicken or a roast. As much as I appreciate sous vide, sometimes, you want it quick and juice and moist without waiting.
My adopted mother had a Farberware Open Hearth Rotisserie that she would occasionally pull out much to everyone's oohs and ahs. You can still buy them used on Amazon or eBay. If you can find one, I highly recommend getting it. Suffice to say that I've been a rotisserie convert ever since. I had a stand-alone electric vertical rotisserie with kabobs that I loved, but it got lost when I moved a few years ago.
There are a few ways you can go with rotisserie. If you live in an apartment where you cannot barbecue, you can use an air fryer roaster like the one that I have from GoWise – which also has kabobs (I will be doing a lamb kabob recipe soon). You can also get a rotisserie for a Weber grill that attaches to the grill. Of course, that's for outdoor use only.
Rotisserie Stuffed Beef Roast
What inspired this roast was the Rotisserie Stuffed Pork Roast I did a few months ago. I still had some caramelized onions in the freezer that I wanted to use. I spied a bag of frozen spinach to put in, too. The roast was marinated first for a few hours, then I stuffed it, rolled it securing it with toothpicks, then with butchers' twine, and finally rolled it in cracked black pepper before putting it in the roaster. We had it with Romanoff Potatoes and freshly steamed young green beans. What a dinner it was! I know you will enjoy it just as much as we did.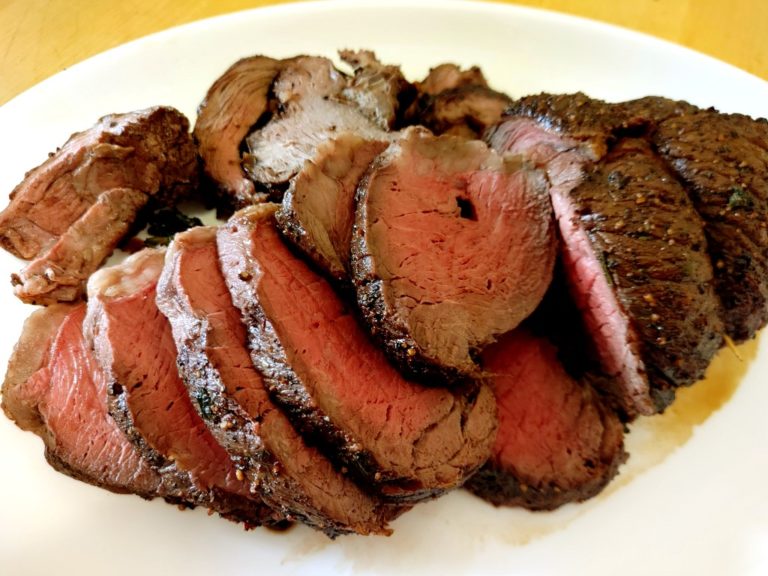 Servings (slide to adjust):
Calories per serving:
355
kcal
If you purchase any of the products through these affiliate links, I get a few pennies that help keep The Good Plate open. I use these products myself and want you to be able to easily find them.
Ingredients
~~ -- Marinade -- ~~
¼

cup

White wine

1

tablespoon

Balsamic Vinegar

1

tablespoon

Rosemary

,

fresh

1

clove

Garlic
~~ -- Stuffing -- ~~
½

cup

Onion

,

caramelized

½

cup

Spinach

,

frozen

1

tablespoon

Black pepper

,

freshly ground
Ingredients necessary for the recipe step are in italic.
Instructions
Mix the marinade and put the meat in with it in a bag. Take all the air out and put the bag in the refrigerator for at least 1 hour but not more than 3.

Take a boing knife and butterfly the roast. Put the spinach and caramelized onions in the center of the roast. Sprinkle some of the cracked black pepper on it.

Roast at 390 for 35-45 minutes for the air fryer or about 90 minutes on a regular rotisserie. Roast until an instant-read thermometer registers your preferred style, rare, medium-rare, or medium.
Notes
Please don't insult a lovely piece of meat by cooking it well done as it becomes shoe leather - unless of course, you are out of shoes!
Nutrition
Calories:
355
kcal
Carbohydrates:
2
g
Protein:
45
g
Fat:
17
g
Saturated Fat:
5
g
Polyunsaturated Fat:
1
g
Monounsaturated Fat:
8
g
Cholesterol:
138
mg
Sodium:
141
mg
Potassium:
820
mg
Fiber:
0
g
Sugar:
1
g