Real comfort food, delicious with spaetzle and a nice salad.
Hungarian Porkchops - DISZNKARAJ MAGYAROSAN
Books! Wonderful Books!
I love discovering recipes for foods that might not be trendy such as Hungarian Pork Chops.  It's something my mother and I used to make. After all those years trying to remember exactly how it was made, I lucked out and found it in an older cookbook.
Dollar Bookstore
A few years ago, my friends took me to this wonderful bookstore where all the books were only $1.00 – A Dollar! I love to read, and I love having hardcover books sitting in my library where I can read them any time I want. There are a few books that I read a long time ago, that I knew I loved, and I love rereading them!
I had the fortune of going to the Burbank Centennial celebration and was able to pick up some out of print books to add to my collection. I had to be careful, because the car was several blocks from the bookstore, and books get heavy!
The Burbank location has been closed, but Dollar Books is still around and still making it possible for kids to get books from the savings in their piggy banks – and adult's too.
Woman's Day Encyclopedia of Cookery
My mother and I had the complete set when I was a little girl, and these are the books gave me my cooking skills (and The American Woman's Cookbook). These are wonderful books if you can get them. They have been republished a few times, but I like the original ones that my mother and I had. I was only able to find four of them, and am still missing nine books. If you find em, let me know! [Update: I was able to get the whole set on Amazon!]
When I was perusing mine, I came across a recipe that I have made for years, Hungarian Pork Chops: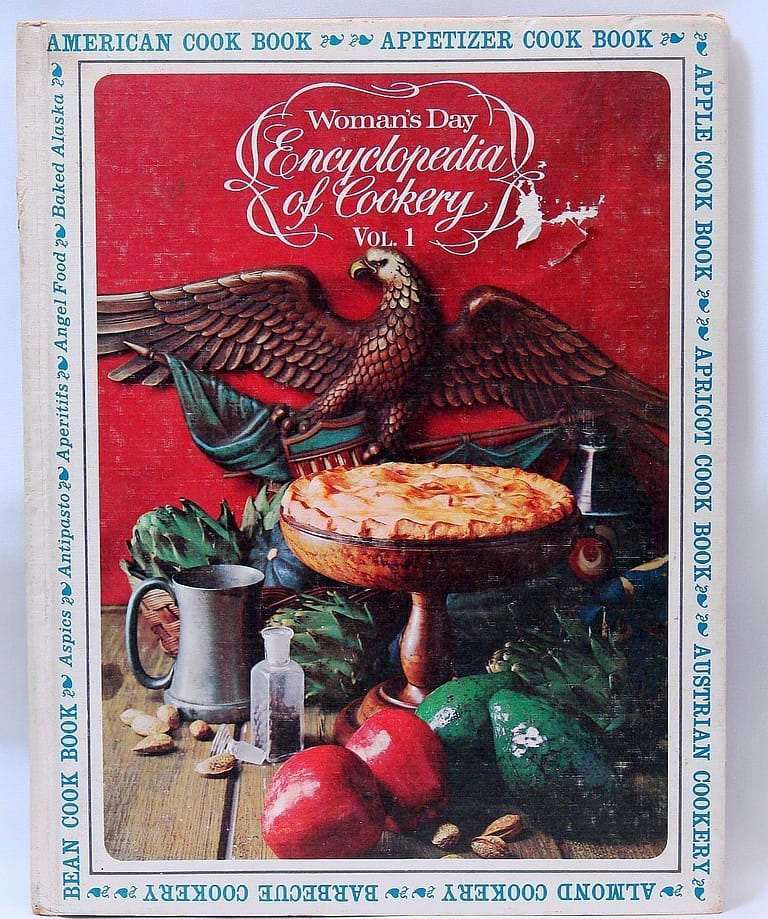 Servings (slide to adjust):
Calories per serving:
360
kcal
If you purchase any of the products through these affiliate links, I get a few pennies that help keep The Good Plate open. I use these products myself and want you to be able to easily find them.
Ingredients
6

pork chops

,

about 1/2 inch thick

slat and pepper

1

medium onion

,

chopped

1

garlic clove

,

minced

3

tablespoons

lard or butter

1

bay leaf

¾

tsp

chicken base

¾

cup

water

1

cup

sour cream

2

teaspoons

paprika
Ingredients necessary for the recipe step are in italic.
Instructions
Trim excess far from pork chops and sprinkle chops with salt and pepper.

Saute onion and garlic in lard until soft and golden. Push aside or remove from skillet.

Add pork chops and brown on all sides. Pour off fat.

Lower heat and add bay leaf and bouillon. Cook, covered, over low heat for about 1 hour.

Transfer chops to a hot serving plate and put a cover on it to keep it hot.

Reduce pan juices to half by cooking over high heat.

Add sour cream and paprika and blend thoroughly, but do not boil.

Pour sauce over chops.
Nutrition
Calories:
360
kcal
Carbohydrates:
14
g
Protein:
27
g
Fat:
22
g
Saturated Fat:
8
g
Polyunsaturated Fat:
3
g
Monounsaturated Fat:
9
g
Cholesterol:
88
mg
Sodium:
876
mg
Potassium:
668
mg
Fiber:
1
g
Sugar:
2
g
Dressed to Grill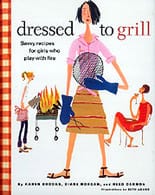 Dressed to Grill by Karen Brooks, Diane Morgan and Reed Darmon, Illustrated by Beth Adams –
Hey, I'm a girl, but I like to grill.
This is a cute little book with some nice tips and recipes just for girls who like to grill, like me!
Jeff Smith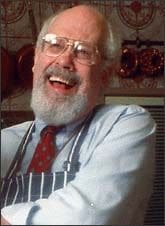 Jeff Smith's Frugal Gourmet Series. I used to love watching the Frugal Gourmet when it was on PBS. No matter what Jeff Smith did, he is and always will be a good cook, and an excellent teacher. I already had The Frugal Gourmet Cooks with Wine and regularly used it for reference. Here's what I was also able to pick up: