A hearty side or main dish
Colcannon with Bacon and White Cheddar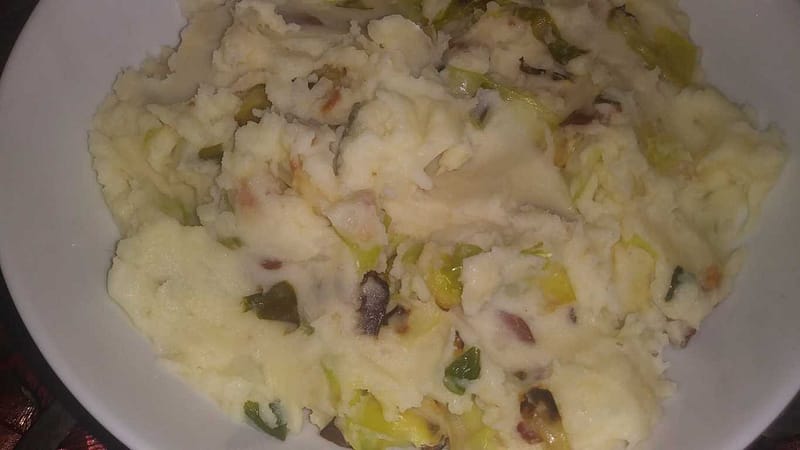 You don't have to wait until St. Patrick's Day to have this wonderful dish. It's thrifty, filling, and delicious. The traditional colcannon recipe does not include bacon or cheese, but the way I make it, it's filling enough to stand on its own.
We really like colcannon, especially in the winter, when it's cold and even though you really want bright greens, salad just seems too chilly. You want something warm and toasty that will stick to your ribs.  Look no further, colcannon is the answer.
Let's Cook Colcannon with Bacon and White Cheddar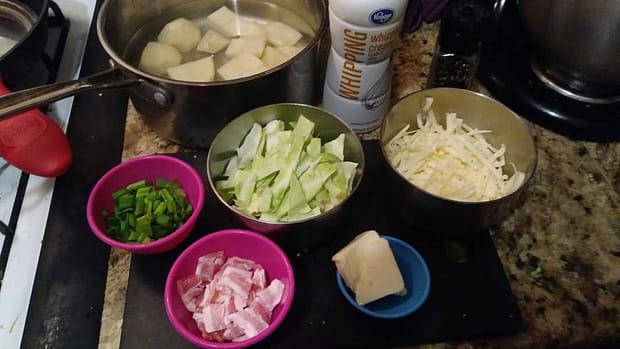 Usually, I get the baking sized russet potatoes when I make mashed, but, lately, the store only has the smaller potatoes.  I'm not sure if it's because they figure they can sell the "baking" potatoes at a premium price, or because they think people will eat less if the vegetable is smaller. I like the baking ones because they are larger and less peeling to do, but, no matter.  Use one medium or two small potatoes per person.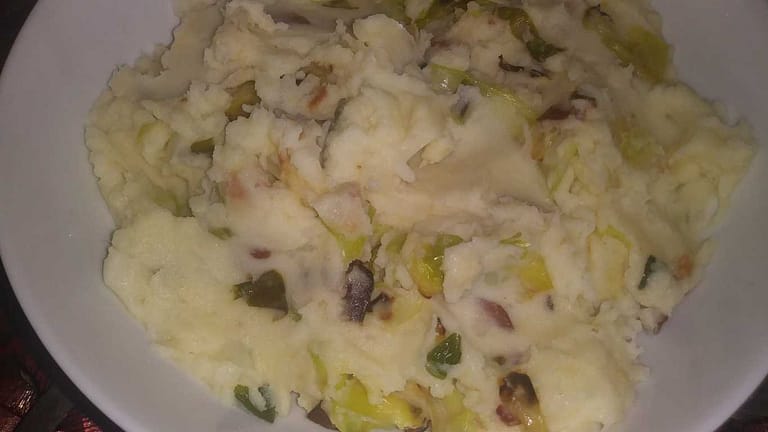 Servings (slide to adjust):
servings
Calories per serving:
504
kcal
If you purchase any of the products through these affiliate links, I get a few pennies that help keep The Good Plate open. I use these products myself and want you to be able to easily find them.
Ingredients
6

potatoes

,

large , peeled and quartered

1

teaspoon

kosher or sea salt

2

cups

cabbage

,

large shred

4

slices

bacon

,

chopped

½

cup

green

,

spring onions, chopped

¼

cup

white cheddar

,

grated

2

tablespoons

butter

2

tablespoons

cream

2

tablespoons

milk
Ingredients necessary for the recipe step are in italic.
Instructions
If you like potato peel in your mashed, you are more than welcome to not peel your potatoes, just make sure that they are cut up in relatively the same size so they will cook evenly. Put the potatoes in a pan large enough to hold them and cover them with water. Add the salt to the water, cover, and boil until they are fork tender, about 15 to 20 minutes.

While that is happening, put the bacon in a saute pan large enough to accommodate the cabbage. Cook the bacon until it has browned and started to crisp. If the bacon had a lot of fat, then pour some of it off, otherwise, just leave the bacon and fat in the pan.

Stir the cabbage and bacon a bit so all the cabbage gets that bacony flavor.

When the cabbage has wilted a little, add the green onions.

Stir it all together, cover and reduce the heat. Cook for about 7 minutes, stirring occasionally. If you can smell the cabbage starting to brown, it's time to turn it off. The mixture should look something like this:

When the potatoes are fork tender, drain them. There are a couple of ways to go here. You can use a masher, mash the potatoes, and leave them with small chunks. This would be the choice if you kept the skins on.

I like to use a stand mixer for my potatoes because they come out exceptionally creamy without a lot of effort.

Regardless of how you decide to mash the potatoes, add the butter, cream, and milk until they are the consistency that you like. Start by adding the cream, mash, and if they are still too stiff, add some of the milk until they are nice and fluffy, but not runny or pasty.

Nicely mashed potatoes ready to add cheese.

Add the cheese and fully mix it in.

Next, add the vegetable mixture.

Lightly stir the vegetables into the potato mixture so it is all incorporated. Vegetables are lightly mixed into the potatoes.
Notes
Idaho russet potatoes are going to be best for this, and Yukon would be fine, too. Don't use waxy potatoes like red potatoes because they will not be fluffy.
Nutrition
Serving:
1
g
Calories:
504
kcal
Carbohydrates:
66
g
Protein:
12
g
Fat:
22
g
Saturated Fat:
10
g
Polyunsaturated Fat:
2
g
Trans Fat:
0
g
Cholesterol:
37
mg
Sodium:
638
mg
Fiber:
7
g
Sugar:
1
g