An easy supper that all kids like - from two to ninety-two
Hot Dogs Covered with Mashed Potatoes and Cheese
Hot Dogs covered with mashed potatoes and cheese is such a comforting food. It's also easy and quick to get on the table. A favorite for kids 2 to 92, it's great with a salad and a good pilsner.
The biggest and most surprising compliment I have received on this was when Chef John Farion's daughter came out from Detroit to clear out her father's estate. She said, "That thing you made when I was eight years old, with hot dogs and mashed potatoes? I loved that!  Can you make that again?" I was truly amazed.  She remembered the food she had had 30 years ago.  Of course, I made it.
This is Spane's favorite dinner, bar none. I think it's because I use very good hot dogs, either uncured New York style, or Kosher dogs. I use hot dogs with excellent flavor, and I use sharp or extra-sharp cheddar cheese.
This is an old recipe. My best friend Marissa's mother used to make these, and I loved them. Marissa told me she was surprised to find that her finance's mother also made these. Shortly thereafter, when Spane was about 2, I found a very old 1950's advertisement that had the recipe. I wish I had kept it, just for fun.
Making Hot Dogs with Potatoes and Cheese
A lot of people make this with leftover mashed potatoes. I suppose that would be okay, but potatoes lose their airiness when they are chilled, and it's difficult to make them fluffy again. I always use freshly mashed potatoes and make them like I would regular mashed potatoes, with plenty of butter and milk.
Please don't use yellow mustard when making this dish. There are so many different mustards available, and a little experimentation is good for you. If you don't like very strong mustard, try brown mustard, or stone-ground mustard. Be adventurous!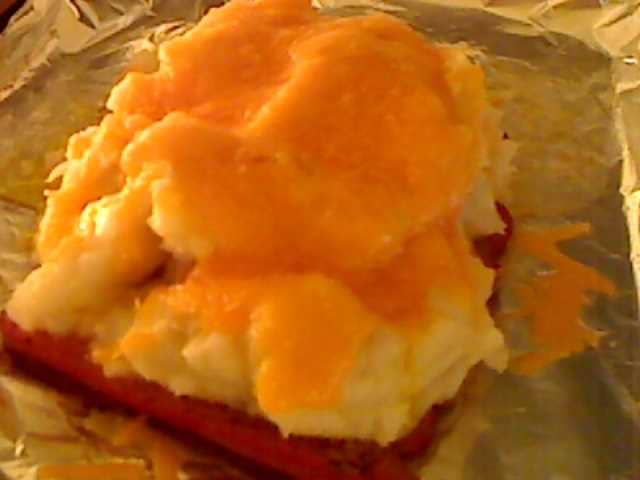 Servings (slide to adjust):
servings
Calories per serving:
454
kcal
Equipment
Ingredients
8

Hot Dogs

,

good quality

4

Russet potatoes

,

large

1

teaspoon

Sea Salt

1

tablespoon

unsalted butter

¼

cup

milk

Dijon Mustard

2

Kosher Pickles

1

cup

Cheddar Cheese

,

grated
Ingredients necessary for the recipe step are in italic.
Instructions
Peel the potatoes, and cut them into 2-inch pieces. Rinse well under cold water.

Heat a large pot of water, and add the potatoes and salt.

Boil the potatoes until they are fork-tender, do not overcook!

1 tablespoon unsalted butter

Mash the potatoes with a masher, then add the butter and mash some more.

Start adding the milk, whipping all the while until they are nice and fluffy. Don't add too much milk or your potatoes will be runny.

Take the hot dogs and cut them down the middle lengthwise. Don't cut all the way through!

Line them up side by side on a baking sheet lined with foil.

Spread a little mustard on each dog.

Cut the pickles in half lengthwise, then cut each half in half lengthwise again. You would not have 8 pickle spears.

Put a pickle spear in the center of each dog.

Spoon the mashed potatoes over the dogs, being careful to fully cover them.

Cover the potato with the cheese, making sure to fully cover the potato.

Bake them in a 350 oven for about 15 minutes or until the cheese is bubbling.
Notes
Quick notes
Please don't use yellow mustard! There is a huge variety of mustards available. Dijon goes very well with this, or stone-ground mustard would be great as well.
Variations
You may omit the pickle and/or mustard, but it won't be as good. You can prepare this ahead and leave it in the refrigerator until you are ready to eat.
Nutrition
Calories:
454
kcal
Carbohydrates:
47
g
Protein:
18
g
Fat:
22
g
Saturated Fat:
10
g
Polyunsaturated Fat:
2
g
Monounsaturated Fat:
9
g
Cholesterol:
67
mg
Sodium:
1222
mg
Potassium:
895
mg
Fiber:
3
g
Sugar:
3
g